Jim Mullen: "It's quite difficult to get recognition in this country, it seems to me, we're much more interested in people from America and abroad!"
Stuart Nicholson
Thursday, November 7, 2019
As one of the most soulful and subtly virtuosic players this country has ever produced, Jim Mullen has recorded and toured with the very best, also carving his own place in jazz-funk history as a founding member of the Morrissey-Mullen Band. Now back with two contrasting albums which showcase the breadth and depth of his artistry, the Scots guitar great tells Stuart Nicholson about the inspiring friendships that have got him back on top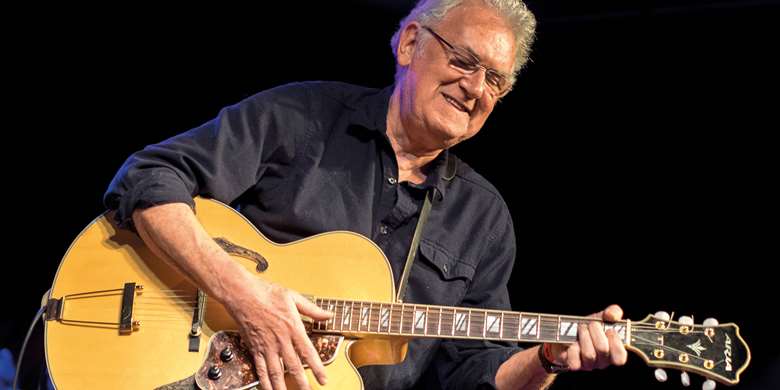 The year 2017 is one which guitarist Jim Mullen is doing his best to forget. "I had a life-threatening illness that took me out of the scene for almost the whole year," he recalls. "Because I had been out of action, your playing disappears, I hadn't touched a guitar in six months." Thanks to his wife Zoe, friends and musicians he made a full recovery, and eager to get back into the swing of things, he contacted his friend, the talented flautist Gareth Lockrane. The year before, Lockrane had invited him to do a workshop at the Royal Academy of Music, "Gareth runs a junior workshop and, I have to say, he's done an incredible job! These young players are performing to a very high standard and he arranged a bunch of my tunes for these students to play. He's a fantastic arranger, a real world-class talent, and he asked the student band to play these tunes for me, and I thought, 'Wow! This is amazing'. And he said to me after, 'You know, we should do this properly'. And what he meant was get this heavy team, all the top guys in London to do it. But then I was out for a year, and when I came back I asked Gareth if he thought we could still do this project we'd talked about, and he said, 'Just ask all the musicians and they'll do it'. I said, 'Look, I don't have the money to pay them', he said: 'don't worry, these guys, they'll do it!'. And this is where the Volunteers thing came from, because everyone I asked, they agreed to do it! I feel a great debt of gratitude to these guys, because it got me back into playing again!"
Mullen's discography might go back to 1970, but Volunteers is quite unlike anything he's ever done before. Recorded with a nine-piece ensemble comprising the UK's finest jazz talent – Mullen on guitar, plus Gareth Lockrane, Alan Barnes, Julian Siegel, Steve Fishwick, Mark Nightingale, Gareth Williams, Mick Hutton and Tristan Maillot – the album has already got 'British jazz classic' written all over it. Opening with a dazzling bebop-inspired original, a contrafact based on Antonio Carlos Jobim's 'Meditation' called, not without some irony, 'Medication', the music leaps out of the speakers, knocks a couple of pictures off the wall and does backwards flips over the furniture with its sheer exuberance. "Gareth's writing is so exciting," says Mullen, "I really loved the whole thing, I mean, these guys – these guys are state of the art – their playing is just fantastic, and they brought all their enthusiasm to the project and we did all nine tracks in two days. It was just fantastic – I'd like to do so much more with that band, I really would."

And as if to underline he's well and truly back in the business of quality music making, Mullen returned to the same studio he recorded Volunteers, Lester Salmins' 'The Bunker' in Welwyn Garden City, less than six months later. He was sharing the billing with top UK jazz vocalist Claire Martin on Bumpin', an album celebrating the music of guitarist Wes Montgomery. "I've known Claire a long time, we've worked off and on for 20 years," says Mullen. "I played on Claire's very first album, Waiting Game [1992]. It was her idea to do the Wes thing, but I was a bit puzzled at first. How does a singer do Wes Montgomery things? But she had already thought of that, and written a whole bunch of lyrics to Wes Montgomery tunes and we managed to pull off a nice album. I deliberately tried not to play like Wes Montgomery (in spite of his revered thumb-only style), because I don't think anyone can get close to what he did, so I tried to do it my way. You're always going to come off second best if you try and play like Wes!"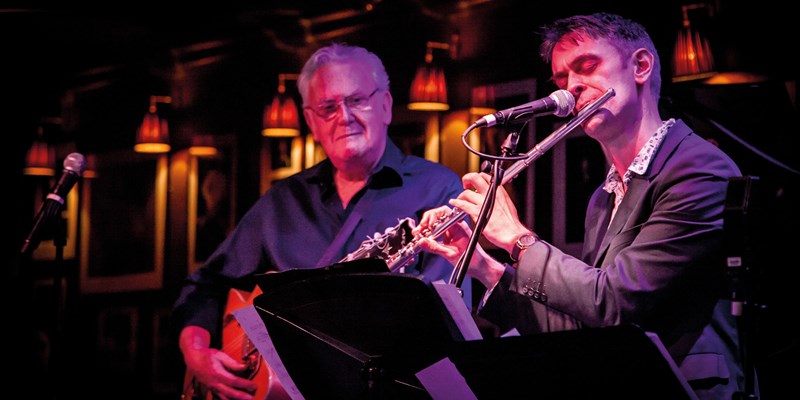 Jim Mullen with Gareth Lockrane (photo: Carl Hyde)
Jim Mullen was born in 1945 in Glasgow, and began playing guitar at a young age: "We were just kids, really, just foolin' around, playing pop songs and skiffle and stuff," he recalls. "I had an older friend and he was into jazz; he was the first guy I knew who had an arch-top guitar, and he used to play West Coast jazz guitar records to me – people like Tal Farlow and Barney Kessel, Barry Galbraith, Chuck Wayne – but the only part of it I could really understand was the bass part, because they played the fewest number of notes! They only played four in the bar, when everyone else was playing eight or 16! So I got a bass because I could hear what the bass players were doing in the sense of figuring it out. I mean, there were no teachers where I grew up in Scotland, it was just a question of asking all the musicians questions and just trying to hear what was happening – and when I got more involved I went back to guitar."
When he left school, he continued working on his music, listening to records and developing as an artist: "The scene in Scotland was very small and at that time I was working as a journalist on a daily newspaper in Glasgow and playing music as a hobby, on my nights off," he explains. "I had a band in Glasgow with the two sax players, Malcolm Duncan and Roger Ball, who went on to join the Average White Band. We had a band in Glasgow and we were all toying with turning pro, and I think I was the first one to do the move South. They followed later. Then, of course, the Average White Band took off, our careers went in totally different directions." In fact, Mullen later guested on a couple of Average White Band albums, and toured with the group.
Mullen's move to London took him into the heart of the London pop and jazz scene of the late 1960s. His first pro-job was as a jazz musician for the poet Pete Brown, today remembered as the lyricist on several songs that comprised the legendary Wheels of Fire album by Cream. "Pete was involved in jazz and poetry – I saw him at the Edinburgh Festival on the fringe reading his poetry and he was part of that British version of the beat poets, and he was also involved in jazz and poetry with people like John McLaughlin and a lot of the guys on the London jazz scene. My band played opposite his band at a gig in Glasgow and we swapped numbers. Then he called me up and said he was putting a new band together and would I like to join? So I accepted. I quit my job as a journalist, moved to London and that was my kind of baptism as a professional."
After recording two albums with Pete Brown's band, Mullen moved on to Brian Auger's Oblivion Express. Auger's work on keyboards with the Express concealed the fact he was an accomplished jazz pianist. "A wonderful jazz pianist!" underlines Mullen. "I remember him telling me that he got fired from Ronnie Scott's original club in Gerrard Street because he played too loud on a small upright piano with his trio! He was a real two-handed, Horace Silver kind of player, very swinging, very exciting – he still is. He's in his mid-seventies now. I played with him recently when he was in London at the Jazz Cafe and he's still got it. He's still a very exciting player to listen to. So that was a great experience moving into something that was much more creative." After appearing on the band's first three albums he joined the band Kokomo and in the mid-1970s he joined forces with tenor saxophonist Dick Morrissey to form the Morrissey-Mullen Band, where they both carved out a niche in UK jazz history.

"I knew Dick because he was a regular at the Bull's Head in Barnes, which was the number two jazz club in London at that time, after Ronnie's. Dick was a regular there. It was really the Average White Band that brought us together because they wanted to get Dick over to New York to do an album and they asked me, as a kind of afterthought, would I like to come and play on it? So they gave me Dick's phone number and it turned out we were near neighbours in South London. We got together and found we both wanted to do the same thing. He had just left the English rock band If, but he didn't really enjoy it. It was very loud music, and it wasn't what he wanted. I had left the band I had been playing in, called Kokomo, for the same reasons. He was talking about the music of Stanley Clarke and George Benson, so we got together, the two of us. He had some tunes and I had some tunes, and we rehearsed a little bit together and went out to New York and did the album and that was the start of the Morrissey-Mullen Band, 15 years, until ill health took Dick out of the picture, sadly."
The band made six albums together – two produced by the legendary Richard Niles – and then followed a series of Mullen ensembles featuring names such as Mornington Lockett, Dave O'Higgins, Gary Husband, Mick Hutton, Gareth Williams and Stan Sulzmann, followed by his organ trio with Mike Gorman and Matt Skelton. He's been featured on the Paul McCartney-produced All About the Music and more recently on the Citrus Sun album, People of Tomorrow, produced by Incognito co-founder, Jean-Paul 'Bluey' Maunick.
Add to that a curriculum vitae that includes performing with the likes of Gene Harris (formerly of The Three Sounds) for five years, Mose Allison, Teddy Edwards, Plas Johnson (it's his sax you hear on the Pink Panther theme), Jimmy Smith and Georgie Fame – "the best male jazz singer this country has ever produced" – and you realise why the sobriquet 'British Jazz Great' rests easily on his shoulders. Yet we in the UK are reluctant to celebrate our jazz heroes. Why is that? Ubiquity is perhaps one reason – they have been part of the scene for so long they become taken for granted in the rush to celebrate the latest upcoming 'new star'. But Mullen is not alone. "There are truly great musicians in this country," he reminds us, "I also worked with the great trumpeter Henry Lowther. Stan Sulzmann is a super talent, a very distinctive, individual player – these people tend to be overlooked, but they are marvellous players. I think there should be room for all the generations in jazz, people tend to forget these people because they have been around so long. It's quite difficult to get recognition in this country, it seems to me, we're much more interested in people from America and abroad!"
Jim Mullen's Volunteers is out now on Diving Duck Records, Bumpin' with Claire Martin is out now on Stunt Records
This article originally appeared in the September 2019 issue of Jazzwise. Never miss an issue – subscribe today!