Jimi Hendrix and jazz
Wednesday, October 13, 2021
While rock fans claim Hendrix as one of their own, he was also a major influence on jazz musicians and on subsequent jazz/rock hybrids. But how did Hendrix influence jazz? Keith Shadwick takes a close look at the Hendrix legacy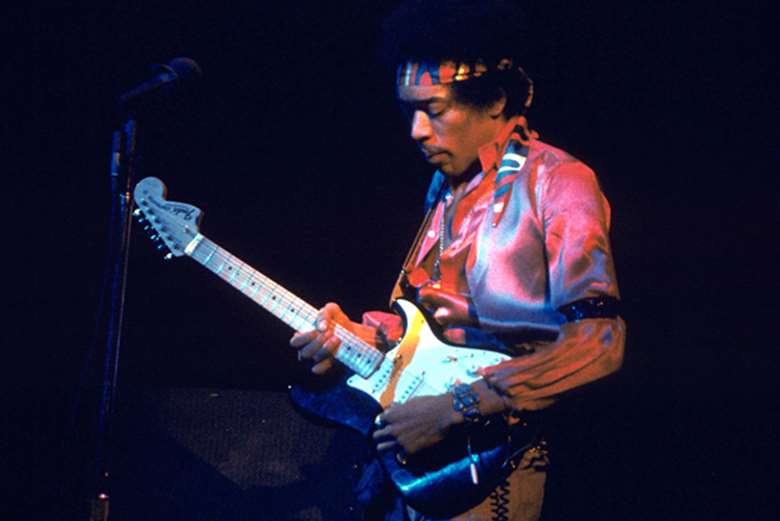 In December 1970 Jimi Hendrix won Down Beat magazine's Readers' Hall of Fame vote. He was not the first to win it posthumously on a wave of sympathy in the year of his death – Eric Dolphy had in 1964, to the unfeigned distaste of the traditionalists, and Wes Montgomery again in 1968 – but he was the first non-jazz musician to do so. Two questions emerge from this rather odd juxtaposition: what was he doing being voted for in a jazz poll where he'd not previously troubled the compilers, and why was there such a concerted outcry afterwards in the letters pages of the magazine as well as from sundry jazz critics?
This goes to the heart of Hendrix's position in popular music. It is only in hindsight that we can look at such a result and say that it is entirely appropriate, given the enormous influence Hendrix and his musical ideas had on the subsequent development of not just jazz-rock and fusion, but all of jazz. For, like other musical titans, he brought to the music a helping of ideas that could be used by everybody. Thinking of Hendrix at the position he was in at his death, and of the musical scene he was central to, there is little overt connection with contemporaneous jazz, apart from the embryonic jazz-rock scenes in NYC and London. After all, Hendrix had built his entire musical vocabulary squarely on the solid foundations of the blues, not on blues and the standard song, which is where post-war jazz usually makes its entrance in a musician's consciousness. The closest jazz approached Hendrix's entry point was with the ubiquitous early-60s organ-guitar-drums trios on the Chitlin circuit. Where Hendrix had mapped out his territory was as the baddest guitarist in rock: countless other rock guitarists of the time have testified to his shattering impact, firstly in the London of late 1966 and later in America via Monterey in summer 1967. In all the fuss generated by his songs, his lyrics, his stage act and his general anti-establishment stance, there was little time for the majority of onlookers to wonder about jazz tie-ins.

But they were there from the first album Hendrix released under his own name, Are You Experienced? Recorded between December 1966 and March 1967, the (14) tracks that made up the initial British release covered a lot of stylistic territory, from the Wilson Pickett/Otis Redding strut of 'Remember' to the open-form experimentation of 'Third Stone From The Sun' that had no previous parallel in all rook music and had its roots in an improvisatory dialogue between Hendrix and Mitch Mitchell that owed most of its conception to the convergence of Mitch's studies of Elvin Jones and Hendrix's obsession with sound for its own sake. This obsession was long-standing but had most likely been encouraged to take its particular form on this track by Jimi's combination of fantasy films and novels with the sorts of extended improvisations that were common on the New York jazz scene he was living amongst prior to his relocation to London. Being Hendrix, of course he developed it in his own unique way (the instrumental theme sounds like nothing so much as a supercharged Ventures surf melody), instructing bassist Noel Redding to stick to a very basic three-note riff throughout the long improvisatory section – a device that beds the whole performance, unites it and keeps it within what was then defined as a rock ambit, rather than taking the approach Cream was starting to develop where Jack Bruce often took more adventurous bass lines in collective passages with Clapton and Baker than Clapton – always and forever primarily a blues player – was willing to go for.
What was unique about Hendrix's achievement was that he managed to do this within a popular music format that stood very much at the heart of the rock, blues and R&B tradition of the day
The majority of Hendrix's improvisations on this track use the guitar not so much as a solo instrument in the jazz tradition of single-note lines or even chorded passages, but as a source of sound. Using and moulding an array of feedback techniques, Hendrix constructs a wild soundscape that bounces off and comes up in between all the other elements on the track, including his distorted spoken word passages. That this is a good trip rather than a nightmare is made clear in the humour the words contain – especially the allusion to surf music. The track concludes in a conflagration of sound that has no precedent in rock but whose violence and shrieks can be heard as a translation of the wild sounds prevalent in New York City avant-garde jazz circles from 1964 to the end of the decade. The leader of that particular young coterie, saxophonist Albert Ayler, was often quoted as saying that 'it's no longer about notes – it's about sound.' As with Hendrix's most extreme electric explorations, their music was often performed over simple drones or with the absence of any precise tonality, and the colour and vibrancy of the sounds being created in, say, Albert Ayler's famous 1965 live recording, Bells, is directly comparable to the conflagration with which Hendrix concludes 'Third Stone From The Sun'. There is a similar melee at the end of 'I Don't Live Today' where once again Hendrix abandons traditional guitar picking and fretting for manipulation of electric amplified distortion and feedback while the bass continues the song's main riff pattern and the drums cut loose from keeping any specific metre in spectacular fashion. On the original 1967 LP release the savagery of this passage's attack was mitigated by Hendrix's fading up and down of the music track so as to deliver the occasional laconic spoken line. In the past decade earlier mixes of this track have come to light on the collectors' circuit where this free-for-all is presented in full and with no vocal overdubs. Its exuberant intensity is overwhelming, its musical invention remains as fresh as the day it was played. The Experience was outstripping everybody else out there in doing what was done on these tracks. What was unique about Hendrix's achievement was that he managed to do this within a popular music format that stood very much at the heart of the rock, blues and R&B tradition of the day. This unique juggling act, as well as the adventurousness of the audiences of the day, allowed Hendrix to quickly build a phenomenal popular support and public profile that was sustained for the rest of his short career.
This was a fantastic position to be in, and one that even the most popular jazz musicians of the day – Miles Davis or John Coltrane – could only dream of. As for the likes of Albert Ayler and those who populated the avant-garde in his wake, their musical stature seemed to be reflected only in inverse proportion by popular acceptance or approval. What is interesting about all this interlinking of music and day-to-day careers is that, while Hendrix quite likely felt the green light for his own casting off of the musical chains through his checking out of the wilder shores of jazz at this time, no-one in the jazz scene quite knew how to deal with what Hendrix was laying down. It would be years before his message was digested and re-interpreted in a coherent way by the jazz firmament. It's also worth pointing out that the earliest attempts to do so came not from American musicians, but from European ones, who had a much longer history of fusing different forms and genres together. John McLaughlin, for example, was extending the sonic boom long before he left England for New York, Miles Davis and Tony Williams. And after all, Hendrix himself had to leave the US to get a deal that would for the first time allow him to front a band and express himself to appreciative audiences.
Hendrix's popular impact may have eclipsed anything the acoustic jazzers could hope for, but it is arguable that many young people who loved what Hendrix was doing were able to approach other types of experimental music, including all forms of cutting-edge jazz, because of the sounds they had been introduced to by the phenomenal guitarist, just as many who ended up seeking out the newer sounds in jazz from within the jazz scene of the 60s came to them via John Coltrane's absorbing musical odyssey.
If this was the case, the next set of tunes that appeared on Axis: Bold As Love showed that Hendrix was by no means limited to one contact point with jazz and jazz-based music. In fact, after the fun and games of the put-on Introduction, with its UFOs, radio interview send-ups and allusions to old friends (Hendrix pretending to be Paul Caruso), plus some crazed passages of controlled feedback of searing intensity that unwittingly recall the incendiary shrieks of Pharoah Sanders during his parallel tenure with John Coltrane, the album ushers us straight into the type of funky jazz shuffle that had made a string of genre hits for jazz labels like Blue Note, Argo/Cadet and Verve. 'Up From The Skies' is an understated, insinuating piece (Mitch Mitchell uses brushes throughout, revisiting the type of drumming that brought him to attention with George Fame, his previous employer) whose main vocal line bears a resemblance to the B section of a Grant Green boogaloo tune, 'The Selma March', recorded in May 1965 and issued on His Majesty King Funk. It's quite possible that the short melody Green's front-line shares with Hendrix's opening vocal melody is a case of coincidence, as the line is entirely blues-based and is hardly more than a modified riff. But the guitar treatment from Hendrix, though intensely bluesy and using a wah-wah pedal on obbligato overdubs, shows a subtle awareness of modern jazz guitar techniques, especially those of Wes Montgomery and Kenny Burrell, and what he plays on this track, whether lead or rhythm, adds up to a great deal more than mere pastiche: he has fully absorbed this idiom and made it work for himself.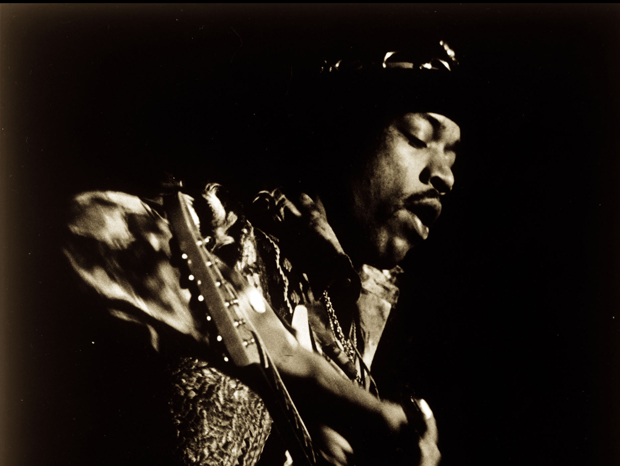 The Wes Montgomery and Kenny Burrell connections were to remain in place for the rest of Hendrix's short career, especially those with Montgomery, whose octave-picking style was one Hendrix, with his large hands and long fingers, could emulate with nonchalant ease as and when he required it. Before that was developed, however, there was the little question of 'If Six Was Nine' on Axis. This piece uses the relatively novel idea at that time of a sequential composition in a loose A-B-A-B form whereby the repeats of A and B are radically redefined. The initial part of the song, in its elements, is related to a simple slow boogie line in the John Lee Hooker tradition, made different by its arrangement, especially the drum part, while the first solo, a wildly lyrical one based on scales with no reference to blues intervals or inflections, finds Mitchell double-timing in jazz fashion, delivering a swaggering beat not far removed from his jazz hero Elvin Jones. When this section recurs the improvisation is even looser and wilder, Mitchell at times delivering a 6/8 beat while Hendrix plays a wooden flute (or recorder, depending on which aural source is correct) in a fashion so manic that again only Albert Ayler's music can be used as a parallel. Or maybe Sun Ra's fevered arrangements.
This music hit rock musicians and fans hard at the time, ushering in a new and exciting era of improvisatory experimentalism. The fact that only Hendrix had the talent and imagination to make such ideas cohere and excite was going to take a little while to sink in. On the jazz side of the culture, however, the sounds Hendrix was making were shaking up a lot of people. Rock had been feeding into mainstream jazz since the advent in America of The Beatles, when everyone in the universe began doing cover versions, from Count Basie to Ella Fitzgerald and beyond. Younger players and arrangers used this new music in more imaginative ways and looked further afield, so that by 1965-66 songs by Bob Dylan and other cutting-edge rock performers were beginning to turn up regularly on jazz records, from Roger Kellaway and Oliver Nelson to Gary McFarland, Gary Burton and beyond. That same year Burton formed a pianoless quartet with Seattle guitarist Larry Coryell, by then a young veteran (along with Charles Lloyd and Gabor Szabo, of Chico Hamilton's genre-crossing bands) providing a sensibility that straddled both rock and jazz in his playing and approach. By 1967 Burton's quartet was regularly employing a 4/4 rock beat for its tunes, while other bands, such as Mike Nock's Fourth Way, were beginning to develop ideas taken from a rock context and applied to electrified jazz ideas. Some people – Clark Terry, Sonny Stitt, Cannonball Adderley and John Coltrane included – began to investigate the short-lived Varitone device that debuted in 1966 and could take a horn's signal and convert it into electrically generated octaves or other intervals, running parallel to the player's improvisations.

Hendrix's advent threw down the gauntlet, not just to these bands and others like them, young but capable of winning popularity polls as Charles Lloyd (along with band members Keith Jarrett and Jack DeJohnette) and Burton showed during 1967, but to the people in bands like that of Miles Davis and Cannonball Adderley. Miles later in life talked a lot about the influence of James Brown on his thinking as he moved from the ascetic purity of his last great acoustic quintet to the earthier and more formally uncluttered music-making of his first electric period, from Filles de Kilimanjaro through to Bitches Brew, but it is Hendrix who supplies the bridge between the two. The evidence? Listen to 'Little Miss Lover' on Axis. The funky guitar-bass riff that underpins the rhythm and the harmony of the verse has strong Brown funk overtones, but its re-casting as a slightly loopy, lopsided rock riff balancing in and around Mitch Mitchell's subtle patterns, where he goes for odd rhythmic stresses rather than the obvious ones, makes it a pattern with endless possibilities when put in a more open-ended musical environment. Play this track then think of Miles soloing over it. It fits.
With 1968 Hendrix moved into his most ambitious period of creativity in the studio (performing live, he was still for the most part sticking to a tight song list and power-packed short sets with the Jimi Hendrix Experience that featured his explosive guitar playing but kept it within a clearly defined structure. A quick reference to the many recordings for the BBC or some of the concert performances from 1967-68 affirms this). In the stu­dio, with the waning of singles-oriented Chas Chandler's influence, Hendrix quickly expanded his horizons. The greatest and most perfect expressions of those new explorations are to be found on the four sides of the vinyl release of Electric Ladyland, but a more tellingly naked documentation of Hendrix's Insatiable urge to explore can be heard on tracks that didn't make the cut. The instrumental tune 'Cherokee Mist' was first tried out in early 1968 and repeatedly returned to until the end of his life (it was included as a title scheduled to be part of the studio album that lay unfinished at his death). A 1970 version has been officially released but it bears little resemblance to the raw, extreme May 1968 debut studio attempt where Hendrix, with just Mitch Mitchell in attendance, creates a stark yet wistful Hollywood-type-lndian theme, then drowns it in the most screaming, intense feedback. Like 'Third Stone' it is a sound-picture, but it is one of his first sound-pictures painting a cruel and tragic internal landscape, such as would later be brought to perfection in 'Star Spangled Banner' and 'Machine Gun'. It is Hendrix's lament for a people to which he felt blood-attachment and in its own way it is his 'Alabama', five years after Coltrane's magnificent lament for the victims of the 1963 Birmingham Alabama church bombing.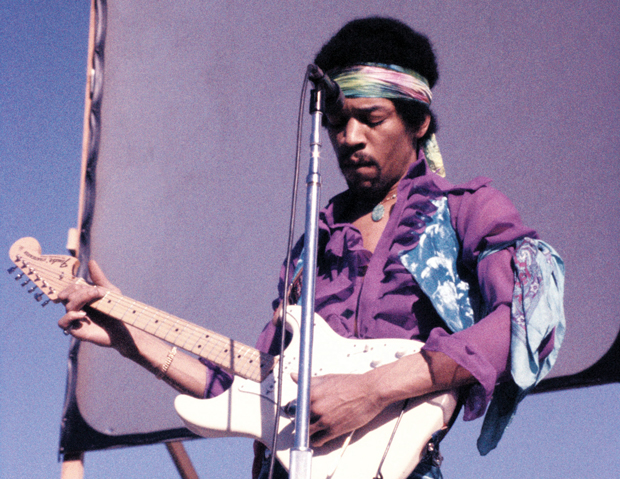 That same day in Record Plant, Hendrix tried something entirely different, and again it lay unreleased, this time until the late 1990s. 'South Saturn Delta' is a curious hybrid of TV-show theme drama, blues and jazzy funk. Hendrix's guitar overdubs feature Montgomery-style octave passages as well as Steve Cropper-type scratchy funk, but the most unusual feature of the track is an overdubbed brass section of two trumpets and two saxes, arranged by Larry Fallon. In the second half of this four-minute piece Hendrix swaps phrases with an unidentified sax player (somewhat lost in the late 90s mix) who has something of King Curtis' staccato style about him. The basic rhythm track of this piece is unco-ordinated and it is easy to see why it was shelved at the time, but it shows Hendrix trying to find a bridge to a wholly instrumental approach via some of the basic techniques of jazz. Considering the later talk of his wanting to make a record with Gil Evans, this blueprint is a fascinating foretaste. Hendrix during 1968 was a determined jammer and sitter-in with anyone who interested or excited him, and that year saw him playing with Roland Kirk and his group at Ronnie Scott's, while Frank Zappa was another beneficiary of Hendrix's impulse decisions to join in onstage. His studio jams (the most successful of which, 'Voodoo Child' with Steve Winwood on organ, was a highlight of Electric Ladyland) were a direct reflection of his desire to capture in the studio the electricity of such impromptu live events.
Another instrumental that was also eventually rejected for Electric Ladyland was 'Tax Free', written by Hansson & Carlsson. Cut in the same January 1968 week as 'All Along The Watchtower', it is the only track of this instrumental trio that was completed and given a final mix (this time in May that year). It is a tightly arranged track with no less than four guitar lines running through its series of rhythmic and harmonic segues. It again looks to the models of Wes Montgomery and Kenny Burrell in terms of the treatment of the melody and arrangement. This time, though, Hendrix is taking on the organ accompaniment role (there is one guitar track that so closely imitates an organ being played through a Leslie speaker that it takes a minute of close listening to establish that in fact it is a guitar). The expanded palette of sounds also suggest he was trying to re-create the type of orchestral accompaniment Oliver Nelson and other arrangers were regularly creating as suitable vehicle for their star soloists. Jimi's guitar leads in every part of this performance sparkle in a superbly realised and uncluttered arrangement. It was perhaps this relative success that encouraged him to attempt 'South Saturn Delta', with real horns, later that spring.

In the event, Electric Ladyland, an album originally planned by Hendrix as a three-LP set but later trimmed to two by management pressure, dropped all the instrumental tracks he'd been tinkering with as well as the Dylanesque 'My Friend'. A glance at the track rundown of the eventual album will confirm that Ladyland hit the streets with no entirely instrumental track on it, although parts of the jam that contributed 'Rainy Day, Dream Away' and 'Still Raining, Still Dreaming' came pretty close. That June session seems to have been a culmination of the thinking behind the earlier string of jazz-laced sessions that included 'South Saturn Delta'. This time Hendrix captured a jam (with organist Mike Finnegan, saxophonist Freddie Smith and drummer Buddy Miles) that contained a relaxed shuffle feel, an insinuating bluesy vocal line and some spirited solo joshing between saxist Smith and himself on guitar. The funk backbeat of Miles aside, the opening bars could almost be from a Stanley Turrentine-Jimmy Smith jam of the early or mid-60s. so soulful is the atmosphere before Jimi lets rip.
This particular jam was important because it reached out past where anyone else had got to in terms of blending the latest rock sounds and trends with the jazz-funk approach. Previous bands and artists had applied horns and organ to more traditional forms of blues and funk – Paul Butterfield and the whole Stax brigade, for example – while jazz players developing this stylistic vein were still very wary about turning up the volume on the guitarist's amp or even featuring the guitar beyond a strictly accompanist's role, even when groove merchant organists such as Jack McDuff were involved. To find such supercharged playing in a jazz context in 1967-68 it was still necessary to turn to the New York avant-garde, at this point adjusting to the devastating loss of its mentor John Coltrane and looking for alternatives. Sonny Sharrock, playing with both Herbie Mann and Pharoah Sanders, was at that time cutting up rough in ways that diverge from what Hendrix was up to. Sharrock was recording in bands during this period that were exploiting the benefits of riffs and ostinato patterns as the backbone of improvised performances. Such things were not new to jazz or other types of music, having been around for centuries, but they were rare in conventional modern jazz at this time, obsessed as it was with post-bop running of harmonic changes. Only the chitlin end of the jazz scene – and the funk-jazz merchants like Eddie Harris, Horace Silver and Cannonball Adderley – were using these patterns in creative and fresh ways, but none of these bands used guitarists prominently. Mann did, however, often in the bass lines or percussion section, and sometimes in other backing instruments as well. Mann's best-selling Memphis Underground, recorded in Memphis in August 1968, was an example of how jazz musicians could use the most exciting elements of the new music around them in an instrumental setting with very strong jazz underpinning. Mann has been quoted as saying that his thinking on Memphis Underground was influenced by hearing The Byrds play 'Eight Miles High' live and sensing their shortcomings as rock soloists over such a great groove. He used Memphis musicians for a groove on which to graft jazz solos. The two guitar soloists on that date were Sonny Sharrock and Larry Coryell. Both men, but most especially Coryell, show a heavy awareness of what Hendrix was doing at that time. Mann, in letting Sharrock loose like he does, for example, on 'Hold On, I'm Comin", clearly knows the Hendrix precedent.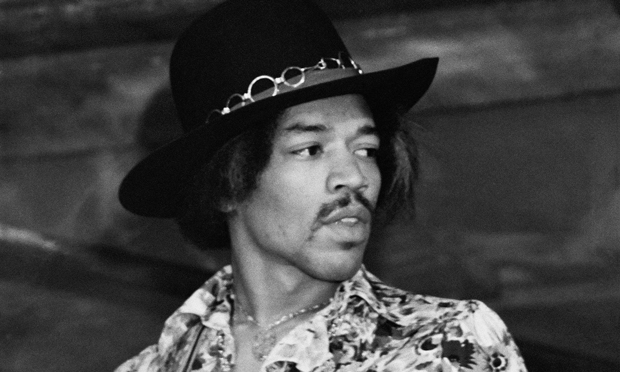 Coincidentally, that May Hendrix had used a flute soloist on one of his most ambitious recordings, '1983 (A Merman I Should Be)'. Although its basic form included a melody line and vocals against a steady, if slow, beat, Hendrix had extended sections in free time, using washes of sound years before ECM, New Age and synthesisers made such ideas commonplace, but interweaving quicksilver lines of improvisation from both his own guitar and from the flute of Traffic's Chris Wood. Wood was no technician and his contributions tend to be basic, but his presence helps spread the music far from the shores of mainstream rock. This track ate up a whole side of the original vinyl LP and was a major statement of intent from the guitarist, whose usage on this track of intervals and scales found in Indian music may have been very much something of that period, but they were still of surpassing melodic beauty. Listening to the distilled purity of the melody found all through '1983', one is bound to be drawn to a parallel with Miles Davis' first foray into the embryonic jazz-rock fusion area, In A Silent Way. The tune was penned and recorded by Joe Zawinul, then still a key member of Cannonball Adderley's quintet, but it was Davis's studio reading of it in February 1969, with John McLaughlin on guitar, that was so influential.
In September 1968, the month after Hendrix had finalised the last items for Electric Ladyland such as 'Long Hot Summer Night', 'House Burning Down' and 'Come On Part 1' and delivered the completed masters, Miles recorded 'Mademoiselle Mabry' (based partly on 'The Wind Cries Mary') and 'Felon Brun', his first two tracks with Chick Corea on electric piano. Though still couched in the stylistic terms of the great Shorter-Hancock-Carter-Williams quintet, these two pieces hinted at a shift in his focus towards more open-ended music that had a steady metric flow dominated by the type of beat found in rock and soul. 'In A Silent Way', recorded just a couple of months after Electric Ladyland's initial release, shows how closely Miles was following Hendrix's career on records. It is worth pondering whether Miles could have made such a quick and decisive step towards rock techniques, in both music and production, without '1983' having preceded it. Certainly John McLaughlin, the guitarist Miles chose to play a key role in proceedings and newly arrived in New York to play with Tony Williams' new band, LifeTime, was about the nearest thing in jazz to Hendrix at that time. He was not a guitarist hung up on trying to negotiate the crosstown traffic of the bebop changes Miles had left far behind a decade previously.
It is ironic that, as the fires of electricity-fed jazz fusion were being lit partly through his trailblazing example, Hendrix for the first time in his latter-day career experienced a slow-down in creative and performing output. That October he attempted a revisiting of the types of studio-inspired instrumental sound-pictures that had produced such groundbreaking pieces in the previous 12 months as 'EXP', 'Cherokee Mist' and large parts of '1983'. 'The New Rising Sun' suggests an expansion of the beautiful, haunting theme tune for Electric Ladyland, only this time much-extended (it's over three minutes long) and entirely instrumental, with long introductions and codas that are entirely without rhythmic underpinning. Although very beautiful in places it sounds incomplete and very much like another introductory piece, possibly to the next album that was at one time tentatively titled by Hendrix The First Rays of the New Rising Sun. But it is retrospective rather than forward-looking, and as such is something of a first for the guitarist. The downturn in productivity continued as he stuttered through a largely unproductive 12 months in 1969. Based in New York for the most part when he was not touring with a now-disintegrating Experience (Noel Redding was to play his last gig with Hendrix in June) and also having to deal with the consequences of a drug bust in Toronto in late spring, Hendrix largely dried up in terms of new material and seemed to be casting about for directions as the crowd around him changed.
Working in New York in the early part of the year he was alternating between trying out ideas with the Experience that were retreads of earlier achievements and having jams with the musicians he was meeting on the New York scene. Some of these players came and went quickly while others made a more telling impact. That Hendrix was looking for new blood to re-enthuse him is obvious when you look at who he played with in February/March 1969: Buddy Miles, Jim McCarty, Larry Young, John McLaughlin, Dave Holland plus the horn sec­tion from the Buddy Miles Express. During April/May Paul Caruso, Steven Stills and Johnny Winter were some of the many musicians, others remaining nameless (including a harmon-muted trumpeter thought by many for some years was Miles Davis but who remains unidentified to this day), who shared studio time with the guitarist, mostly running through hours of tape on jams but occasionally achieving something more structured. Saxophonist Sam Rivers remembers being pulled in to play on a Hendrix session, but can today recall no precise details.
Of all these encounters, the most celebrated (partially because it's the one virtually nobody apart from those involved and their close associates has ever heard) is the session with John McLaughlin. This is probably a case of hindsight rather than realism, especially when the words of those who actually took part are considered. McLaughlin has consistently stated that the session he shared with Hendrix was an unstructured jam, that McLaughlin himself was on acoustic guitar, and that the music was inconsequential. The fact that the jam ever happened was much more important for the history of the music than the quality of the music recorded, partly due to what McLaughlin himself was about to achieve, whether with Miles Davis and Tony Williams' LifeTime or under his own name. The implications are immense and everybody always enjoys 'what if' speculation. Dealing with the actual hard evidence of cross-fertilisation is interesting, for at around the same time as the jam happened, McLaughlin was recording his album Devotion for Douglas Records, with Buddy Miles and Larry Young providing backing. Although the McLaughlin compositions are very much in his own image, their spiky themes, diminished scales and intricate time signatures glancing back to Extrapolation and forwards to Mahavishnu, the improvisations, with the uncluttered drumming of Buddy Miles and spare bass playing of Billy Rich, show the impact of Hendrix.
On the title track McLaughlin double-tracks two solos in Hendrix fashion across a two-chord vamp, achieving a fine and heady musical effervescence of the type Hendrix had managed himself effortlessly in the past, but at that time was struggling to replicate in the studio. On the bluesy 'Dragon Song' McLaughlin plays so far inside the Hendrix bag of tricks as to make the listener wonder whether this was a tribute of sorts: with Miles knocking out a rocksolid backbeat and McLaughlin heavy on the wah-wah, this is deep Hendrix voodoo territory.
McLaughlin's contemporary outings with LifeTime were in the company of organist Young, drummer/leader Tony Williams and, later, Jack Bruce. The mix was explosive but the settled and consistently inventive music McLaughlin managed on Devotion suggests that the balance was better struck in his studio band. Hendrix and Mitch Mitchell are on record as claiming that they would have welcomed the opportunity to expand the Experience into a quartet with an organist, the most popular candidate consistently being Steve Winwood. LifeTime had that line-up, and the wildfire excitement of their music shows that Hendrix was sound in his instincts. That LifeTime as a trio never had a singer worthy of the description, and Jack Bruce wasn't around long enough after joining to get a permanent job fronting the band with his voice, means that the analogy is inexact, but the impressive diversity and impact of LifeTime's aural assault makes one wish that Young could have been in on the Band of Gypsys project at year's end.
By the time Hendrix and McLaughlin met in a New York studio he was bogged down in the studio, unable to formulate coherent new ideas for the Experience. Just days after their jam Hendrix tried another instrumental, 'Midnight', with Redding and Mitchell that though disciplined and eventful, broke no new ground for him and stayed unreleased until after his death. Within a month Hendrix also appeared in the same studios with Larry Young. McLaughlin's colleague in LifeTime and on Devotion. One of the resulting jams, later given the arbitrary title 'Young/Hendrix', was released on the posthumous vinyl album Nine to The Universe and showed Young entirely at home with Hendrix and Buddy Miles. Hendrix is intent on taking it easy and enjoying the contribution of his colleagues rather than trying for anything spectacular, easing his way into the combination.
During this period of socialising and jamming in New York, Hendrix met up with Miles Davis and Tony Williams, though neither man made it down to the Record Plant jams. A little later things were put on a more formal basis when they agreed to record with Hendrix and both Columbia and Reprise came to an arrangement about the upcoming session. It came to nothing, however, because Davis and Williams put the bite on Hendrix's management for up-front cash payments. Though no-one knew it then, the chance was gone forever. As Miles Davis led the sessions which would produce Bitches Brew (on which he made the connection with Hendrix explicit by titling one track 'Miles Runs the Voodoo Down') and push the jazz-rock fusion on a giant pace, Hendrix spent most of his summer 1969 break in upstate New York loosely working up ideas with some new and old musician friends. This Gypsy Sons & Rainbows aggregation (as it became known by the time of the Woodstock Festival) drew on many of the musicians living around the Woodstock area and allowed for a cross-pollination of sorts. Drummer Barry Altschul, for example, was one of the day-guests and took advantage of his visit to introduce the type of metre-free time-keeping he'd perfected while in Paul Bley's group. It is entirely possible that this encounter led to Hendrix undertaking his a capella reading of 'The Star Spangled Banner' at the Festival. These summer 1969 jams led directly to the flawed show at Woodstock and the dispersal of most of the musicians soon afterwards (although some, like ex-Coltrane and Miles percussionist Juma Sultan and bassist Billy Cox, would continue to be involved in Hendrix's music-making plans), but the lessons weren't wasted. Hendrix that autumn formed his Band of Gypsys with Cox and new pal Buddy Miles. If ever there was a jamming band it was this one: the miles of studio tapes recording their incessant jams while trying to put a stage act together testifies to it.
Band of Gypsys didn't last very long – a matter of months – but during its short existence Hendrix took the opportunity to play in public material that took him away from his Experience image and allowed him to move away from a live format that had become formulaic. With a rhythm team behind him solely focusing on keeping as tight a grip on the constant in-the-pocket beat as possible, Hendrix was freed up to play as his muse took him. As the New Year's Eve Concert at Fillmore East testifies, this could lead into passages of little activity and the occasional concentration on stage antics, but it could also allow Hendrix to build up a colossal creative head of steam.
Hendrix had for three years been demonstrating his awesome guitar prowess in live circumstances, but to a large extent this had been done on set pieces and in short bursts, with 'Voodoo Chile (Slight Return)' and a slow blues, most often 'Red House', the only extended demonstrations. With his Band of Gypsys Hendrix found a way of matching his contemporaries in terms of extended performance, as Cream, Grateful Dead and the cutting-edge jazz performers had been doing live for a considerable time. Of course when Hendrix did it, he moved everything on past what had been achieved before, because at the Fillmore he unveiled 'Machine Gun', a 12-minute fusion of arrangement and improvisation that today sounds just as shattering as it did when first released in 1970. With his solo on this number, Hendrix laid down the path for guitar for the subsequent decade: all Miles Davis' later attempts to assimilate guitars into his working band have their roots here (it is rumoured that he was at the concert where this performance was recorded) while players such as Mike Stern and John Scofield would take the intensity and texture of this music and apply it to their own methodologies, emerging in the 1980s with mature styles that embraced jazz, rock and fusion with equal inventiveness and passion.
Hendrix's last year, 1970, held as much frustration for him as it did musical fulfilment: the Band of Gypsys collapsed from both internal and external pressures early in the year and the replacement trio – Hendrix, Billy Cox and Mitch Mitchell – went back out on the road in April. In the spring and summer Hendrix methodically worked on finishing material for his long-delayed follow-up studio album to Electric Ladyland, but there is little in those recordings to suggest he was actively pursuing an experimental or radical new direction. He returned to the song format offered on Are You Experienced? and Axis: Bold As Love and concentrated on polishing such new tunes as 'Freedom', 'Dolly Dagger', 'Night Bird Flying' and 'Izabella' to his usual levels of perfection. Only in his incredible attention to musical detail and love of texture on every level of performance can there be found a hint of the other avenues then being pursued, for during these months he and his management had entered into talks with arranger/composer Gil Evans in the hope of pulling off a studio collaboration. Evans had based his reputation in jazz on his ability to extract exquisite and unique voicings and textures from rearrangements of a huge range of materials and his work with Miles Davis was world-famous. In turning to him Hendrix might have been looking for a way out of his old dilemma: aspiring to operate in many areas of music with equal aplomb but not having the formal training to do so. The Evans project seems to have been taken seriously by all parties, including his record company, who commissioned a preliminary record sleeve design prior to Hendrix's death, but it is open to question as to whether it would ever have eventuated. Evans was a notoriously slow  worker and a perfectionist, and having two such people on the one project would have been asking for trouble. Evans had been approached before by a suitable rock performer and turned the commission down – Laura Nyro had asked him to arrange New York Tendaberry in 1969. He later made his own album of Hendrix covers in 1975 that quite frankly was the feeblest of all his studio work by some distance. Yet, if you have been lucky enough to hear Hendrix's heart-breakingly beautiful slow reading of 'Hey Baby' from the 1970 L.A. Forum bootleg releases, just begging for a sympathetic Evans scoring, it will give you pause to wonder what might have been. After that, well – who knows? We can speculate infinitely. Meanwhile, the music that Hendrix did actually get around to leaving to us remains plenty for the music world – jazz included – to be getting on with.
This article originally appeared in the January 2003 issue of Jazzwise. Never miss an issue – subscribe today!