John McLaughlin: The Journey Continues
Stuart Nicholson
Wednesday, October 20, 2021
Retirement? What retirement? It seems the rumours of John McLaughlin hanging up his axe have been greatly exaggerated. The guitarist speaks to Stuart Nicholson about how this latest Indo-jazz quest extends the vision he first explored with Mahavishnu Orchestra and Shakti in new uplifting ways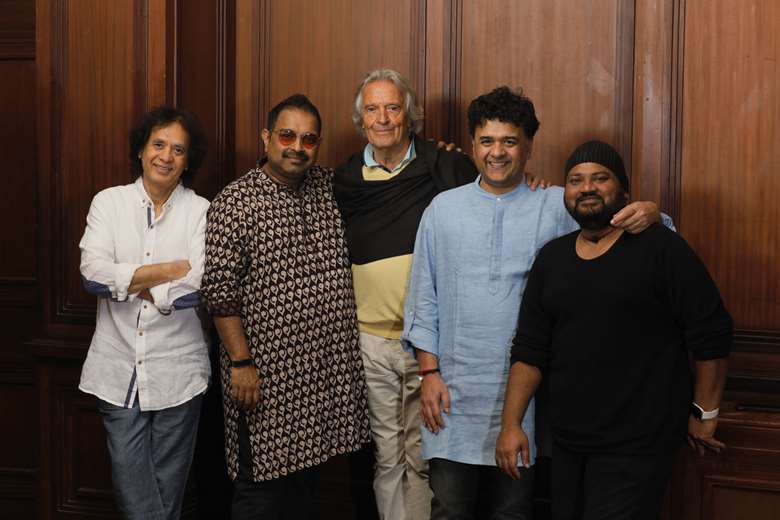 John McLaughlin calls it his labour of love. A milestone in his career. One of the most rewarding musical projects he's ever done. But, he adds, he's no idea what people will make of it.
"I know it's not going to be a gold disc," he laughs, "but we just hope people will enjoy it, be moved by it; that's the prize." He's talking about his latest album Is That So?, released on the Abstract Logix label. It's certainly different to anything else in his substantial discography – for a start you don't hear his acoustic or electric guitar and it's one of the few albums since his session musician days on the London music scene of the 1960s that features a vocalist. Yet it's an album of great beauty, profundity and ultimately hope. It abandons any preconceived notions of how a song should be sung or how a song form should be logically structured and the result? A liberating experience.
Is That So? is a collaboration between McLaughlin, who plays his guitar through a MIDI interface to produce a wide range of orchestral tones and colours, Indian singer Shankar Mahadevan and McLaughlin's longtime musical collaborator, Zakir Hussain on tabla. The result is a new musical concept. "It's a new form," says McLaughlin. With the exception of 'The Search', which is freely improvised, each song has its roots in the Indian Bhjan, or a song with a spiritual theme. But it's what McLaughlin has done to these songs that gives this album its significance – and that has its roots in his famous group Shakti, originally formed in 1974.
"

Discovering Indian music came in the psychedelic era of the 1960s, where we all started asking those existential questions about life and seeking answers
A true 'fusion' of Western and Indian musical cultures, Shakti only made sporadic performances after 1977, but in the mid-1990s, McLaughlin and Hussain reactivated the concept with a new band called Remember Shakti. Following the death in 2014 of 'Mandolin' Shrinivas, one of the founding members of Remember Shakti, the band didn't play again until 14 January 2020 when it was reformed for a performance at Calcutta's Saturday Club. Shakti's significance was in McLaughlin's integration of the Hindustani musical tradition of the North of India with the Carnatic tradition of Southern India which he spiced with western harmony – something that had not been done before and that received widespread acclaim in India, where McLaughlin and Shakti are revered as musical icons.
The key to Shakti is that their music did not abandon the rules of the Raga system completely, so the tanpura, or sustained drone that's in tune with the tablas, provides the tonality to which the notes of the raga scale relate. The improvisor can change ragas but the tonality stays the same. Sometimes the improviser uses several ragas, which is called "raga mala", or garland of ragas, but again the tonality remains the same. When McLaughlin introduced Western harmonies, or chords, with Shakti, his chords had a direct musical relationship to the underlying tonality of the tanpura, or drone.

So what is it, then, that makes the music on Is That So? 'a new form', as McLaughlin puts it. Basically, Mahadevan would record the vocals based on Indian scales, or ragas, on one track, and put the drone, or tanpura, on another track, and hand the CD to McLaughlin. The guitarist would then would create an 'orchestral' accompaniment for the vocal.
"I would hear the tonality of the tanpura then I throw away the tanpura", explains McLaughlin. "Once I knew the tonality, my harmonic progression would depart from the tanpura and refer only to the way Shankar was singing."
It's this freedom from the tanpura that allows McLaughlin to create a sequence of harmonies to support the vocal (in much the same way a harmonic progression supports the vocal in an American standard), albeit McLaughlin's new form is typically through-composed rather than in a standard's cyclical progression (that repeats itself every 32 bars). In other words, he has broken the tonal conventions of the raga by departing from the tanpura by using Western harmonies to accompany Indian traditional singing. "It's a new form that's related to Shakti, but stands on its own," he says. "It's completely independent, because the rules have been thrown out of the window. I have no idea how India will react to this music, but that's not really important to me, because it's a labour of love and a musical landmark in my life – when you become so involved in a project like this it takes on a life of its own".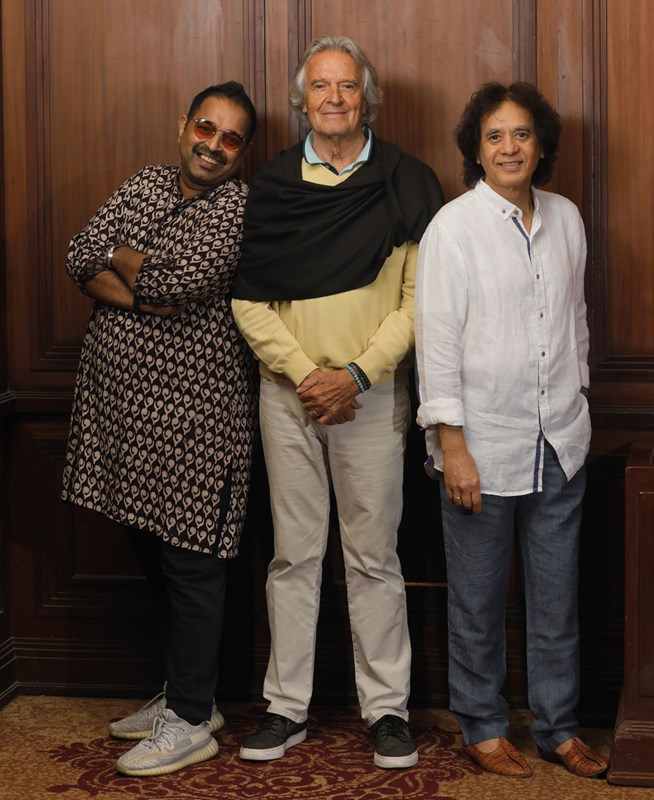 Shankar Mahadevan, John McLaughlin, Zakir Hussain (photo: Kaustav Saikia)
Vocalist Shankar Mahadevan was equally thrilled with what their experimentation was yielding: "The whole texture of the music really excited me, since harmonic content does not exist in Indian classical music," he says. "We started by recording one piece as an experiment and after listening to the outcome we were so thrilled that both of us wanted to record an entire album. It took a few years to complete because of our geographical locations and travelling, but we did it!"
Having completed the first couple of songs, McLaughlin realised that there was something missing: "In the beginning it was no improvisations at all, just orchestrations. Both Shankar and I agreed we needed a kind of spontaneous improvisation break in the middle of each piece, and for that we could integrate Zakir. I didn't want to play guitar with Shankar's voice, I wanted something much more vocal, more expressive, and also to play in a different way and my software allows me to create a flute-like sound to compliment the vocal much more naturally than a guitar. It's a bit like Michael Brecker, one of the greatest tenor players. But he was also playing the Akai EWI; he did fabulous things with it, and I understand absolutely why he would pick up an electronic instrument like that because it made him think outside the box, and this was exactly the same thing for me. I cannot play this software like I play guitar, I am playing very differently on this instrument because I have to. And now I understand, I always loved the way Michael played the EWI, but now I really understand, from that point of view, it's another form of expression and very satisfying too."

But is this 'new form' the true innovation McLaughlin claims it is? After all, the huge multi-billion Bollywood movie industry owes its success to extravagant musical productions whose Indian songs incorporate Western harmonies in traditional songs and melodies. "Well, Bollywood is closer to where we improvise with Shakti," explains McLaughlin. "The harmony is very simple in Bollywood, and that's because they are [Indian] classical musicians in these orchestras, so the traditions of Indian classical music are still very much there in Bollywood music. They are using simple [Western] chords that relate to the fundamental tonality of the tanpura, because to this day, these songs revolve around the raga tonality."
John McLaughlin's love affair with Indian music goes right back to early in his career in the 1960s when he was active on the London jazz scene as a session musician by day (accompanying the likes of Tom Jones, Englebert Humperdink, Sandy Shaw, Petula Clark, Burt Bacharach and The Rolling Stones) and by night working with bands such as Georgie Fame and the Blue Flames, the Graham Bond Organisation – alongside Ginger Baker and Jack Bruce in their pre-Cream days – and Brian Auger, as well as recording a bona fide British jazz classic under his own name, Extrapolation, in 1969. "I am by discipline a jazz musician," McLaughlin says. "Discovering Indian music came in the psychedelic era of the 1960s, where we all started asking those existential questions about life and seeking answers."
During the 1960s, psychedelia exploded across the music scene, its unofficial headquarters the UFO Club in Tottenham Court Road where The Pink Floyd and Soft Machine held court. LSD, mescaline and other mind-expanding substances opened the mind to other levels of consciousness and an awareness of the great existential questions of life, of mystical experiences and spiritual transformation.
"In the west at that particular time it was quite difficult to find answers to those great questions which had been addressed thousands of years ago in Asia in general and India in particular," continues McLaughlin. "I was not alone in my move towards India for answers to the great questions of life – I had already begun with George Harrison, then Ravi Shankar took me on as a sitar student. I'm such a fan of The Beatles, by the way, in fact my record of preference in the last few weeks has been Sgt. Pepper – but once you start studying the philosophy and culture of India you encounter the music, because the music is all inclusive in that sense it relates to every level of awareness, perception, consciousness that is in the human being, from the most capricious to the most sublime. But the thing was, I never wanted to be an Indian musician, like playing classical Vina, I wanted to play with Indian musicians but to do that you can't say, 'Let's jam, play in D Dorian,' or whatever. So just out of respect, and love of the music, I wanted to learn the theory, just to do justice to my presence in the band.
"What I discovered about Indian music was that they are master improvisors and master players of rhythm and if this is not common ground for jazz then I don't know what is! And when I started 'hearing' Indian music and hearing the masterly way they play and the masterly way they improvise I was enchanted and so of course I ended up – the only way to really, let me say, in this discovery of getting 'answers' to the 'great questions' – you take a teacher, a guru, and so this is what I did. In fact, I had quite a lot of teachers, the first one was my guru who was teaching me north Indian flute and then my meditation guru, who gave me the name Mahavishnu, and then Dr Rathaman, who was my guru for South Indian vina and Ravi Shankar who took me as a secondary student. And so I have had a number – I consider Miles Davis to be a guru, they were all teachers to me."
With Davis, McLaughlin appeared on all of the trumpeter's classic jazz-rock albums he recorded in the studio between 1969's In A Silent Way and On the Corner from 1972. He even managed a live session for Columbia Records with Davis in Washington D.C. in December 1970 alongside the likes of Keith Jarrett, Jack DeJohnette and Gary Bartz. Davis was very taken with McLaughlin's playing, urging him to join his band, but McLaughlin was committed to Tony Williams, who had reached out to the guitarist in London to invite him to join a new band he was forming called Lifetime. In the end Davis respected this, and he and McLaughlin remained firm friends until Davis' death in 1991. In fact, as Lifetime began to flounder as a result of poor management, it was Davis who encouraged McLaughlin to form a band of his own, which he did, calling it the Mahavishnu Orchestra. "By the time Miles told me to get my band together," continues Mclaughlin, "I had already had a lot of experience listening to Indian music, applying Indian music – even when I was in school I was interested in compound time [meters that divide into three equal parts, e.g. 3/4, 6/8] and with Mahavishnu I had the opportunity with a drummer like Billy Cobham and Rick Laird on bass to implement these compound time signatures into compositions.
"Before I became interested in asking 'the great existential questions', I was studying the philosophy of the Tarot – we're going back to the early-to-mid 1960s here – and what I found with the Tarot and the Egyptian solutions is the 12 signs of the Zodiac have the 12 tones of the scale assigned to each of the astrological signs and so with Mahavishnu, this fascinated me because it related music to our particular sun sign. Whether or not you believe in astrology, it's really interesting to hear in a musical way one's personal astrological harmony in musical harmonic terms. I integrated these elements into Mahavishnu and I put all the solos in their particular sun sign, which is a combination of sun sign and moon sign, so these are the elements that came into the pieces that I wrote for Mahavishnu. That said, when I arrived in New York to play with Tony Williams, it was just purely coincidental that I ended up playing with Miles, but I went there to play with Tony and Larry Young – Khalid Yasin – and every time I wasn't playing with Tony I was playing with Miles, and Miles wanted one thing from me which was more the R&B thing I had been surviving with in the 1960s! But once he heard the music I was writing he encouraged me to write it for Lifetime and this was wonderful because I had a carte blanche – I can say quite categorically, that all of the homework for Mahavishnu was done with Tony and Lifetime – to start integrating these strange time signatures into the music that came into its own with the advent of Mahavishnu, these are the musical origins of Mahavishnu."
"

It's a labour of love and a musical landmark in my life

John McLaughlin on his Indo-jazz explorations
It has been a long journey from Miles and Mahavishnu to Is That So? – a journey in which McLaughlin has moved easily between jazz and his experimentation and exploration of Indian music.
Souvik Dutta, founder of the Grammy-winning Abstract Logix label with whom McLaughlin has been recording since he left Verve Records, says: "Is That So? is a very special project for John. He's been working on the music since 2013 and the music is stunning. John orchestrated all the music himself… it's a layered conceptual album… he is the first one to introduce the music of India to the West like no one prior".
While the album seems to demand it be toured in the traditional album-release-tour cycle of the music business, McLaughlin is wary of the amount of work this would entail: "Well it took six years to get the CD out," he laughs. "It could be done, three keyboards I guess, and Shankar would have to memorise every song as he did it on the record, and I'd have to orchestrate more material for a concert. We'll see. We're touring in a couple of months with 4th Dimension and the diary is filling up for 2020. We'll see. It's actually already been proposed to me by the Daniel Barenboim Academy in Berlin, where we've played a couple of times: this is a marvellous music academy with all kinds of music, classical music, Middle Eastern music, Asian music being performed there; and one of the chaps who runs it said, 'I want to do it here', and I said, 'Can I think about it!?'. I'm going to see Shankar [Mahadevan] in two or three days and we can chat about it, because I think he's also had some inquiries from the Indian end about whether we could do it live, but anyway, these are things that lie in the future, as I say, we'll see."
---
This article originally appeared in the March 2020 issue of Jazzwise. Never miss an issue – subscribe today