Laura Jurd interview: "We could be much bolder as a country... People are very artistic as listeners"
Thomas Rees
Thursday, March 5, 2020
With their second album, Wonder Trail, Mercury-nominated quartet Dinosaur unveil a feistily expansive new sound embracing gritty jazz-rock, fuzzy funk and folk, all fuelled by an arsenal of analogue synths. Bandleader and trumpeter Laura Jurd spoke to Thomas Rees about exploring "sonic infinity", cultural cowardice and why the jazz world needs a shake up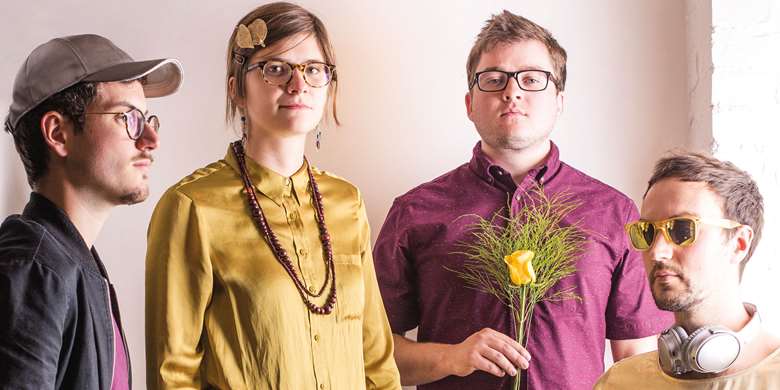 Laura Jurd isn't at all what I expected. The 27-year-old trumpet player has been one of the leading lights of the UK jazz scene ever since the release of her debut album, Landing Ground, in 2012. Jurd's music is bold and original, but reading past interviews and watching the trumpeter on stage, I'd always had her down as earnest, reserved, perhaps even a little shy. She's nothing of the sort. She's sunny and bright, thoughtful and reflective, that's true. But she's also steely and refreshingly outspoken – a jazz world disruptor.
Wonder Trail, the latest album from Jurd and her quartet, Dinosaur, isn't what I expected either – even from a musician who (like one of her heroes, Miles Davis) seems to be constantly reinventing herself. It's a daring record that fuses jazz, folk and art rock, marshalling DayGlo harmonies and heavy grooves and exploring an arsenal of analogue synth sounds in the process. 'Set Free', one of the standout tracks, can only be described as an indie-pop banger that lures you in with a whimsical folk tune before it explodes. It's a bit like turning up at an Unthanks gig and witnessing a stage invasion by Grimes and Aphex Twin.
I just think everyone involved in jazz in the UK should not be afraid to evaluate the way they're doing things and completely change
Laura Jurd


Wonder Trail is only Jurd's second release with Dinosaur, following the jazz rock-suffused Together, As One in 2016. The band, completed by keys player Elliot Galvin, bassist Conor Chaplin and drummer Corrie Dick, have been together for almost eight years, but they'd always recorded as part of larger groups. On Landing Ground they were joined by the Ligeti Quartet. 2015's Human Spirit featured a brass-heavy frontline and a monster of a bass saxophone.

"I love all kinds of music and I've always been very keen to explore how I can bring things that I love into the world of the jazz band," says Jurd, over tea in the Southbank Centre cafe. "I'd been trying to work out how to find this sound that I imagine in my head. It wasn't until Together, As One that I felt like I had some compositions that were doing that without making use of extra forces. I was like: 'How can I push four people to sound like more than four people.' Together, As One was the first step on that journey."


Keyboards seemed to provide an answer, but they had their drawbacks too. "We recorded Together, As One using Fender Rhodes, which has such a distinct sound," says Jurd. "You can't get away from that word 'fusion'. There's almost a stigma. On Wonder Trail the synth sounds are much better and it allows it to just be whatever it is." Galvin built all of the sounds on the record from scratch and there are a lot of them. It's like a synth colour chart, incorporating everything from cosmic zaps to sodastreams of fizzy pop, mellow organ beds, torrents of overdriven grit, mysterious X-Files wobbles and choruses of high-pitched whistles that sound like a choir of mice on LSD. "Analogue synths give you the ability to control all aspects of the sound you're making in real time," Galvin explains, over email. "It always bugged me how on a piano, once you've put the key down, there's nothing you can do to change how the note sounds. Synths gave me the ability to do that and a whole lot more."

Aphex Twin and Morton Subotnick (the 'Godfather of Electronic Music') were important influences on Galvin during that time, as was Matthew Bourne's moogmemory. And Dinosaur are all big fans of a synth-heavy Norwegian indie band called Broen. "Elliot is such a composer," says Jurd of the album's genesis. "It's great to unleash him in this sonic infinity. Corrie was thinking about electronically triggering sounds live, adding more colours. There were all these possibilities and so I thought: 'OK, let's write some music that involves all of that.'"

Dinosaur also "went to town" on the production for Wonder Trail. "Everything I'd done before had been going into a studio and playing live, like it was another gig," Jurd explains. "But this was a planned-out process of using the studio as an instrument and building the tracks in a much more creative way." The album opens with a flare of electronic noise. "It's almost like having a cold shower before you begin," says Jurd. "It just goes: 'Ta da', with a big Bb major triad that sums up the whole motivation.

"It's a celebration of good things," she explains. "Bright music to make people feel happy. It's a little journey through these tracks, which will hopefully fill you with some sense of wonder. It certainly does for me. One of the energies I wanted to get across is wonderment… wonderment at life, I suppose." The track titles, and the lyrics on the album's three vocal numbers, reflect that positive energy. They're simple and breezy, but they have hidden depths and touch on issues that are important to Jurd. Though she stresses that Wonder Trail isn't a political album and certainly not the post-Brexit "rage album" she mused about making in her last Jazzwise interview, the lyrics to 'Set Free' – "I smiled at a stranger who smiled back at me, and afterwards we realised that we were both set free" – have something to say at a time when division is rife in British society. 'Shine Your Light', which starts mellow and ends up grungy, is about blossoming and self betterment. While 'And Still We Wonder', with its whimsical, The Magic Roundabout synth loop, is about the importance of appreciating the moment.

Jurd strikes me as very level-headed. She doesn't think about an overall trajectory for her work, or have a fixed idea of what constitutes success. "There's not an arrival point," she says. Her overall goal is: "To just keep making albums, because it's really fun." She likes the idea of having a portfolio of different releases though. "There'll be a continual thread in that it's the same musicians and our identities are quite recognisable," she says. "But I don't think it would be in my nature to repeat something directly. There would always be some level of development. The moment I start repeating myself I'll probably stop and do something else." For her next project, she's considering asking some of her favourite composers from outside of the jazz world to write for Dinosaur.

We talk a lot about the jazz genre, about conventional structures that Jurd is trying to get away from ("big solo sections that have nothing to do with the piece") and about the recent media buzz around UK jazz bands such as Ezra Collective and Sons of Kemet. "I think it's great what they're doing," Jurd says, "but it's just representing one strand of what's going on in London. We need to make sure there's no bitterness, because I think it's easy for people to feel left out. And I do understand that, actually.

"This could be taken the wrong way, but as a middle class white person from a quaint little village in Hampshire… There's nothing cool about that. I feel privileged. I happened to go to some fantastic state schools with great music teachers. I'm super grateful, but that's not very exciting for the media. We live in a very image-based media world now – very lazy – and if there's no story or image to play off it's hard for some musicians. They could be writing the coolest music ever and… impossible."


Dinosaur have had no shortage of attention. "I feel very lucky that there's a world around the music I'm making," Jurd says. One of their biggest recent accolades is the 2017 Mercury Prize nomination for Together, As One, which she describes as "crazy". "I'm always aware of the limitations instrumental music has in connecting with people. The use of language, which all of the other nominees had, is very powerful. It's fun to try and get as close to that connection as you can without words." A jazz act has never won the prize (Dinosaur lost to Sampha) and, in a recent interview, Shabaka Hutchings, who was nominated in 2016 with The Comet Is Coming, refers to it as a "token jazz category".

"I actually think he's right," says Jurd. "In fact, in the Mercury interviews they kept asking us that: 'Do you feel like the token jazz act?' And I was like: 'Well, I do now you've just said it,'" she laughs. "I feel like there would be too much of a scandal if the jazz act won. I don't think the world of media is brave enough to do anything like that, and I think that's reflected in the amount of artistic stuff we see on television and radio. We could be much bolder as a country. I think we're very afraid of ratings going down and we don't give the general public enough credit. People are very artistic as listeners. I don't know how we can start a cultural revolution to solve this problem…"

Jurd would like to see some changes within the jazz world too. "I think jazz as a genre is really poor at presenting itself," she says. "Compared to other styles it's completely hopeless and I'd love to see it be better. There's a lack of artistry and care when it comes to anything that's not the music. Not in all cases. There are people doing fantastic things. But even something as simple as album artwork, it's just like something you have to do, for a lot of musicians. And talking about the music… 'I don't like doing that'. But surely the whole point is to communicate the music to other people, and how can that be done successfully if you don't care? It's frustrating when you know how much fantastic music is being made. Maybe they're just disheartened because they think nothing's going to make a difference. But the best chance you have of making a difference and reaching new audiences is to make the best music you possibly can and then try and present it in a way that completely serves that music. Make it inviting. Don't go to a gig and say: 'Sorry, this tune doesn't have a name. If anyone has any ideas tell me in the interval.' That's weird."

She doesn't want to name names, at least not on the record, but her frustration extends to sections of the jazz media. "I just think everyone involved in jazz in the UK should not be afraid to evaluate the way they're doing things and completely change," she says. "Look at other genres or forms of art that are presenting themselves brilliantly and compare it to what you're doing. Be an audience for your own product…

"Maybe people who have an opinion should be bolder about going up to the relevant people," she muses, as we finish our tea. "I think that's what I'm going to do. I should be more active about the things that irritate me. Now that I've done a few interviews, I may as well use this chance to be really honest and informative."

This article originally appeared in the June 2018 issue of Jazzwise. Never miss an issue – subscribe today!