On the evidence of her recent release Visions on the Motéma label, Melissa Aldana, a 30-year-old saxophonist-composer of Chilean extraction living in New York, isn't a rookie by any means. She's already gone some of the way to achieving a maturity, individuality and depth to her playing. But her growth as a jazz musician-composer has taken an unusual pathway compared to many of her peers.
"I grew up pretty isolated, just with my father practicing with me all the time," she tells me sitting in the Soho Pizza Express Jazz Club a couple of hours before her album launch gig. "At the age of six I picked up a horn and my father was my main teacher. He used to practice with me eight or nine hours a day. It's crazy. He made me transcribe a lot of solos by ear and memorise them and that was pretty much my education in Chile until I turned 17. I didn't do much playing with other musicians, just with some elders, musician friends of my father. I went to a normal high school too, so I wasn't with younger musicians, also because there is not much of a scene in Chile now. Back then it was even worse. I never had anything like a South American folkloric education, but I felt I learned a lot about very basic concepts that I'd never learn anywhere else. What it means to have a good sound, a language, how the instrument itself needs to be played. It allowed me to develop my ear a little deeper."
She started on alto, but switched to tenor at the age of 12 after hearing Sonny Rollins for the first time on his 1956 release Sonny Plus 4: "So my father gave me a brand new alto that year and I was like 'I can't play alto anymore, I need a tenor' so he gave me my grandfather's tenor." To this day she still plays Enrique Aldana's Selmer Mark VI. Leaving her hometown to attend Boston's Berklee, she moved to New York in 2010 studying under George Coleman and Greg Osby, on whose label Inner Circle she recorded her trio debut Free Fall. Osby would tell her to check out names such as Don Byas, Gene Ammons and Lucky Thompson, second tier swing-to-bop tenor titans that now number among her biggest influences.

"One of the things I realised is that all those players are so hip," she says. "You know it's just a context, the quality of the recording, or the music that makes it seem old. The way they play and approach their instrument is very modern."
Along the way she also started to absorb the lessons of influential contemporary-minded tenorists such as Mark Turner and Chris Potter. In 2013 she hit the headlines as the first female jazz instrumentalist to win the esteemed Thelonious Monk competition. Acknowledging it opened doors for her, she says she nevertheless felt determined to move forward only in the service of her artistic development, and that meant continuing with the trio format for the prize record deal with Concord.
"Playing trio for me meant you had to really grow up," she says. "Becoming strong with harmony and having a deeper understanding of how a saxophonist works with a rhythm section. So I forced myself even though it maybe wasn't the right or commercial thing to do when I won the Monk competition."
For Visions she makes the switch from trio to a quintet that features the superb Ambrose Akinmusire sideman Sam Harris on piano. ("I felt I was ready to add some harmony and was hearing it in my head for a while. But I always believe it's important to challenge yourself in order to grow. I like to feel uncomfortable when I play.")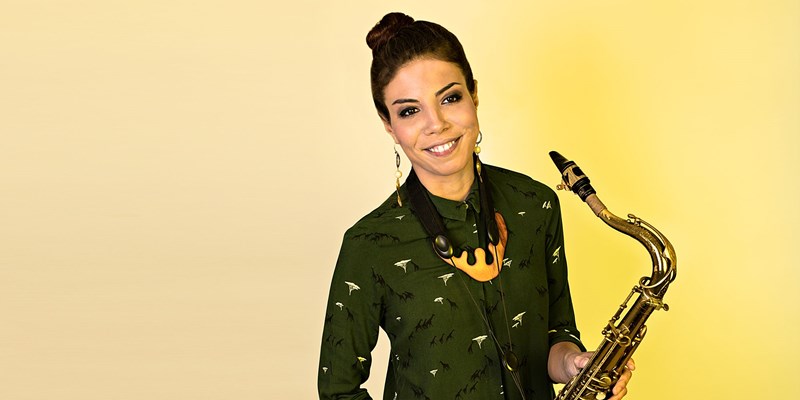 Melissa Aldana (photo: Harrison Weinstein)
Which brings us to the new album's recurrent if not overarching theme, one that had arisen from a multi-media performance inspired by Mexican artist Frida Kahlo that was commissioned by New York's Jazz Gallery.
"I chose Frida not because she's a woman or Latin American, but because she's so badass," she says. "I've always been amazed by her work. She's an icon in South America and I used to do a lot of painting when I was younger, imitating her a lot. I always wanted to do something related to visual arts and see how it inspires the way that I write. Frida had an accident as a kid and when she was about to die she sees a tunnel and sees a light and, at the end, she sees this ghost she named 'La Madrina' [the third track on the album] that offers her eternity to die and be peaceful or have to face everything that's going to happen during her life. Frida decided to stay alive despite the fact that she will go through all the suffering and, as years went by, she had a lot of health issues and was about to die many times. So the tune mostly talks about how we shape our destiny. It has a lot of different layers and counterpoints that represent different things that happen in life. The album is mostly inspired by this process of acceptance."

Melissa Aldana's Visions is out now on Motéma Records
This article originally appeared in the October 2019 issue of Jazzwise. Never miss an issue – subscribe today!