In music as in life: every problem is also an opportunity. By the late 50s forward-thinking players were trying to un-clutter the music, leave more room for space and freedom of expression, rather than stick to the same old harmonic steeplechase offered by bop and hard bop, where improvisers raced through a quick succession of chords using tried and tested personal licks.
The two leaders in this desire to find something else as a harmonic basis for jazz were Miles Davis and Charles Mingus. Back in 1956-7 Mingus was experimenting with long improvised passages on a single chord or scale, often in the blues form, but also in more open-ended frameworks. His key albums Pithecanthropus Erectus and The Clown both thrive from the melodic freedom offered by this approach.
Miles took a little longer to arrive at his own personalised breakthrough: obsessed with the idea of space in music that Ahmad Jamal had found, but not wishing to use such highly arranged frameworks, Miles had to wait for pianist Bill Evans to join his band in 1958 before the way became clear. He and Evans devised open-ended tunes which used just one or two related scales and which left the improviser with all the choices and decisions to be made, their only limits then being their own imaginations.
"
Much of what the jazz-rock and fusion players would do in the 70s used Coltrane's modal and rhythmic frameworks as a model
Miles thrived in this new atmosphere, bringing his fierce lyricism to the fore and creating a string of masterpieces, including Kind of Blue (1959) and, with arranger Gil Evans, Sketches of Spain (1960). Yet it was one of Miles's own disciples who took modal jazz to its final extremes.
Saxophonist John Coltrane, originally a bebopper, enthusiastically embraced modality and, with his classic quartet of 1960-65 which included Elvin Jones and McCoy Tyner, rewrote the rule books for all of modern jazz, outstripping Miles in the process. Coltrane would even take popular tunes (such as 'My Favorite Things') and re-cast them, stripping them to the modes at their heart and improvising for hours on end on that basis. His overwhelming influence was felt across all of jazz, fusion, funk and progressive rock for decades afterwards – even today, many people's idea of a jazz tune comes down to a Coltrane approach to it.
Much of what the jazz-rock and fusion players would do in the 70s used Coltrane's modal and rhythmic frameworks as a model, while millions of jazz players worldwide, young and old, from Tony Williams to Jackie McLean and beyond, adapted their styles to take advantage of the freedoms Trane was offering. We're still living with that legacy today.
Key recordings



Charles Mingus
Pithecanthropus Erectus
Atlantic
A revelatory 1956 date including the mesmeric 'Blue Cee' as well as the galvanic title track. Mingus in the act of opening up a thrilling pandora's box.

Miles Davis
Kind of Blue
Columbia
How do you get round it? You don't – you just buy it and listen. A quietly perfect record with ideal balance between all six men involved.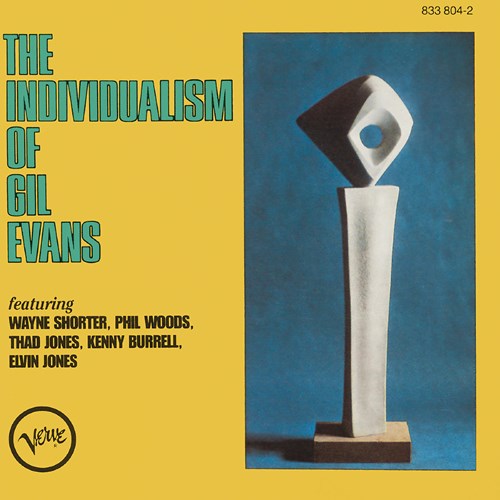 Gil Evans
The Individualism of Gil Evans
Verve
This record shows that Evans was a force to be reckoned with even without Miles. His ability to make miracles happen on the back of a vamp and a few extended chords is nowhere better heard than here.

John Coltrane
My Favorite Things
Atlantic
The title track made Coltrane a star beyond jazz circles: nearly 14 minutes of inspired soprano sax blowing on two scales, with Elvin thrashing a crazed 3/4 waltz underneath.

Bill Evans
Waltz for Debby & Sunday At The Village Vanguard
Riverside
Evans with Scott LaFaro and Paul Motian in summer 1961 creating a new type of intimate musical interplay. Their treatment of "Milestones" shows just how influential Evans's harmonic concepts were.

Jackie McLean
One Step Beyond
Blue Note
McLean listened to the new, then enthusiastically embraced it. This landmark album, with Tony Williams, Grachan Moncur and Bobby Hutcherson, has the adrenalin and joy of pure discovery, and swings outrageously.

McCoy Tyner
The Real McCoy
Blue Note
McCoy here plays with the Coltrane quartet but with Joe Henderson in place of JC. Dynamite date, focusing on just how much Tyner had to offer the modal forays of his boss.

Roland Kirk
Rip, Rig & Panic
EmArcy
Kirk was more than just a modalist, but this blockbuster of a quartet date shows him more than capable of holding his own in that territory. Elvin Jones, Richard Davis and Jaki Byard Joe cre.ite Henderson: wonderful rnayhem alongside.

Joe Henderson
Inner Urge
Blue Note
Henderson emerged in the mid-60s as a complete modernist, capable of any style, but this 1964 outing with a volcanic Elvin Jones and probing McCoy Tyner displayed his mastery of the Coltrane idiom. Music to surf tidal waves to.

Wayne Shorter
Juju
Blue Note
Shorter used to practice endless scales with Coltrane in his New York apartment: here those scales are given modal gymnastics in Shorter's own unique way with the other three members of Trane's 1960s quartet.