Soweto Kinch: "You can't define Britain in the last century without black dance and black music"
Kevin Le Gendre
Wednesday, November 13, 2019
In an era of populist politics and scaremongering over the presence of 'the other' it's no surprise that xenophobia and bigotry are widespread. However, the historical roots of such scourges run deep. Saxophonist and rapper Soweto Kinch's dynamic new work, The Black Peril, focuses on a dark chapter of British history that has tragically contemporary resonances. Kevin Le Gendre found out more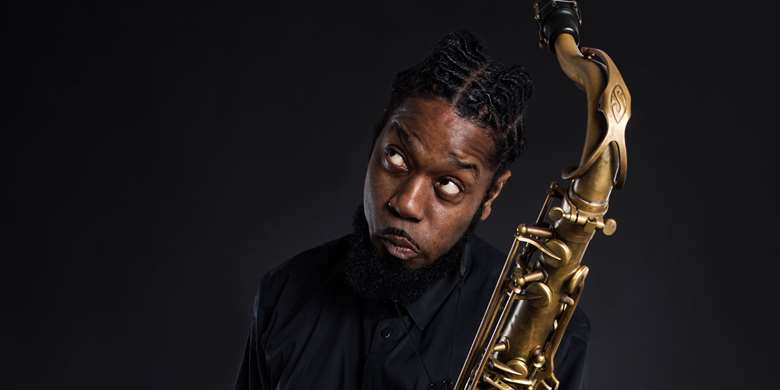 In the modern British imagination the race riot is defined first and foremost by the civil disturbances that rocked the ghettoes of Brixton in London, Toxteth in Liverpool and St. Pauls in Bristol in the 1980s, following the repressive policing and systematic marginalisation of black communities. Yet this was not a new state of affairs.
Over a half-century earlier vicious mob violence was unleashed against Africans and West Indians resident in the coastal towns of Cardiff, Glasgow and South Shields. "1919's events are amazingly overlooked in this country, but what it says about multi-cultural Britain, the frustrations of working class Britain, and the revolutionary impact of black music, is absolutely immense," says Soweto Kinch on the phone from his home in Birmingham before asking essential rhetorical questions. "Why is this not taught in schools? Why are we not taught this more complex picture of the way things were? I suppose the historian and polemicist in me wanted to deal with it."
His response is The Black Peril, a forthcoming album as well as multi-media performance that debuts at this year's London Jazz Festival, in which the 41-year-old saxophonist-rapper sets rhythms old and new, from ragtime to trap, to cutting-edge choreography. Kinch will lead a group comprising members of Tomorrow's Warriors and the London Symphony Orchestra, as well as two dynamic Americans, drummer-producer-soundscaper Makaya McCraven and double-bassist Junius Paul. The fact that they hail from Chicago, a city that was also the scene of race riots in the same year of those in Britain, lends another layer of historical depth to the project. The period in the aftermath of the First World War was tumultuous to say the least.

Figures such as Marcus Garvey, Harold Moody and John Archer, to name but some, espoused the principles of negro unity, black universalism and Pan Africanism as a response to the iniquity of Empire, while the demobilisation of servicemen increased the presence of 'colored colonials' who were increasingly regarded as a threat to the social order, particularly if they dared to have dangerous liaisons with white women.
Much of the fear and paranoia was played out in dockland areas, which had been an obvious focal point for migration. The tension rose to such an extent that, in order to combat a growing non-white presence, there was a concerted effort made to recruit stevedores from Scandinavia, a policy that finds a contemporary echo in Donald Trump's remark about the desirability of "more people from places like Norway" as future settlers in America. One of the most tragic and troubling consequences of the ensuing moral panic was the eruption and escalation of conflict between the various 'aliens' who were all vying for a stake in British society.
"The concept of nationhood is conferred by proximity of power for anybody on the ladder, and next thing you know Black Britons are arguing against West Africans, and Chinese, Indian and black dockworkers are all pitted against one another and there is so much confusion and divide and rule," Kinch argues. "It's also a twin process that's happening. Black music may represent a form of social decay and threat, but it is an infectious, joyous and ebullient culture that everybody wants a piece of. That tension hasn't gone away. We're still living with it today; I find it creatively inspiring."
A history graduate as well as a musician, Kinch has a longstanding interest in the way the past continually resonates in the present, and since he started recording in the early 2000s he has made notable reference to iconic black Britons such as Olaudah Equiano and Ken 'Snakehips' Johnson, on Conversations With The Unseen, and also evoked a far-reaching strain of African culture through pieces such as 'An Ancient Worksong' on The New Emancipation.
An imaginative composer and dynamic MC, Kinch has an all-consuming interest in black culture that has taken him beyond his immediate passions for jazz and hip-hop and into major research on periods such as the 18th, 19th and early 20th century. If learning about pioneering figures on both sides of the Atlantic such as big-band progenitors Southern Syncopated Orchestra and classical composer Samuel Coleridge-Taylor has galvanised him, then his chance to enter into dialogue with innovative contemporary American pianist Jason Moran on the subject of The Absence Of Ruin, his startling 2018 tribute to James Reese Europe, the leader of the feted Harlem Hellfighters, has given Kinch more food for thought on the monumental achievements of his musical as well as cultural ancestors.
"One thing that really stimulated me was a panel I did last year for a symposium at the British Library on Black Europe that also featured Jason," he says. "All these black people in Europe didn't just arrive as empty vessels. They already had complex cultures, with African retentions and stuff from the church. It's impossible to draw a line between where one form of expression starts and one ends; it's the sacred and profane overlap. I got to thinking about all these genres in black music and how they still interconnect and how they might also be deliberately separated to kind of divide and rule. There's also a certain energy in this history, which is obviously very dark."
The desire to make The Black Peril a panoramic artistic vision relating to a strained socio-political situation was also strengthened by the opportunity Kinch had to meet alto-saxophonist Donald Harrison when he visited New Orleans in 2018 to make a documentary about jazz, and soak up the unique atmosphere of Mardi Gras rituals.
"
Often an understanding of black music is hindered by not appreciating movement as well as the spirituality and also how people live. It's not just about the music per se
Soweto Kinch
With that in mind, it is hardly surprising that the album Kinch has recorded is very much a transatlantic as well as multi-genre affair. The likes of stellar Americans, drummer Gregory Hutchinson and pianist Eric Lewis, are in the rhythm section alongside British bassist Nick Jurd and US and Canadian expats who are based in Britain, saxophonist Giacomo Smith and trumpeter Jay Phelps. Furthermore, Kinch has approached the material from several standpoints to create a temporal continuum.
"Yes, some songs are purely historical where I play the music as it might have been played 100 years ago," he explains. "And there are songs where there is a kind of dialogue between the then and now, as I suppose it's about acknowledging and recreating some of the feel and sound of something that had a truly revolutionary impact, just pushing towards something else… so it might end up as something where I just don't know what to call it. I'm then well outside my normal comfort zone.
"Rhythmically, there's the input of Jamaica too. I've been listening to kumina folk drumming since I was three years old and also through theatre groups like Irie. I was aware it has pervaded many things I've been involved in, but I'd never recorded it, so here was an opportunity to take strands from my heritage and see how they connect with a wider diaspora. That actually means kumina, hip-hop and church music.
"Another key thing too is that I'm working with an incredible choreographer in Jade Hackett," Kinch continues. "Often an understanding of black music is hindered by not appreciating movement as well as the spirituality and also how people live. It's not just about the music per se. There are other elements that really shouldn't be disconnected and I feel I'm reconnecting them through this collaboration with Jade.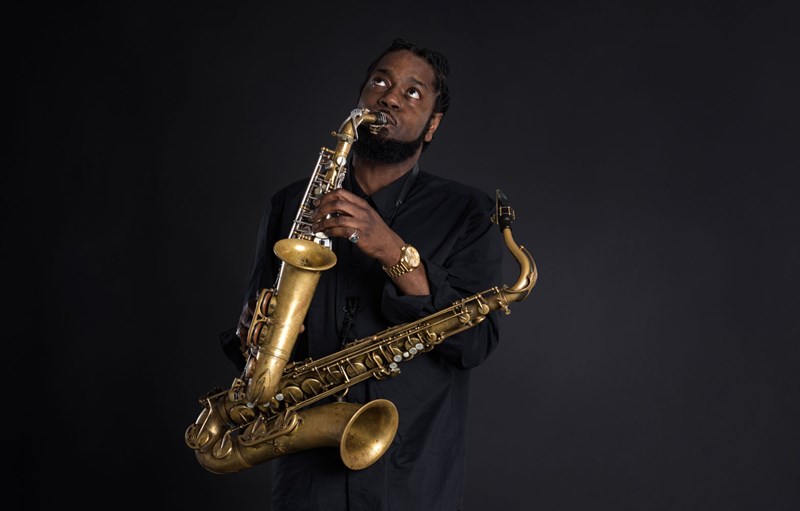 "I suppose there's been a dialogue between us in the past year, which started in March with Voices Of War And Peace in Birmingham, which dealt with the 1918 Armistice. Jade worked to my music and I reacted to her choreography. I think we're both feeding off each other. I'm feeding off lots of interesting conversations on black femininity and masculinity in that period. How would you find yourself a hundred years ago dealing with these questions? I think that was also at the forefront of my mind."
Cross-arts work is nothing new to Kinch. His 2013 album, The Legend Of Mike Smith, was as much a dramatic as musical statement in which tracks were tantamount to scenes featuring strong characters, which led somewhat logically to the piece being adapted for the Birmingham Repertory Theatre. For the son of a playwright, Don Kinch, who exposed him to many forms of expression in his youth, this kind of venture made perfect sense, but prior to that his work with poets such as Jonzi D and Zena Edwards and choreographer Ivan Blackstock, on A Harlem Dream at the Young Vic in 2014, also reflected a desire to go wherever his muse dictated. His mind had to stay open.
"All these collaborations help me realise my potential in a different way," Kinch comments. "I mean it can vary so much; there are multiple ways to convey messages and moods. Lyrics can be direct and also abstract. Actually having movement and music without text communicates the message a lot more powerfully sometimes."
As those words pass his lips Kinch is keen to put them in a wider historical context, pointing out that song and dance have been inextricably linked in black culture since time immemorial, and that the period covered in The Black Peril is significant for the fact that players and dancers were beginning to assert greater self-confidence with regard to the form and content of their work, as typified by the ambitious creations of James Reese Europe and Scott Joplin, who composed the opera Tremonisha in 1910.
"
You see that in pop culture, where you want to have the verve of black music and black culture while still making us invisible
Soweto Kinch
Interested as Kinch is in the achievements of black musicians in the past century, he remains intently focused on the political ramifications of their work, particularly in light of the particularly vexed questions of cultural appropriation, the continued cynical exploitation of black artists in the music industry and a general desire to keep 'the other' at arm's length in mainstream society, regardless of what they may bring to the table that can ultimately enhance, rather than adulterate, national identity.
"There are just the straight up contradictions of they hate us… people of colour. But you can't define Britain in the last century without black dance and black music," Kinch opines. "You see that in pop culture, where you want to have the verve of black music and black culture while still making us invisible. Sure, all this history remains particularly pertinent because discussions around immigration still resonate with us."
Factor in the tortuous saga of the UK's relationship with the EU and the situation is bleak. Kinch doesn't shy away from the issue of right-wing capitalisation on Brexit, the revival of an imperialist mindset and the alarming déjà vu that creates. "It's easy to draw a parallel with today because, after the First World War, there was intense questioning on the politics of the age and there was the dawn of new media, the wireless. It's ridiculous to think that people were saying: 'They're coming over here and taking our jobs!', but the idea of an educated, politically active underclass is so terrifying to Britain that when there is that seed of panic planted things can be manipulated, so there's an Oswald Mosely who comes along, or every attempt is made to trash a Jeremy Corbyn. So there's absolutely a connection between 100 years ago and today."
Soweto Kinch performs The Black Peril at EartH, Hackney on 22 November as part of the EFG London Jazz Festival
This article originally appeared in the November 2019 issue of Jazzwise. Never miss an issue – subscribe today!