The 10 most memorable Louis Armstrong moments on YouTube
Monday, October 18, 2021
Miles Davis once said of Louis Armstrong: "I can't even remember a time when he sounded bad playing the trumpet. Never. Not even one time." Below are just a few of the memorable moments that Louis Armstrong left behind on film...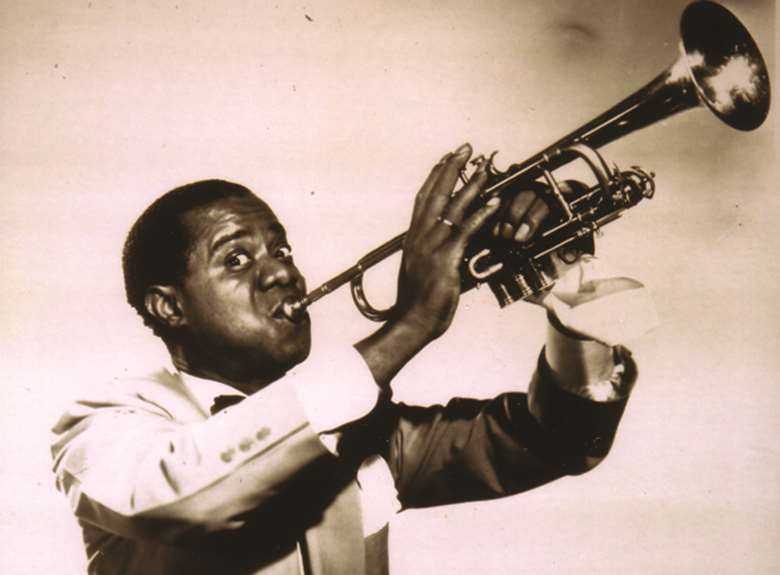 1) When the Saints go Marching in
Louis may look slightly embarrassed when Jewel Brown starts dancing but nobody can upstage Satchmo when he puts his trumpet to his lips.
---
2) Hello Dolly
Who cares about the lyrics? Louis gives up on singing the song part-way through the verse to play his trumpet instead. Keep watching to the end – nobody can end a note like Louis does at the climax of this raucous account.
---
3) Nobody Knows the Trouble I've seen
Louis couldn't help but sing with a smile, even when singing the lyric: "Nobody knows the trouble I've seen / Nobody knows my sorrow." Still, this is a surprisingly moving account of the Spiritual.
---
4) Umbrella Man
Two of the greatest Jazz trumpeters of all come together in a little comedy number that quickly transforms into a play-off followed by a scat-off in which Dizzy Gillespie gives Satchmo a good run for his money.
---
5) Birth of the Blues
Perhaps the greatest singer of the 20th century strolls onstage, cigarette in hand, and struggles to contain his laughter when Louis sings directly into his face. Here are two extraordinary musicians having the time of their lives.
---
6) Basin Street Blues
Louis Armstrong clearly thrives on having a first-rate backing group in this recording from 1964 of a song that he first recorded in 1928. Each player is given a little chance to shine as Louis goes back to his roots.
---
7) Dinah
This film from 1933 shows that Armstrong always tended to move freely between the lyrics of the song and his own vocalisations. His joyous solo at the close of the track is pure sunlight.
---
8) What's My Line?
What's My Line? is rendered farcical by having one of the most distinctive and famous voices in history on the show. Never was Armstrong so quiet on television, nevertheless, he still finds the opportunity for a little impromptu song:
---
9) Uncle Satchmo's Lullaby
One of the strangest duets in the history of music, and the little girl's dolly is truly the stuff of nightmares. From the 1959 film La Paloma, once watched, this scene can (unfortunately) never be forgotten...
---
10) What a Wonderful World
We couldn't leave any survey without including Satchmo's most famous song...
---
Never miss an issue of Jazzwise magazine – subscribe today