The Player – Mike Stern: "Miles didn't mind little mistakes or glitches. It was all about the vibe"
Wednesday, December 4, 2019
The guitarist, whose new album Eleven is out now, talks to David Gallant about his formative years in music and his favourite instrument choices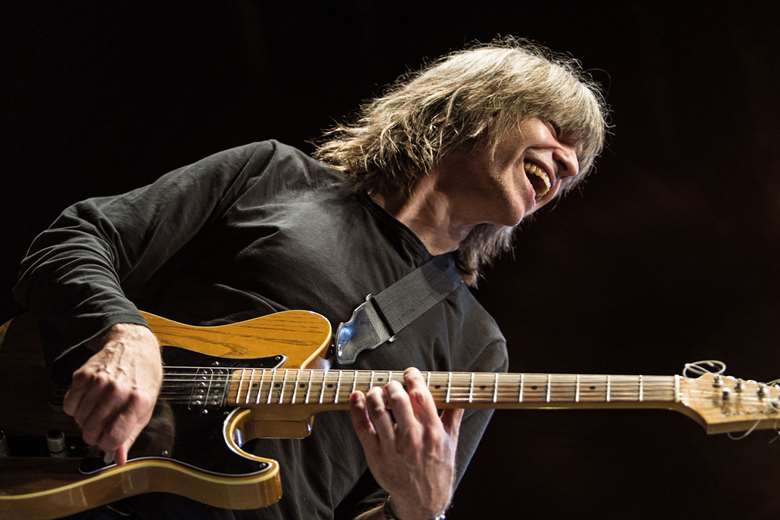 It's a wonder that Mike Stern is still able to play his guitar at all, having broken both his arms in a fall outside his Manhattan apartment in the summer of 2016. The story goes that he was running to catch a cab he had hailed, when he tripped over some builders' debris on the sidewalk. Rather than being taken to his intended destination, the cab ended up taking him to hospital! It turned out that he had suffered multiple fractures and nerve damage which extended to the fingers in his right hand. These days he has to glue a guitar pick to his hand to be able to use it. This devastating incident spawned the aptly entitled Trip, which confirmed Stern's remarkable recovery with a collection of memorable melodies showing that he has lost none of that sparkle and inventiveness which marked him out as one of the major players of the late 1970s and 80s fusion movement.
Stern grew up with a piano-playing mother, but he was drawn to another instrument in his infancy. "I guess I picked up the guitar when I was about 12," he explains. "I was having music lessons at school and played in various rock and blues bands with my brother. I remember using an Acoustic amp at one point, before getting a Marshall." So, where were the musical influences coming from in those days? "Everywhere! But to name a few: Jimi Hendrix, Eric Clapton with Cream, people like Aretha Franklin, Marvin Gaye – all kinds of soul music. Michael Jackson and The Jackson 5. And a lot of blues players like BB King and Albert King."

Having private lessons on the guitar when he was 18, Stern then went on to Berklee School of Music. I wanted to ask him about his trademark Yamaha instrument. "Yamaha seemed like they were really, really interested in me. They sent me a couple of prototypes and I liked the way they sounded. We worked together to come up with my signature instrument, a Telecaster style guitar. It has two Seymour Duncan pickups. The instant I picked it up it worked for me. I haven't been able to put it down since."
So what is Stern's string choice? "I'm using D'Addario strings. I play a special set they made especially for me," Stern explains. "The high E string is an .011, then the B string is a .013. The G is a .015. The D string is a .026, the A a .032 and the low E is .038. It's the same gauge as a Jimi Hendrix rock'n'roll string set. The same as a Fender rock'n'roll set, except for the high E string I substitute the .010 with an .011."
And what amplifier and pedals does Stern employ? "I have used the Fender Blackface '65 Reissue for many years. I use two of them," he explains. "I have also been recently using the new Roland Blues Cube, and I really dig them." He continues. "All my pedals are Roland. I use the digital delay (DD3) and adaptive distortion (DA2) and a super overdrive (SD1W). Sometimes I use the multi overtone (MO-2)."

Stern is perhaps best known for his two tenures with Miles Davis. So, what was it like working with the jazz messiah? "He was just really great. Very, very, funny. I can't repeat any of the stuff he said. It's not really for prime time! He was very supportive of me, and just very cool in general. I'll give you an example. I was at a recording with Miles for the album Man With a Horn and he needed one more tune. This was when I first got hired, and we recorded 'Fat Time'. It is the only tune I appear on. We recorded it, and afterwards I asked if we could do it again. I thought I could do it better. Miles said: 'Fat Time, when you're at a party, you got to know when to leave.' He was always after the attitude. If that was intact, then he was good with it. He didn't mind little mistakes or glitches. It was all about the vibe. 'Fat Time' had a long guitar solo and he liked it so much that he named it after me, so he nicknamed me Fat Time. I was heavy then, and he liked my time feel. That was quite an honour for me, and it was such an amazing honour just to play with the guy."
This article originally appeared in the November 2019 issue of Jazzwise. Never miss an issue – subscribe today!