Thelonious Monk: the man and the myth
Brian Priestley
Thursday, October 21, 2021
Thelonious Monk was an artist regarded by many as something of an outsider during his lifetime, but he was a man whose bold musical birthright now remains undeniable. Brian Priestley speaks with Thelonious' son, drummer and bandleader T.S. Monk, to chart the legend's legacy and uncover the roots of his masterful musical innovations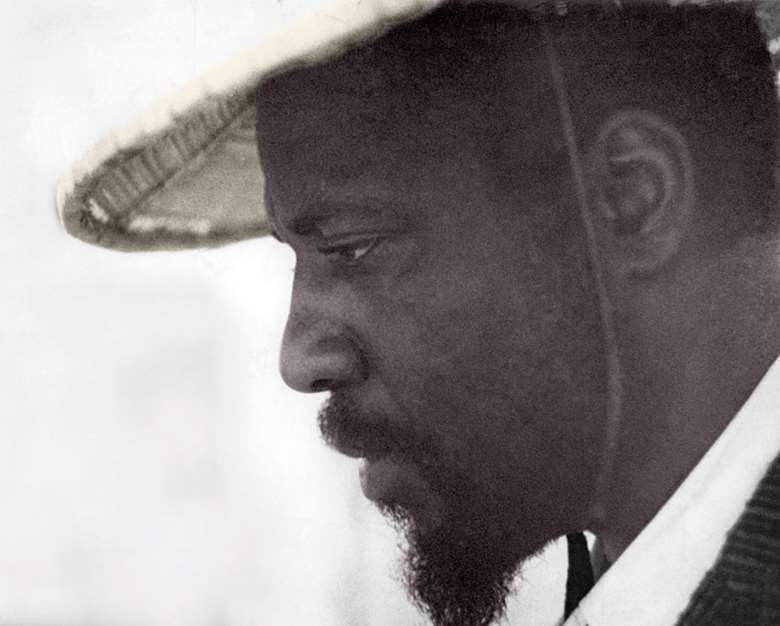 Looking at music in historical terms, there's nothing like a centenary for focusing our attention. If someone like Thelonious Monk is still being talked about more than 100 years after his birth (10 October 1917), he must have been doing something right. Even if, at the time of his emergence, lots of seemingly knowledgeable observers thought he was doing it all wrong. That's one of the themes that has been a constant in discussions about Monk, along with the theory that he was elusive, monosyllabic, difficult to work with and – in many people's eyes – weird.
As for the renewed attention now, of course it helps that newly discovered archive material has been released, in the form of his soundtrack recording for the French film Les Liaisons Dangereuses. Despite having contributed some commentary to the booklet, I must admit to being pleasantly surprised at the ecstatic review coverage it's received everywhere, including in Jazzwise last month. But, after all, this is Monk and his then-new quartet with Charlie Rouse at their best – and it's the first new Monk discovery since 2005 when the recording, Quartet with John Coltrane at Carnegie Hall, suddenly surfaced – so it may eventually be seen as one of his essential albums.
Monk's son, the drummer and bandleader T.S. Monk, who says "I never get tired of talking about my father", is clearly gratified too. Though he was only nine-years-old at the time of the recording, he was aware of the special event of Monk doing a film soundtrack. But seeing it resurface after some 55 years was still a surprise. "Well, it wasn't on our radar, but we kinda knew it was sitting there somewhere, because after all it was used in that movie." One of the minor revelations of this rediscovery is the participation in part of Monk's session by French-American saxophonist Barney Wilen, doubtless thanks to the involvement of music director Marcel Romano who had previously used Wilen in Miles Davis's recording for Lift To The Scaffold.
"I remember guys would look at his music and say: 'We can't play this', but by the end of the rehearsal everybody was playing it anyway."
Sonny Rollins

So, what comes to mind when you see the names of Miles and Monk in close proximity? Is it Miles' classic Christmas Eve 1954 Bags' Groove record session, where he complained about Monk's backings and allegedly threatened to throw a punch (a story that persists despite the fact that both Monk, who stood several inches taller, and Miles himself later rubbished the notion)? Or do you recall that they were happily working together the following summer at Newport, where Miles made his famous 'comeback' by playing ''Round Midnight' (and 'Hackensack')? And do you take on board that Miles' 1956 recording of ''Round Midnight' and his versions of 'Well You Needn't' (1954) and 'Straight No Chaser' (1958) contributed substantially to their popularity as jazz standards?

More importantly, do you look beyond the rumour mill and the potted histories, and realise that 'modal jazz' was not invented in 1959 with Kind of Blue or even the previous year's Milestones? It would be easy enough to indulge in similar oversimplification and say it was invented in May 1952 when Miles, out of nowhere, suddenly suspended the chord sequence of 'Dear Old Stockholm' by adding interludes based on pedal points (and turning a 28-bar song into a 42-bar song). Or had he been listening to Monk, whose 'Well You Needn't' (first recorded in 1947) and 'Little Rootie Tootie' (recorded later in 1952) have harmonically static A-sections, as is the B-section of 'Monk's Dream' (1952). And 'Bemsha Swing' from the same year has a sequence as restricted as Miles' 'So What', so it's no surprise that Miles and Monk together had a ball with it in 1954.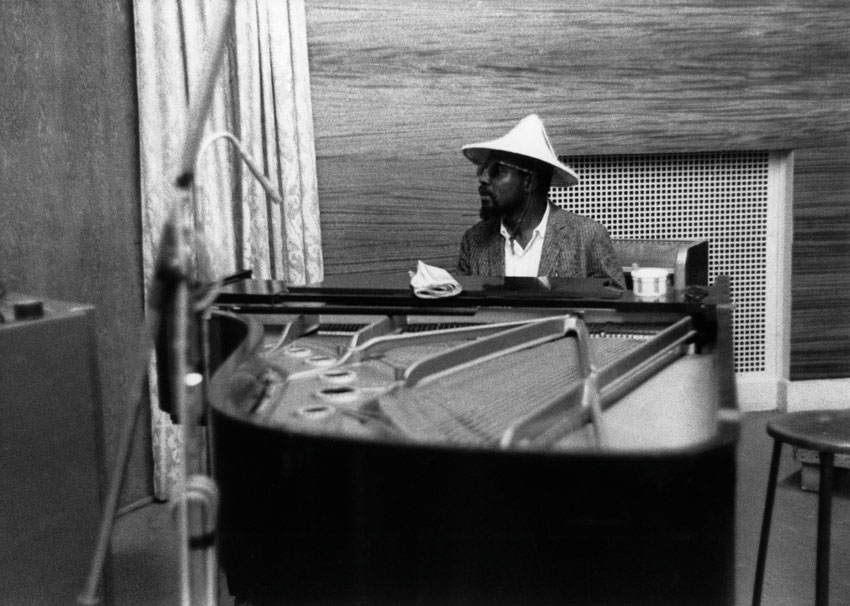 Photos: courtesy of Alain Tercinet (private collection) - this and the photos below
"I watched him tutoring John Coltrane, I watched him tutoring Miles Davis, watched him tutoring Bud Powell," says T.S., who was sufficiently into music as a child to be given a pair of drumsticks by Max Roach at the final recording session of Brilliant Corners. According to the pianist himself, Davis already used to sit in during the mid-1940s when Monk was working for the legendary Coleman Hawkins, one of the few big names to espouse the work of Thelonious. It's long been known that Hawkins recorded three early tunes later copyrighted by Monk, namely 'Hackensack' (Hawk's version is titled 'Rifftide'), 'Stuffy Turkey' (or just 'Stuffy') and 'I Mean You'. But author Lewis Porter recently revealed that Hawkins' first-ever totally unaccompanied saxophone session included a one-chorus improvised version of ''Round Midnight' (the obscure 'Hawk's Variations Part 2', now available on Mosaic and even on YouTube). Which makes Hawkins only the second person to record the tune, after Cootie Williams but before Dizzy Gillespie.
Given that Monk became a teenager in 1930, it's hardly surprising he was steeped in the swing era, which is clearly evident from riffs such as 'Hackensack', 'Stuffy Turkey' or 'I Mean You' – it's even been suggested that the last-named is based on the chords of a lesser-known Ellington song, the 1938 'Lost In Meditation'. This is, of course, why he was ripe for encouragement from the great pianist-arranger Mary Lou Williams when he encountered her in Kansas City, where she was already the queen of its nationally influential jazz scene and its wide-open nightlife. (The shout-chorus of her 'Walkin' And Swingin'' for the Andy Kirk band is the first use on record of the opening phrase from 'Rhythm-A-Ning', which probably didn't originate with Monk himself.)
It's intriguing to see that three of Monk's key mentors were all female. First, the stride pianist Alberta Simmons, who lived near the Monk family when Thelonious was growing up in the San Juan Hill area of NYC (where the Lincoln Centre stands today) – interestingly, T.S. quotes his father as saying that he "took out the oompah from stride piano", with the implication there's a lot of that style left in his playing. Then there was the unnamed evangelist for whom Monk played the new swinging gospel-music, touring the country in his first professional job in the mid-1930s. And Mary Lou. It's worth recalling too that his strongest supporters were his mother Barbara (who subsequently allowed him to live at home through his twenties, working out his music rather than bringing in regular money) and, after 1947, his wife Nellie.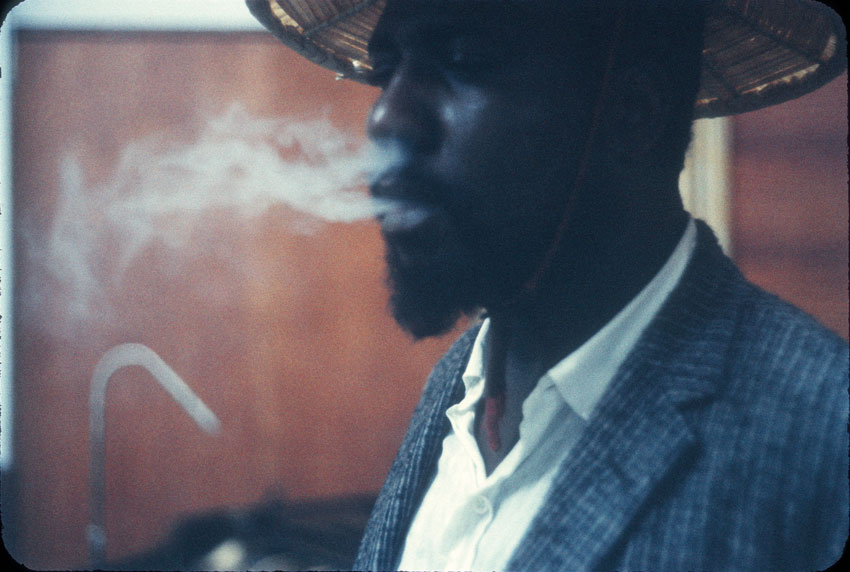 Thanks to Mary Lou and Hawkins, we have informed comments about the evolution of Monk's playing. Williams, interviewed in 1954 by Melody Maker, said that, "When he was in [Kansas City] he jammed every night, really used to blow on piano, employing a lot more technique than he does now… He felt that musicians should play something new, and started doing it. Most of us admire him for this." That was during the mid-1930s but, by the time he was in the house band at the subsequently famous Minton's (1940-41), he was already recognisable – if not very audible on some of the informal recordings made there. By the time he was with Hawkins (between 1944 and 1946), he was beginning to arouse opposition from some listeners and Hawkins, interviewed a dozen years later, recalled them berating him with remarks like "Why don't you get yourself a piano player? What is that guy trying to do?"
It seems clear then that, as well as producing sounds that were startling to listeners in the mid-1940s, he had deliberately pared back his technique – which he claimed had, in childhood, been capable of executing the works of Chopin, Rachmaninoff and others. And that he did so in order to perfect a personal language at odds with the norm, involving angular single-note lines played with a heavy touch, which also enabled sparsely voiced chords to sound a lot richer than they look on paper. So it's understandable, if not forgivable, that someone like Oscar Peterson said, in effect, that Monk was an interesting composer but, as a pianist, not so good. This led to journalist Leonard Feather asking Monk to comment on a Peterson track, to which Monk's famous response was "Which way is it to the toilet?"
By the way, I've no wish to undermine Feather's copyright, but I have to report that the only time I approached Thelonious backstage he took one look at my bulky portable tape-recorder loaned by the BBC, and said "Which way is it to the toilet?" I didn't mention my claim to fame when speaking to T.S., but he did observe that, "Monk came from a family of jokers and, when he was around the home, he was full of games and jokes. With us, he was a very happy, fun type of guy. He became a more reserved person in his later years, which were marked by emotional issues. When the light of fame finally fell on him later, he became unhappy at how the critics had dealt with him. But I would never ascribe to the austere personality that some people attributed to him."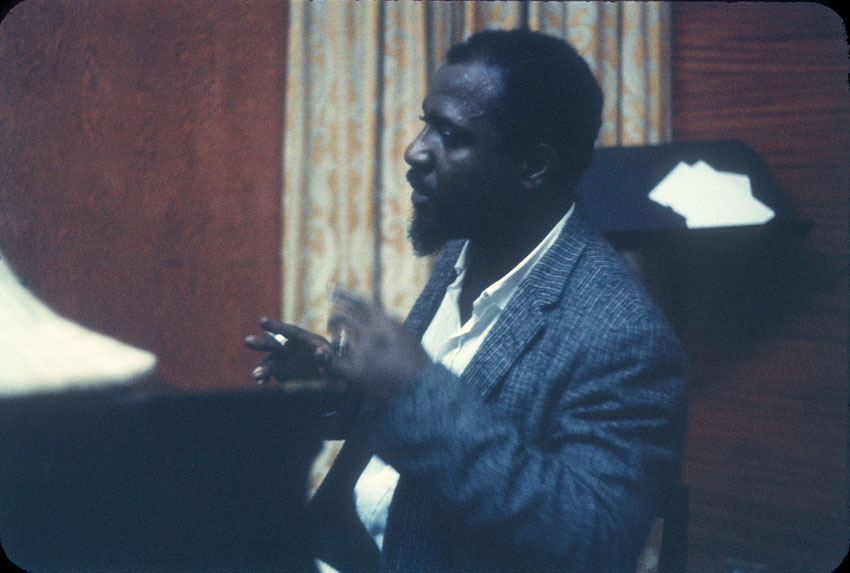 It was actually T.S. who, in the valuable 1988 documentary Straight, No Chaser, drew attention to his father's serious emotional problems that became more prevalent from the 1960s onwards, although there were clear clues much earlier. Monk's masterly biographer, Robin D.G. Kelley, wrote that in the 1940s: "Very few psychiatrists, let alone lay people, understood the causes and nature of bipolar disorder at the time, so it is not surprising that musicians, fans, and especially journalists, interpreted Monk's behaviours as quirky personality traits or evidence of eccentricity." These behaviours include going several days without sleep while focusing on some musical problem, followed by sleeping for a couple of days without rising, as well as more gossip-evoking habits as getting up from the piano and shuffling in time to the band, or his obliquely humorous comments.
Of course, the terse humour is also deeply embedded in Monk's actual music. I don't just mean the clanging bell-like sounds incorporated into 'Little Rootie Tootie', the childhood nickname of T.S. (still known to his intimates as 'Toot'). It's also written all over the supra-bebop tunes such as 'Skippy', 'Trinkle Tinkle' and 'Four In One'. Even the simpler tunes, when you study them, have those surprising but ultimately logical turns of phrase that rely on the unexpected to make their memorable point. T.S. feels strongly that Thelonious had already gone beyond bebop by the early 1950s: "I feel that bebop actually confined Dizzy Gillespie and Charlie Parker, so I don't go along with this idea of [Monk as] 'the High Priest of Bebop'. I feel that Thelonious was more like 'the father of modern jazz'."
As well as being a possible play on his family name, the 'High Priest' publicity must have seemed a good idea to Blue Note who, coming late to the new style, recorded Monk in depth just as he turned 30. He was already being mentioned as the grey eminence behind bebop, but the idea was nailed down in the DownBeat piece by photographer-journalist Bill Gottlieb (set up by Mary Lou and published before Monk signed with the label) that dwelt on his seemingly modest and reserved personality. Gottlieb, who actually called him "the George Washington of bebop", also quoted ex-bandleader Teddy Hill apparently taking aim at his own ex-sideman, the relatively well-publicised Dizzy Gillespie, and stating, "I think [Monk] feels he got a bum break in not getting some of the glory that went to others." But Hill also went on to anticipate the later comments of Mary Lou Williams, and indeed T.S. Monk: "I believe he hoped one day to come out with something as far ahead of bop as bop is ahead of the music that went before it."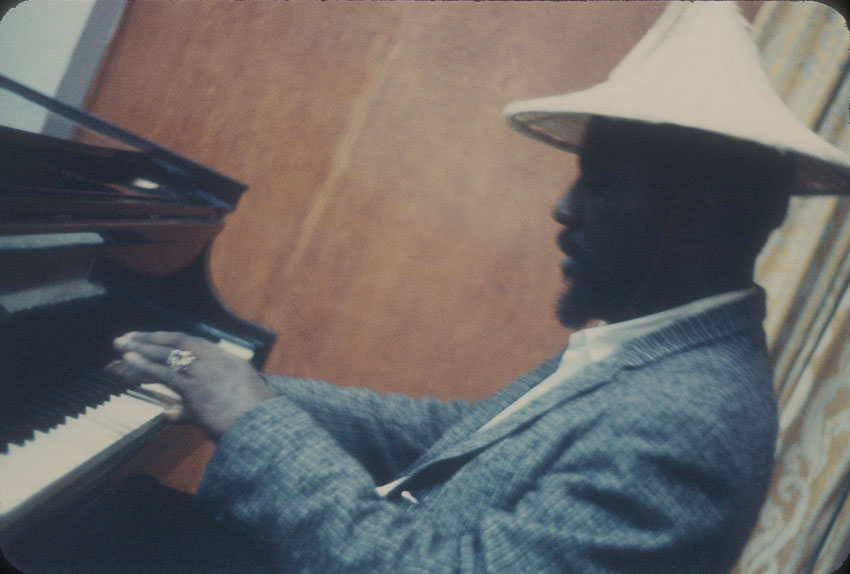 This might have been a hope too far, since nearly all of Monk's most individual tunes, with a few dramatic exceptions, are in traditional AABA form and mostly in 8-bar sections. But it's revealing that he chose in 1957 to work with Coltrane, who had already made advances in his stints with Gillespie and then Davis. Trane's reaction is well-known: "I felt I learned from him in every way – through the senses, theoretically, technically." And don't forget, before that Monk had worked for some years with Sonny Rollins, who was rehearsing with the pianist while still in high-school. As well as acknowledging his debt, Rollins also referred to Monk's aural teaching methods: "I remember guys would look at his music [charts] and say: 'We can't play this', but by the end of the rehearsal everybody was playing it anyway."
As far as I recall, Monk never commented publicly about either Coltrane or Rollins, apart from a possible oblique reference to the latter in a more revealing 1965 DownBeat piece by Val Wilmer. "I haven't done one of those 'freedom' suites, and I don't intend to. I mean, I don't see the point. I'm not thinking that race thing now; it's not on my mind. Everybody's trying to get me to think it, though, but it doesn't bother me." He did, however, say, "I have to take care of my family. But I'll help a lot people, and I have…" As Robin Kelley noted, Monk played a number of benefit concerts in the early 1960s for the Congress of Racial Equality (CORE) and, in fact, the 1957 all-star bill at Carnegie Hall was a benefit for a community centre in West Harlem.
Summing up Monk's contribution to the world of jazz, his son points out that not only is ''Round Midnight' by far the most covered jazz song (with 1,750 versions, according to one recent count), but he is by now the second most recorded jazz composer ever. The unspoken winner in these stakes is of course Ellington, and it's worth a moment's thought that Monk's distinctive playing style owes quite a lot to the earlier master's pianistics, as noted recently on the books page of Jazzwise 223. If you want a practical demonstration, try and hear the 1938 Johnny Hodges track 'Dancing On The Stars' and Duke's improvised solo therein (but not the YouTube audio of someone playing the sheet-music, absolutely straight!). And, as with Ellington's piano, Monk is impossible to imitate directly – "People try", says T.S., "but, after three notes, you know: 'That's not Thelonious'."
T.S. himself has played an honourable part in keeping his father's name in the limelight, thanks to the famous Thelonious Monk Institute founded in 1987, though he points out that its role is to publicise jazz in general. "It's all inclusive, celebrating Ornette Coleman as much as Duke Ellington. But Thelonious himself was the quintessential prototype for what a musician wants to be. The great Ron Carter said to me, 'Your father is a triple threat. He had a style that's unique, he wrote tunes that musicians want to play, and he pushed the music forward'."
---
This article originally appeared in the December 2017 issue of Jazzwise magazine. Never miss an issue – subscribe today