jpg" alt="Louis Armstrong" width="300" height="300">Louis Armstrong and his All Stars Columbia and RCA Victor Live Recordings
Mosaic MD9-257 (9 CDs)
Louis Armstrong (t, v) with (coll. pers.) Bobby Hackett (c), Jack Teagarden, Trummy Young (tb, v), Peanuts Hucko, Barney Bigard, Edmond Hall (clt), Dick Cary, Billy Kyle (p), Bob Haggart, Arvell Shaw, Jack Lesberg, Dale Jones, Mort Herbert (b), George Wettling, Sid Catlett, Barrett Deems, Danny Barcelona (d), Velma Middleton (v), unidentified Ghanian musicians, New York Philharmonic Orchestra, Leonard Bernstein (cond), 18-piece International Youth Band and Edward R. Murrow, George Avakian (int). Rec.17 May 1947-6 July 1958
The personnel list above almost tells the whole story, what with the turnover of regular players during the 11-year period covered and the miscellaneous guest artists and interviewers. Much of the material has appeared over the decades (for instance, on the 1956 album Satchmo The Great, the posthumous Chicago Concert and the originally unreleased big-band track from the 1958 Newport Festival), but there's also much here that's new. As well as the 1947 Town Hall set which first reunited Armstrong and Teagarden, we have a previously unknown, 90-minute Carnegie Hall concert from the touring band only six months later. The rest of the material is from the mid and late 1950s and, despite being reasonably well covered by the Columbia label; here you get (depending on how you count) around 50 new tunes or takes. This might sound like material for specialists, and they would be the first to tell you that the format of most of these sets was relatively fixed. But, for listeners not steeped in the period or the material, the utter vivacity and reliability of Armstrong's own playing and singing (and the versatility of the various bands) is something to behold. – Brian Priestley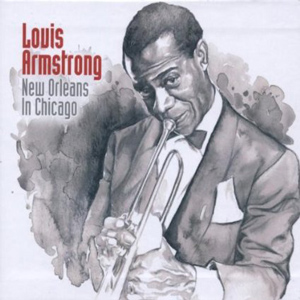 Louis Armstrong New Orleans in Chicago
Le Chant Du Monde
Louis Armstrong (t, v) with his Hot Five, Hot Seven, Stompers, Orchestra, Johnny Dodds' Black Bottom Stompers, Jimmy Bertrand's Washboard Wizards, Carroll Dickerson's Savoyagers, Savoy Ballroom Five and the Sebastian New Cotton Club Orchestra. Rec. 12 Nov 1925-11 Mar 1932
Here's a seven-CD box set from this enterprising French reissue label, elegantly produced and annotated, covering seven of the most tumultuous years in the musical life of the first great genius of jazz. I've lost count of the number of times this material has been re-released but doubt that it has been assembled in quite this particular sequence before. LCDM has collected all of Louis's "official studio recordings" made between 1925 and 1932, only eschewing his multitude of appearances during this period as a sideman with blues singers and other miscellaneous small groups. While there is little need for me to talk up the merits of this music – these recordings are the very stuff of jazz history, building blocks for the jazz to come, if you like – the question arises, how good is the remastering and does it deserve recommendation?
Nothing is said in the notes about the techniques employed or the identity of the responsible individual, so it seemed appropriate to evaluate the musical reproduction alongside other reissue sets. In short, it compares well with the Proper box of the same tracks issued in 2005 but is inferior to the very fine set of Hot Fives and Sevens remastered by US Columbia in 2000. Still, that latter set is long gone so this attractive new box is a worthy alternative.
What is not in doubt is the sheer brilliance of Armstrong's playing on these familiar tracks – it's good and quite startling in a way, to be reminded, all these years, of his genius. It's all too easy, at this distance, to take it all for granted, and just think of Louis as the old entertainer crooning huskily on 'Wonderful World'. It may be a cliché, but no collection aspiring to completeness should be without this material and this is a handy way of scooping a lot up in one go. – Peter Vacher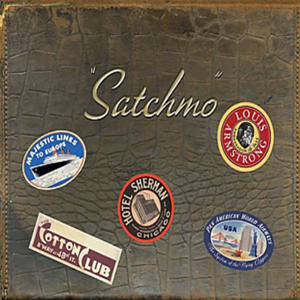 Louis Armstrong Satchmo: Ambassador Of Jazz
Universal (10 CDs)
Louis Armstrong (c, t, v) and many others. Rec. 1923-1970
Where do you start? Well, this Universal compilation starts with Louis' recording debut in the Oliver band, and continues right up to two live tracks from mere months before his death. To a greater extent than any previous compilation, it cuts across divisions in his output that belonged to different labels, and therefore presents a genuine and evenly-spread chronology. It takes a goodly representation of his sideman work in the 1920s as well as the Hot Fives, the 1930s-40s tracks fronting big-bands, the different generations of the All Stars from the late-40s onwards, plus the continuing sessions with just Louis backed by studio groups culminating in the first 'What A Wonderful World'. Totalling 151 tracks on the first seven discs, this known material is supplemented by three more CDs: one a 1956 All Stars set (allegedly unissued, though the two tracks with Ella and the closing 'When The Saints' with JATP soloists were on a 2-LP Jazz At The Hollywood Bowl); one a collection of genuine unissued alternate and incomplete takes, the majority of them from his session with Oscar Peterson; and a 70-minute conversation with Dan Morgenstern, which formed the basis of Down Beat's 'A 65th Birthday Interview' (reprinted in Living With Jazz).
This gathers together in one place an overwhelming cornucopia of the most iconic jazz musician ever and, though far from being a deliberate wartsand-all approach, it does include a few tracks that are less than brilliant and, in the unreleased bits, even a couple of mistakes either of hitting the right notes or learning the lyrics. Especially after the 1920s, the huge majority of the items feature vocals yet, until the last couple of years, they all have trumpet (or cornet) solos that not only thrilled listeners at the time but sound great now. If you think you know, say, 'Hello, Dolly!' backwards, hearing the trumpet work within this overall programme and savouring its simplicity and security is still incredibly moving. When you then go back to the masterpieces of the 1920s and 30s, Armstrong's playing is often stunning in its risk-taking and its success-rate. And as to the influence on trumpeters and practitioners of other instruments, it's all here if you choose to listen that way.
Released for Louis' 110th birthday, we get an excellent use of backcatalogue and the sort of contextualised production that the Internet, with its grab-bag of often mis-identified clips, can never match. This advance's prerelease copy had hardly any of the set's accessories, which apparently include a 200-page book with memorabilia such as reproductions of sheet-music, photos galore and a replica suitcase belonging the Ambassador himself. If I have to make do with just the music, it'll be more than good enough. – Brian Priestley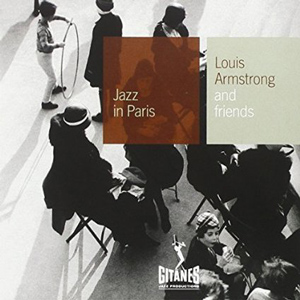 Louis Armstrong and Friends Jazz in Paris
Universal 
Louis Armstrong Orchestra, Freddy Johnson, Arthur Briggs and their All-Star Orchestra; Marlene Dietrich (v) accompanied by Freddy Johnson, Arthur Briggs Trio, Greta Keller (v), Danny Polo Swing Stars. Rec. Oct 1934, 8 July 1933, 19 July 1933, June 1933, 27 Sept 1938 and 30 Jan 1939.
Originally issued in 2001 in a crisp digipak format by Universal France in their Gitanes series under the generic heading of Jazz in Paris, this varied compilation now re-emerges in a standard jewel case but without further alteration or amendment. That Paris was a hot-bed of African-American jazz activity in the 1930s is a given and Louis evidently felt at home there staying with his fellow-New Orleansian, the reedman Pete DuConge who organised the orchestra heard on the opening seven tracks. Of course Louis is the star, majestic on trumpet and vocally engaging, the band spirited and swingy on 'St Louis' with pianist Herman Chittison makes the most of his solo spots. Louis liked 'Sunny Side' and he makes it his own even if the band parts are pretty syrupy. The two Johnson-Briggs tracks allow DuConge to show off his Crescent City clarinet and romp along pretty well with Big Boy Goudie's sturdy tenor prominent and the brisk, light-toned trumpeter Briggs emulating Louis. Dietrich sings in German (one track only) and shows no jazz feeling whatsoever, her musicians including Briggs and DuConge seemingly unfazed. Briggs, a long-term expatriate, returns for four excellent trio tracks, combining well with the dynamic pianist Johnson, their chum Louis Cole's pair of vocals adding a period touch. The Viennese singer and actress Keller achieved Hollywood success later on and here benefits from the presence of trumpeter Bill Coleman and the brilliant Chittison, her heavily-accented style resembling Dietrich's. Coleman is superb, though, as is white US clarinettist Polo (who also worked in London) whose perky swing group rounds out this rewarding compilation. – Peter Vacher
Louis Armstrong Complete Decca Sessions 1935-1946
Mosaic (7CDs)
Armstrong (t, v) with big bands including JC Higginbotham (tb), Joe Garland (ts, arr), Luis Russell (p, arr), Pops Foster (b), Sid Catlett (d) plus Jimmy Dorsey Band, Casa Loma Orchestra, Sidney Bechet (clt, ss), Wellman Braud (b), Zutty Singleton (d), Bing Crosby, Mills Brothers and Ella Fitzgerald (v). Rec. 3 Oct 1935-18 Jan 1946
A chunk of Armstrong's output that used to be universally put down, and is still an embarrassment to some observers. Briefly stated, by the second half of his epoch-making 1925-32 period (conveniently reissued recently and reviewed in Jazzwise 132), the trumpeter had switched from "jazz/blues" repertoire to current "pop" songs, though the terminology was not common currency until the swing era. Armstrong's version of pop transcended its material with brilliant trumpet adaptations and inventions, and an equally influential updating of the 1920s style of rhythmic singing. Ella and Billie would never have sounded as they did, if it wasn't for his early 1930s masterpieces. By the time he signed with Decca in 1935, he was poised to move into the American mainstream and, while his contribution remained pretty consistent, the powers guiding his career perhaps cared less about the music than the image and the revenue.
So, despite the apparently effortless artistic intelligence that still grabs us today, Armstrong the entertainer was treated by both management and record producers as a workhorse. Fortunately, his touring bands weren't too much of a curb and the force-feeding of poor-quality songs didn't induce malnutrition – but, as Dan Morgenstern's notes point out, there is good material here too, with some remakes of earlier Armstrong hits plus thennew items by Gershwin, Berlin and even one Ellington. The band stuff (just under 60 per cent of these tracks) is relieved by small groups, notably the re-match with Bechet in 1940, and by occasional other vocalists including the choir that backs Armstrong's first set of spirituals. But, after a while, the backings don't really count and the man in the spotlight carries all before him. Where I've checked, the remastering is superior to previous CD versions by Classics and GRP/Decca, and this is the definitive collection of a significant period. – Brian Priestley
Louis Armstrong Complete Hot Fives and Hot Sevens
Essential Jazz Classics
Louis Armstrong (ct, v) with his Hot Five; Hot Seven; Carroll Dickerson's Orchestra; Johnny Dodds Black Bottom Stompers; his own Orchestra; Erskine Tate's Vendome Orchestra; Butterbeans & Susie; Jimmy Bertrand's Washboard Wizards; Lillie Delk Christian & Victoria Spivey. Rec. November 1925 – July 1929
EJC offer us far more than it suggests on their rather flimsy 4-CD slipcase. Yes, all the Hot Fives and Sevens are here but there's far more as can be seen from the outline list shown above. So why now? This marks at least the fourth full set of early Satch to have come my way in the past few years and I happen to know that a comprehensive 10-CD early Armstrong set is planned for release by a UK label later on this year.
Is there a reason to applaud this set over others that have come one's way? The sound restoration compares favourably with the others, the booklet is comprehensive and well illustrated and I've no argument with the selection of material. Compared with, say, the Proper box, it boasts 102 tracks to their 99, but Proper's selection brings in Armstrong's pre-Hot Five recordings with King Oliver, Fletcher Henderson and Clarence Williams and his Bessie Smith accompaniments but omits the Christian and Spivey sides. Of course, the answer is to get both sets and thus to fully chart the extraordinary explosion of creativity that is embodied in this progression from precocious Oliver sideman, to fully formed genius as evident on 'West End Blues'.
However many times this material is issued or however many times one hears it, the sense of wonder never wears off. That this young man transcended the poverty of his background and produced music of such incandescent quality remains one of the greatest of jazz stories. As one commentator put it, this music is 'beyond indispensable'. Take note please. – Peter Vacher
Louis Armstrong The OKeh Columbia & RCA Victor Recordings 1925-33
Sony 10-CD set
Louis Armstrong (t, v) with groups incl. Red Allen/Zilner Randolph (t), Kid Ory/Lawrence Brown/Keg Johnson (tb), Johnny Dodds (cl), Don Redman (as), Budd Johnson (ts), Lil Armstrong/Earl Hines/Teddy Wilson (p), Baby Dodds/Lionel Hampton/Chick Webb/ Sid Catlett (d) and many others. Rec. 12 November 1925-26 April 1933
The box title should be sufficient recommendation to anyone who doesn't possess this music already. This was the period when Armstrong was laying the groundwork for all that followed (as Miles said: "You know you can't play anything on a horn that Louis hasn't played – I mean, even modern") and entertaining the people at the same time. In fact, the latter was what he saw as his job, with the technical brilliance and the vocal innovations just icing on the cake, for himself and fellow musicians. As a result, the repertoire gives you everything from fairly silly songs (some of them racially demeaning) to profoundly moving stuff like King Oliver's 'West End Blues'. If you want to listen with an analytic ear, you can savour Louis's melodic instinct, his rhythmic acuity, and the ability to hear passing chords unsounded by his bands. And you can hear the early ebullience tempered by a growing sense of drama – compare the audacious 'Potato Head' breaks with the single held-note on 'I Gotta Right To Sing The Blues', one of the many songs he turned into standards.
This is the first time the 1932-33 Victors (which used to "belong" to BMG) have been joined to the 1925-32 OKeh/Columbia tracks that include the famous Hot 5s and Hot 7s. Remastering of the latter seems largely unchanged since the Columbia Legacy CDs of the late 1980s which, in the case of discs five and six, uncovered six previously unissued alternate takes – a rarity, since early jazz was recorded quick and cheap. That's why there are lapses in the playing of band-members and, excitingly, Armstrong himself sometimes goes for things he doesn't quite make. In compensation, there are occasional sidemen who've already got the message, not least Lawrence Brown, the lesser-known Keg Johnson and of course the great Earl Hines. Production-wise, no detailed notes, only a general essay by Ricky Ricciardi but, on the plus side, there are beautifully reproduced photos of most of the bands involved. – Brian Priestley
Louis Armstrong Plays W C Handy – Complete Edition
Essential Jazz Classics
One of the great All Stars sessions, with a second CD that adds some 1920s performances to the comprehensive 1997 2CD Columbia issue, making it the most complete version.
Louis Armstrong The Complete Satch Plays Fats
Essential Jazz Classics
One of the classic Armstrong albums, and a pioneering example of overdubbing, with several unedited or alternate issued takes included for good measure.
Louis Armstrong Integrale Vol. 13: A Song Was Born
Fremaux
The project to issue every Armstrong record in chronological order reaches 1947, and includes the Town Hall Concert, Symphony Hall Concert and first All Stars RCA recordings – essential.
Louis Armstrong, Blanche Calloway, Clarence Williams 1928-1938 Unissued on 78s
Retrieval
The two alternate takes of Armstrong's 1929 'St. Louis Blues' alone make this worth getting, but so too do 11 originally unissued sides by Blanche Calloway, one of the most underrated figures in early jazz.
Ella Fitzgerald and Louis Armstrong Ella and Louis
Poll Winners
A great Verve album reissued here with half the sequel too, making it better value than the still-in-catalogue Verve release of Pops and Ella with the Peterson quartet.
Louis Armstrong New Orleans 1946-47
Fremeaux
The "intégrale" Armstrong reaches volume 12 with every scrap he recorded put together in order, with this 3CD box encompassing the last big band and birth of the small groups that led to the All Stars. Essential!