Mark Crooks Quartet: Swingin' in Pinner
Peter Vacher
Tuesday, September 14, 2021
Relief all round as popular clarinettist returns to live scene after lockdown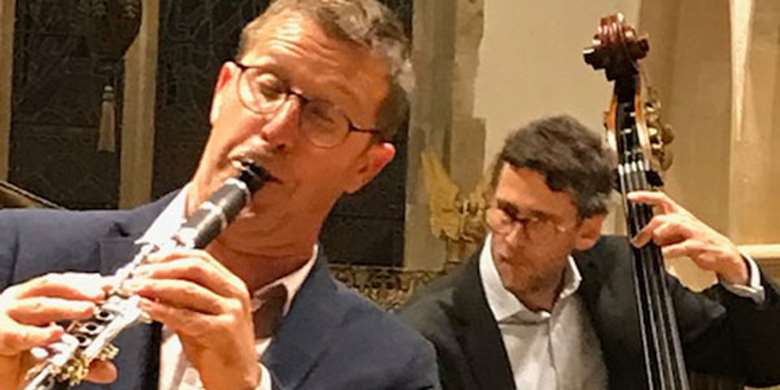 Here was a conjunction of firsts – the first gig (at Pinner Parish Church in Middlesex on 16 October) for the Crooks Quartet for 18 workless months and the first jazz concert back in this hallowed environment since, well, you know when, this the initial outing of the resumed and wide-ranging Music in Pinner series.
Microphone-free, intimate, with the quartet facing a socially-distanced audience, the majority of onlookers unmasked, the quality and intensity of the music made by Crooks and company soon hinted at normality returning. Bliss!
Crooks made clear his relief at being able to play jazz again – there had been little other than occasional commercial engagements to keep him going – as he bustled into 'How About You' on tenor, reshaping the melody and unfolding a whole roster of ideas, buoyed up on the locked-in swing generated by bassist Jeremy Brown and drummer Steve Brown –'no relation', as Crooks quipped. Brown was on brushes at first, then driving hard on cymbals, snare accents added, before bassist Brown soloed with the kind of serious eloquence that marked his playing throughout the evening. It's all too easy to take the quick-witted professionalism of these hugely able jazz musicians for granted: each man simply excelled here, alert to what Crooks was doing and with pianist Gabriel Latchin alongside, adding value all the way.
Crooks then picked up what he called 'the misery stick', his clarinet, speaking eloquently about the lockdown limitations of practising in the bedroom at home before responding superbly to the soaring Pinner church acoustic. Thad Jones' 'Three In One' is a tricky piece, its theme played here in harmony by clarinet and bass together, before shifting into group swing, bassist Brown again soloing, a cappella this time, Latchin letting go with some bluesy passages. Next came two pieces by Strayhorn, Crooks performing the lovely 'A Flower Is A Lovesome Thing' as a clarinet solo, his limpid clarity and tonal control like a glimpse of virtuoso perfection before segueing into the perky 'Raincheck', still on clarinet, fast-moving, with breaks for all, Latchin's filigree touches a standout. On to Jobim's 'Corcovado' aka 'Quiet Nights', Crooks' tenor sound rich, smoky almost, marked by Getz-ian flourishes, Latchin's repeated figures an adornment. Another complex piece, Oscar Pettiford's 'Laverne Walk' followed, its melody again voiced by a duo, saxophone harmonised with bass this time, Crooks soon into booting tenor mode. Harry Warren's 'I Wish I Knew' on clarinet climaxed the first half, played as a bossa, very slowly, Latchin delicately empathetic, the depth of feeling quite palpable, as its final cadenza diminished to a whisper.
A similar open-ness to repertoire prevailed in the second set: can you imagine two bebop staples like 'Groovin' High' and 'Yardbird Suite' reimagined as outings for swing tenor? or Ellington's 'Limbo Jazz' played as a jazz calypso on clarinet? Each entirely pleasing. As was Gabriel Latchin's trio feature, 'Prim and Proper', dedicated to his young daughter, its central riff figures balanced by open play, the quality again rewarding, with drummer Brown bearing down and soloing with panache. More unhackneyed standard songs followed, notably 'The Lady's In Love With You', this a clarinet feature, Brown on brushes duetting with Crooks, bass and piano out, the leader poised and edging through to a subtle finish. So, exemplary jazz from all four, staging and presentation ideal, and hopefully, an augury of more good things to come.