Review: Casio Celviano GP-510
David Gallant
Friday, October 15, 2021
This new upgraded model not only has a new enhanced AiR sound source, but also has an improved soft pedal effect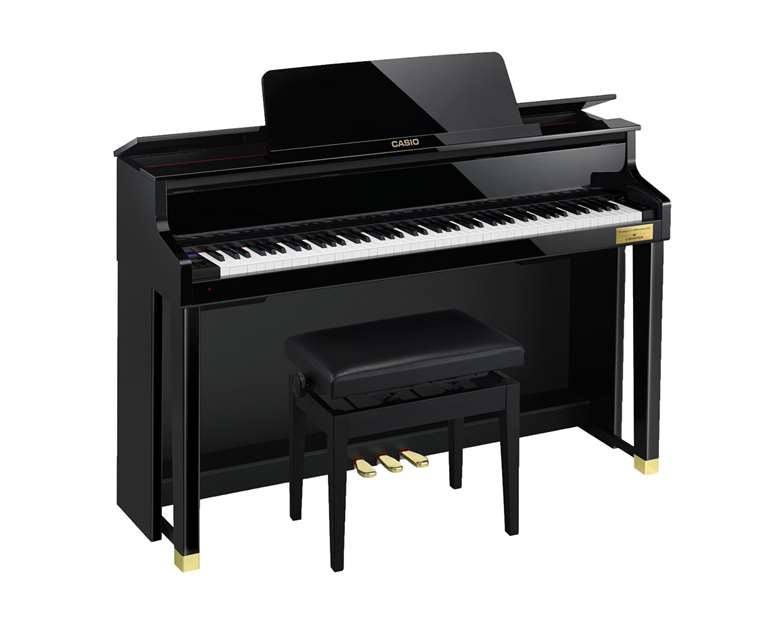 The Celviano Grand Hybrid GP-510 digital piano is an improved upgrade of the original model GP-500, which was launched to much fanfare back in 2015.
Produced in collaboration with the celebrated German piano manufacturer C. Bechstein, the GP-500 was Casio's first venture into the world of the serious high end digital grand piano market. Casio made much of the 'full-length precision wooden keys which replicate the natural travel and recoil of an acoustic grand piano' and the AiR sound technology, which offers the player the choice of playing three world famous grand piano tones – the Berlin, the Vienna and the Hamburg.

We tried the original GP-500 when it was first released and, truth be told, even with four level sound sampling we were not overly impressed with the timbral and tonal qualities of the instrument, particularly those in the bass range where to our ears, the notes sounded dull (potentially over-compressed) and lacked dynamic attack. The touch/response off the keys was good, but sustain through the soft pedal dropped off very quickly. But perhaps most concerning of all was that the speaker system seemed weak, and we found that we preferred listening through a set of headphones!
With the new GP-510, it would seem that our concerns have been addressed, as this new upgraded model not only has a new enhanced AiR sound source, which would seem to have brought a new natural acoustic realism to the bass, but also has an improved soft pedal effect i.e., an extended decay. Casio tells us that there is a greater touch sensitivity to the keys 'particularly when playing pianissimo', but as we were impressed with the touch response of the original GP-500 model, this would be difficult to gauge.
The speaker system in the GP-510 has been given a new set of drivers, which are said to 'improve bass reproduction and overall clarity' - which would seem to be the case. And although the wattage is the same as on the GP-500, we are told that the speakers are of a 'different construction'. We can only surmise that they have been repositioned within the cabinet to offer better projection and sound quality.
The question is, do the upgrades on the GP-510 really warrant an extra £1,000 on the price tag? That's up to you, so we suggest a demo. Casio have also released the GP-310, an upgrade of the GP-300. 
Find out more: www.casio.co.uk