Review: Taylor Vulcan Trumpet
David Gallant
Wednesday, March 3, 2021
What is however strikingly unusual is Taylor's take on the overall design of the instrument, with its 'wings' and sharp angles of tubing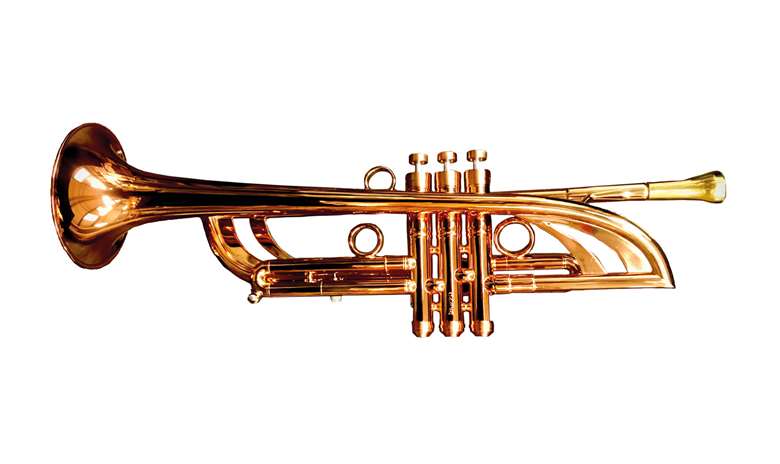 Maverick master trumpet manufacturer Andy Taylor has added yet another new instrument to his 'one off' Vulcan series, once again proving that air can freely flow around a 45-degree angle without affecting the performance of an instrument.
The new Vulcan, like all its fellow stablemates has a large .470 bore and comes with a one- piece machined brass lead pipe with a universal receiver to take conventional mouthpieces. The short action trumpet block sports stainless steel pistons, and the bell has a conventional taper – so nothing unusual there. What is however strikingly unusual is Taylor's take on the overall design of the instrument, with its 'wings' and sharp angles of tubing.
This has been achieved by a mitre joint across the 45-degree angle rather than using a conventional internal or external ferrule to join the two pieces of tubing together. It also has the added advantage of minimising any disturbance to the airflow across the joint. And although it would hardly seem possible given the design of the instrument, the Vulcan is, perhaps surprisingly, free blowing. It is also consistent across the whole range, and delivers a full, big sound, with a deliciously mellow heart.
That being said, the nature of the design with the Vulcan ear shape, means there is limited space between the leadpipe and the return to the bell, which meant that we found ourselves struggling to fit our three (albeit rather large) fingers into the space as we held the instrument, although this is no doubt something that the individual player would get used to.
Also, this particular Vulcan isn't one of the lightest trumpets that we have reviewed. Finished in a rose gold lacquer, it is however one of those instruments that will sell to anyone who really likes it and has £4.5K to spend. After all, it is pretty unique!
Find out more: www.taylortrumpets.com