Art Blakey
Stuart Nicholson

Blakey became regarded as the finishing school in jazz, his name on the curriculum vitae young musicians providing a status they would not have otherwise enjoyed. He also made an astonishing run of albums for Blue Note in the 1960s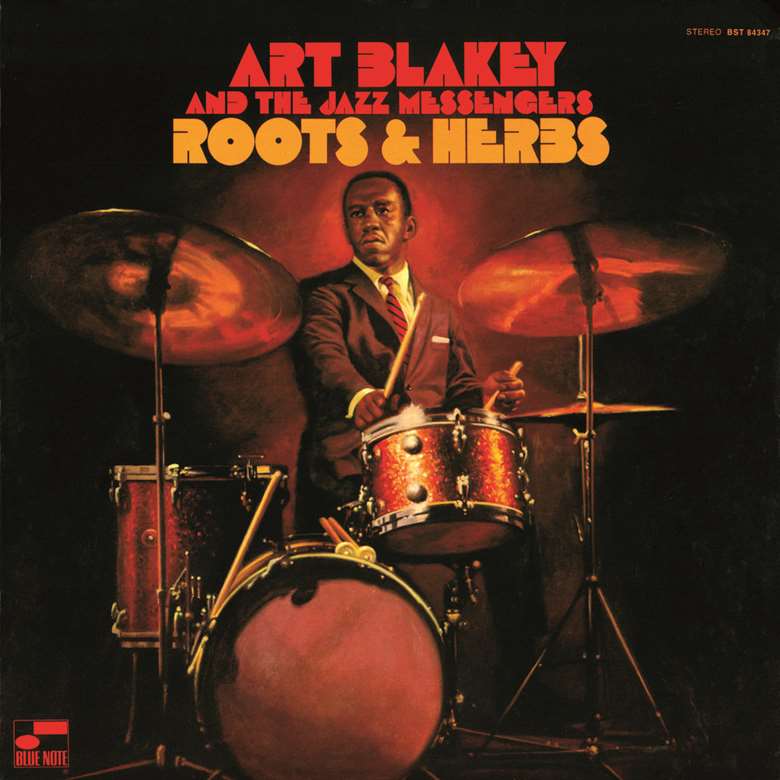 Blakey, Art also known as Abdullah Ibn Buhaina (b. 11 October 1919, Pittsburgh, Pennsylvania, d. 16 October 1990, New York City). Had some piano lessons in school but largely self taught; by age 14 was playing piano professionally; changed to drums in 1930s.
1939-1944 played with pianist Mary Lou Williams at Kelly's Stable in New York City, toured with the Fletcher Henderson Orchestra but precise dates are vague; we do know that with Henderson Blakey had an altercation with the police in Albany, Georgia that led to surgery in which a plate was inserted in his head that made him ineligible for Armed Forces; we are also sure that from 1944-47 he was a member of the Billy Eckstine Orchestra, fellow sidemen included Miles Davis, Dexter Gordon, Fats Navarro, Dizzy Gillespie, Charlie Parker and Sarah Vaughan among others; again some doubt over a trip to Africa when the Eckstine band wound up, allegedly he stayed there for two years but apparently recordings exist of him 1947-9.
Converted to Islam taking name Abdullah Ibn Buhaina (no longer a practicing Muslim by the mid-1950s, always used name Art Blakey professionally); as bebop took off, Blakey accompanied leading musicians of the era, including Charlie Parker, Dizzy Gillespie, Miles Davis, Bud Powell and was the drummer of choice of Thelonious Monk; 1947 has group he calls Art Blakey and the Messengers for Blue Note records Art Blakey and James Moody New Sounds with Art Blakey's Messengers and James Moody & his Modernists (1947 and 1948); 1951-3 toured with Buddy DeFranco (cl); from 1954 regularly played with Horace Silver (p), including Art Blakey A Night at Birdland Vol One and Vol Two (1954), a bonna fide classic of jazz with Clifford brown (tpt); Lou Donaldson (as); Silver (p); Curly Russell (b), Blakey (d); different group, sans Silver, Blakey featuring Art Blakey (1954); 1955, first album as Art Blakey and the Jazz Messengers At The Café Bohemia Vol. One and Vol. Two (1955) with Kenny Dorham (tpt), Hank Mobley (ts), Silver (p); Doug Watkins (b), Blakey (d); same group also record Horace Silver and the Jazz Messengers (1955); same group except Donald Byrd replaces Dorham on The Jazz Messengers (1956); same year Silver decides to form his own band, Blakey takes the name Jazz Messengers as his own which uses for all his groups for the rest of his long career.

Although Blakey's name is indelibly associated with the Blue Note label during the 1950s and 1960s, he was yet to establish himself with the label and his bands did not yet have the archetypical Hard Bop sound they would acquire later – for example, Ritual (1957) was for Pacific Jazz, Tough (1957) was released by the Cadet label in 1966, Selections from Lerner and Loewes…(1957) was for the RCA subsidiary Vik, Cu-Bop !957) was for the Jubilee label, Hard Drive (1957) was for the Bethlehem label while Art Blakey and the Jazz Messengers: A Night in Tunisia (1957), with a front line of Bill Hardman (tpt), Jackie Mclean (as); Johnny Griffin (ts), was recorded for RCA Victor; what would become the "Blue Note sound" of the Jazz Messengers thanks to Benny Golson (ts) who became musical director in 1958; band now Lee Morgan (tpt); Bobby Timmons (p); Jimmie Merritt (b); Blakey (d) and with 1958-Paris Olympia, and Art Blakey and the Jazz Messengers (recorded live at the Cub St. Germain, Paris) and Moanin' (all 1958) Blakey's archetypical sound came into full focus with Golson compositions such as "I Remember Clifford", "Blues March", "Along Came Betty" and "Are You Real" which became jazz standards; just two Jazz Messengers albums on Blue Note between 1958-9, Blakey's astonishingly prolific run on the label began with The Big Beat (1960) which coincided with a period that featured Wayne Shorter (ts and composer), Lee Morgan (tpt), Bobby Timmons (p) and Jymie Merritt (b); from 1961–64, the Messengers became with a sextet Freddie Hubbard (tpt), Curtis Fuller (tmb), Shorter (ts and composer), Jymie Merritt (b) and Cedar Walton (p); albums during this period are remarkably consistent, all high quality hard bop; group was seen as a finishing school for up and coming talent.
Blakey's albums during the late 1960s and 1970s less successful during jazz-rock and fusion years, but the arrival of up and coming trumpet star Wynton Marsalis in 1980, and shortly after saxophonist Branford Marsalis, restored Blakey's fortunes, Live at Bubba's (1980), In Sweden (1981), Album of the Year (1981); Straight Ahead (1981), Keystone 3 (1982); once again Blakey became regarded as the finishing school in jazz, his name on the curriculum vitae young musicians providing a status they would not have otherwise enjoyed; musicians who passed through his band during this period include Terence Blanchard, Robin Eubanks, Benny Green, Donald Harrison, Philip Harper, Javon Jackson, Geoffrey Keezer, Brian Lynch, Mulgrew Miller, Lonnie Plaxico, Wallace Roney, Bobby Watson, Charnett Moffet, Peter Washington, Benny Green, Jean Toussaint, Kenny Garrett and more; Blakey had been living in Manhattan when he died of lung cancer, aged 71, at St. Vincent's Hospital and Medical Center on 16th October 1990.