Art Blakey: Messenger with a Mission
Stuart Nicholson
Tuesday, October 26, 2021
Drummer Art Blakey lived and breathed hard bop. He epitomised the music's snapping, pulsating drive with each beat from his kit. Yet his vision extended way beyond the technicalities of playing, as his band The Jazz Messengers became an institution. Stuart Nicholson speaks to those that knew him and assesses the impact of Blakey's enduring legacy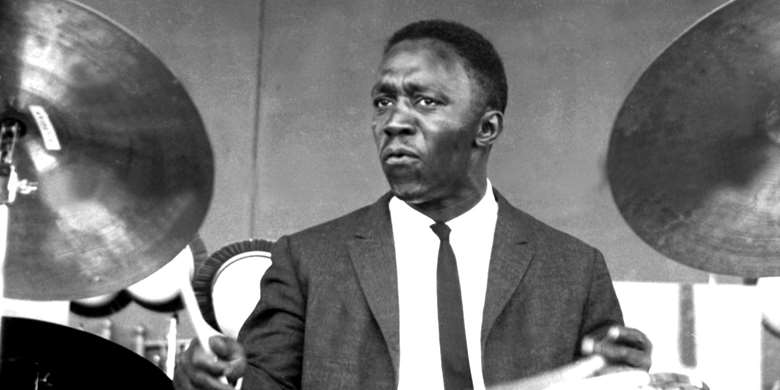 Art Blakey was born on 11 October 1919. A major figure in jazz from the 1950s until his death on 16 October 1990, he was one of the music's great drummers and bandleaders. But he was also something more. He was a great communicator, spreading the jazz gospel wherever he played around the globe. Jazz, he would remind his audience, was the eighth wonder of the world, because no one knew in advance what a jazz musician was going to play, least of all the jazz musician. It's music, he said, that comes direct from the Creator to the artist to the audience – in a split second. Today, Blakey's legacy lives on in his recordings, especially those on the Blue Note label, that are among the best performed and most adventurously crafted of the hard-bop era. Sought after by fans and young jazz musicians, to many they are as good a working definition of the fundamental principals of American jazz as any.
A larger than life figure who enjoyed a wild lifestyle, Blakey used drugs, married four times and fathered 10 children and, in the words of the late Mulgrew Miller, a former Jazz Messengers pianist, he was: "Truly one of the most colourful and dynamic personalities in the music business. He was always energetic with an unbelievable zest for life." On his last appearance in London in 1989 he clearly had health issues, as drummer Clark Tracey, to whom Blakey had become a mentor, recalls: "When he fell ill in London, he'd just finished a really unstable week at Ronnie's, he was in a lot of trouble, he didn't do the Friday night, the Saturday night he did do, but really shouldn't have. On Sunday he went into hospital and I went to see him, very briefly, in his private room, and as I walked in the first thing I spotted was he was sitting upright, he's got a cigarette on the go, and a Japanese girl on either side of him on his bed!" But wild lifestyle or not, Jazz Messenger and alto-saxophonist Bobby Watson is quick to point out that: "Whenever he walked into a room, the ions in the air would change. He commanded respect."

Blakey had come up in jazz at a fascinating time. In the 1940s he had been a member of the bebop big band led by vocalist Billy Eckstine that included Dizzy Gillespie, Miles Davis and Fats Navarro on trumpets, Charlie Parker, Sonny Stitt and Dexter Gordon on saxes and Sarah Vaughan, who shared vocal duties with Eckstine. He had also recorded for Blue Note with Thelonious Monk in the 1940s and, though he had his own big band in 1949, recording a scaled down version of the band for Blue Note, its short lived existence came to nothing.
In the early 1950s Blakey was freelancing, leading pick-up bands in New York clubs. This was a tricky time for jazz; black audiences had, in the main, migrated to R&B and business in the jazz clubs – as the respected historian and commentator Bob Blumenthal put it – was depressed in the early 1950s. The reason was simple: bebop was intended for a seated, listening audience. But the predominantly blue collar, black audiences in the northern industrial cities like Philadelphia, Pittsburgh, Cleveland, Detroit and Chicago wanted music they could snap their fingers to, clap their hands and get up and dance in a "Hell, it's Friday night and I don't give a damn" way.
As the 1940s gave way to the 1950s the 'jumping jive' of bands like Louis Jordan was giving way to something called R&B. In 1951 the big R&B hit was 'Rocket 88' by Jackie Brenston and the Delta Cats on the Chess label, and the interesting thing was that the instrumentation of R&B bands like Brenston's was pretty similar to the bebop ensembles, often with a trumpet, a tenor sax, piano, bass and drums in the line-up. What really differentiated them, apart from the vocals and electric guitar, was the blues and the backbeat. This new, evolving R&B scene was catching the ear of young jazz musicians – they listened and enjoyed the sounds of this vigorous and creative new music since the clubs and social spaces where the R&B bands played were also where the bebop bands found work. It's here that hard bop's roots can be found.
"

The sense of a new era of jazz being defined came at the end of 1955 when the band were captured live on Art Blakey and the Jazz Messengers: Live at the Cafe Bohemia Vols 1 & 2
The jump from 'Rocket 88' to Blakey's classic A Night in Birdland Vols 1 & 2 (Blue Note) from February 1954, was not a huge one. Check out Brenston's long syncopated sax solo. It's a 12-bar boogie blues with a back-to-basics feel. It's not a million miles from the funky feel of Blakey's Messengers on the Birdland albums with its upfront function for the rhythm section – the dominant role Blakey assumes, pushing the band along with, at times, a resounding backbeat – and the blues-drenched piano of Horace Silver. These were the 'raw' ingredients that audiences identified with. As Blumenthal points out: "The churning, relentless force of the rhythm section behind [the alternative take] of 'Wee Dot' must have sounded startling at the time, but would quickly become central to the hard-bop approach". In late 1954, Blakey formed a band with Silver called The Jazz Messengers that had Kenny Dorham on trumpet and Hank Mobley on tenor sax. Together they delved more deeply into this bluesy, rhythmic style of jazz. On Horace Silver and the Jazz Messengers (Blue Note) from late 1954 to early 1955, Silver's funky themes included 'The Preacher', 'Creepin' In' and 'Doodlin''. But the sense of a new era of jazz being defined came at the end of 1955 when the band were captured live on Art Blakey and the Jazz Messengers: Live at the Cafe Bohemia Vols 1 & 2.
It didn't take long for this style to catch on – a Downbeat feature called 'How Funky Can You Get?' said, "Everybody's doing it now. The most unlikely of jazz musicians have discovered 'roots'". Blue Note were on the New York scene documenting these changes, and it was during this period that Blakey became indelibly associated with the label, which this year celebrates its 80th anniversary. Probably his most loved album from this period, Moanin' (Blue Note), epitomises that rhythmic, bluesy back-to-basics hard-bop feel. Recorded in October 1958, the standout tracks include the title-track by Bobby Timmons and 'Are You Real', 'Along Came Betty' and 'Blues March' by Benny Golson that have been widely covered by jazz musicians ever since. 

By March 1959 Hank Mobley had joined the band, replacing Golson in the line-up, who in turn was replaced by tenor-saxophonist Wayne Shorter at the end of the year. He brought with him 'Lester Left Town' that's subsequently become a jazz standard and was one of three originals he contributed to Blakey's The Big Beat, recorded on 6 March, 1960. Shorter would play an integral role in the Jazz Messengers, helping move the band away from the funky, blues-based feel of hard-bop to a more contemporary sounding post-bop feel. In 1961, he was a key figure in the band that brought Freddie Hubbard, Curtis Fuller and Cedar Walton to prominence. The Messengers were a great favourite of Blue Note founders Alfred Lion and Francis Wolfe and between the mid-1960s and Indestructible from May 1964, Blakey albums came thick and fast. Shorter remained as the personnel shifted around him until summer 1964 when he joined Miles Davis. By now there were calls from Europe and Japan to see the Messengers live, and Ronnie Scott's jazz club, this year celebrating its 60th year as the UK's top jazz venue, was Blakey's first port of call when touring Europe.
While Blakey had always made a point of hiring young talent, the late 1960s and 1970s were lean times for acoustic jazz, and it's no secret that Blakey struggled to keep a band together during this period. But by the late-1970s jazz education in America was coming into its own. The conveyor belt of talented young graduates from places such as Berklee College of Music, the Manhattan New School and the New England Conservatory was just beginning to be felt. Most of these young musicians had little or no professional experience, and the very best were welcomed into Blakey's finishing school.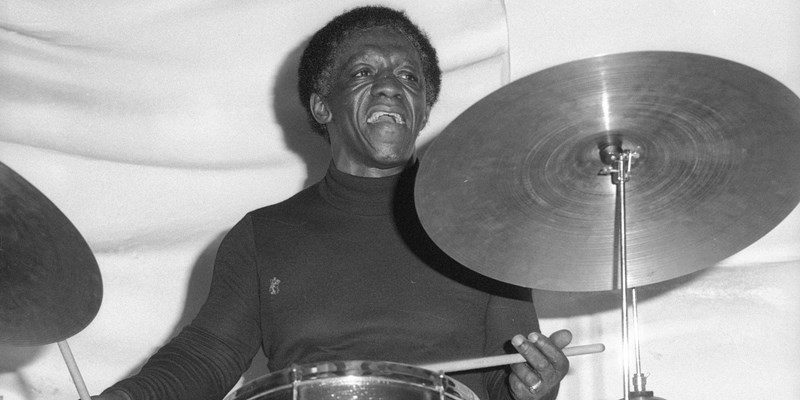 Art Blakey at Ronnie Scott's in 1973
"The Jazz Messenger resurgence started when me, David Schnitter and Valery Ponomarev came together," said Bobby Watson. "That's when the band started getting good gigs again. The group started to develop a reputation and people who had stopped coming to hear the Messengers started coming back". Two weeks after Watson had joined the Messengers in 1977, he produced two compositions for the album In My Prime, written while he was in college. 'Hawkman' and 'Time Will Tell' seemed ready made for the band, with whom Watson played for the next four years.
Aged 17, Wynton Marsalis became the youngest musician ever to be admitted to Tanglewood's Berkshire Music Center. Despite his youth, he was awarded the school's prestigious Harvey Shapiro Award for outstanding brass student. When he moved to New York City to attend Juilliard in 1979, he started sitting-in around the city and the musician's grapevine began to buzz. He came to the attention of Columbia Records executives who signed him in 1980, the same year he joined Blakey's Jazz Messengers. "Wynton hit the scene with the same kind of energy as Freddie Hubbard, when he hit the scene," said Terence Blanchard, who would succeed Marsalis in the band and like him was also from New Orleans. "Just like that, Wynton breathed new life into the jazz arena, he was this young guy who could really play the trumpet. When he entered the band, Wynton had the technical prowess that really lifted the bar." Blakey's career, which had steadily been picking up since the end of the 1970s, was now rejuvenated. Everyone, it seemed, wanted to see this new gunslinger in town and Art Blakey's Jazz Messengers provided the perfect context to hear him.
Marsalis' first encounter with the Messengers was sitting-in on two tunes from the Moanin' album that were still part of the band's repertoire, 'Along Came Betty' and 'Blues March'. Marsalis didn't know the chords of the former, but played well on the latter. "When I first sat in with Blakey I knew I wasn't playing nothing," said Marsalis later. "He said, 'Man, you sad! But that's alright'. And when you were around him, you were around the essence of jazz music. So he put that in us. He said: 'If you ever want to play this music, you have to play it with soul, with intensity, and every time you touch your horn, you play your horn. You know, this is not a game.'"
Two highlights of Marsalis' time with the Messengers include Album of the Year (Timeless) from 1981, featuring Bobby Watson on alto, Bill Pierce on tenor and James Williams on piano and Keystone 3 (Concord), from January 1982, that has Branford Marsalis in Watson's stead – the only album he made with Blakey – and Donald Brown on piano that shows Wynton's talent to best effect, especially on 'In Walked Bud' and his own composition, 'Waterfalls'.
Wynton Marsalis was replaced in early 1982 by Terence Blanchard, then 19 years-old. "Blakey would always talk to me, he'd say, 'Look man, Rome wasn't built in a day. You gotta work on this, you gotta work on that'", said Blanchard, who was a quick study. During his four year stay with Blakey he played beside saxophonist Donald Harrison, and along with Jean Toussaint on tenor sax and Mulgrew Miller on piano, appeared at Ronnie Scott's together five times, in April 1982, April 1983, March 1984, July 1984 and February 1985. Blanchard and Harrison would sign with CBS records after leaving Blakey, both pursuing distinguished careers in jazz.

In 1985, Wallace Roney took over the trumpet chair. "Blakey helped Wallace Roney realise his potential," said former Messenger Valery Ponomarev. Alongside Roney, the Messengers frontline comprised of Kenny Garrett on alto and Toussaint on tenor sax, with the talented Mulgrew Miller remaining on piano. Garrett and Roney would later feature alongside Miles Davis. This version of the Messengers also played Ronnie's, from 27 October to 8 November 1985. Roney was replaced by Philip Harper, who would go on to form the Harper Brothers Band with his brother Winard, which was signed by Verve. Harper was replaced by Brian Lynch, who was something of a veteran when he joined Blakey in 1988 as the final Jazz Messengers trumpet, having played with the Mel Lewis Jazz Orchestra, George Russell's New York Big Band, the Toshiko Akiyoshi Jazz Orchestra, Charlie Haden, Phil Woods and a host of others. "That was what the band needed then," said Terence Blanchard. "Philip Harper had moved on, Wallace Roney was playing with Tony Williams, I don't know of too many younger guys who were strong enough to come in at that time".
Looking back at the evolution of the Jazz Messengers during the 1980s, it is astonishing how many talented young musicians passed through the band, each leaving their own personal mark on what, by then, was one of the most enduring institutions in jazz. So what was the best line-up? According to Branford Marsalis, not known to sprinkle praise on his fellow musicians gratuitously: "That band, with Jean Toussaint, Donald Harrison and Terence Blanchard was great and under-recognised," adding that Jean Toussaint was a big part of what made that band tick. But, ultimately, it was down to Blakey himself, bandleader and drummer extraordinaire. "You listen to the recordings and then watch the guy," said Clark Tracey, "He was compact, but he was like an inferno, magical to watch, an absolute energetic monster behind the drums." A great drummer, yes, but also a unique personality too, as Terence Blanchard recalls: "One of the things people need to know about Art Blakey is what a humble, caring person he was. He would let us call the tunes, he wanted us to write the music for the band and he featured us. That's a very humble thing to do. He'd say, 'I don't want to play drum solos all night. This band is for you guys.'"
---
This article originally appeared in the October 2019 issue of Jazzwise magazine. Never miss an issue – subscribe today