Bill Evans
Stuart Nicholson
Tuesday, November 8, 2022
In 1959 Evans appeared on Kind of Blue, widely considered the greatest jazz album of all time, which included significant input from him, including the composition "Blue In Green". But that was just one highlight from his career...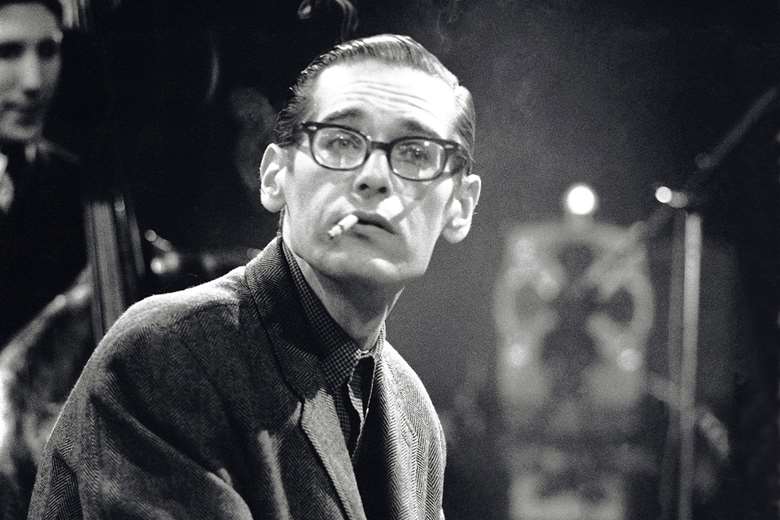 Evans, William John "Bill" (b. 16th August 1929, Plainfield, New Jersey, d. 15th September 1980, New York City). Began music studies at age 6 piano, flute and violin; 1945 led group with brother Harry and Don Elliott; 1949 trio with Mundell Lowe (g); Red Mitchell (b); 1946 entered Southeastern Louisiana College, in 1950 performed Beethoven's Piano Concerto No. 3 for his senior recital, graduating with a Bachelor of Music degree majoring in piano, and Bachelor's in Music Education; worked with Herbie Fields for six months; Army 1951-4 played flute, piccolo, and piano in the Fifth U.S. Army Band at Fort Sheridan; 1955-6 post-graduate studies in composition at Mannes College of Music in New York City and received the Artist Diploma; played with Tony Scott (cl) and became associated with George Russell; appeared on Russell's groundbreaking Smalltet recordings including "Concerto for Billy the Kid," an early exposition of Evans' virtuoso skills, The George Russell Smalltet: Jazz Workshop (1956).
"Billy the Kid" acted as a prelude to Russell's "All About Rosie," a composition in three movements that featured Evans in the third movement that served notice a major new talent had arrived in jazz, Modern Jazz Concert (1957); meanwhile Chicago-area singer Lucy Reed and guitarist Mundell Lowe brought Evans to the attention of producer Orrin Keepnews at Riverside Records; recorded New Jazz Conceptions for the label in 1956; 1956-7 appeared on albums by Charles Mingus, Oliver Nelson, Tony Scott, Eddie Costa and Art Farmer.
April 1958 Evans joins Miles Davis Sextet; May 1958 first recordings with Davis, Jazz Track (1958), later reissued on 1958 Miles; Evans leaves the Davis Sextet November 1958 and the following month recorded the trio album Everybody Digs Bill Evans; early 1959 returns to Davis sextet, records Kind of Blue (1959) widely considered the greatest jazz album of all time, which included significant input from Evans, including the composition "Blue In Green", the incorporation of Evans' "Peace Piece," previously recorded on Everybody Digs Bill Evans, as the introduction to "All Blues" and his thorough understanding of modal jazz that provided a foundation for others.
1959 Evans plays on the soundtrack of the John Lewis score for the film Odds Against Tomorrow; with Freddie Hubbard (tpt), Jim Hall (g), Percy Heath (b), Philly Joe Jones (d) Interplay (1959); in mid-1959 formed regular working trio with Scott La Faro (b), Paul Motian (d) that continues to exert enormous influence in jazz to this day; December 1959 first album together, Portraits (1959); 1960 appears on J.J. Johnson and Kai Winding's The Great Kai & J. J. (1960), three tracks on The Incredible Kai Winding Trombones (1960), George Russell's Jazz in the Space Age (1960), Gunther Schuller and John Lewis' Jazz Abstractions (1960), Frank Minion The Soft Land of Make Believe (1960), Philly Joe Jones The Soul of Jazz Percussion (1960).
By now Evans was becoming recognised in jazz circles as a major voice on his instrument; in 1961 his trio with La Faro and Motian recorded Explorations (1961); Evans appeared on Oliver Nelson's Blues and the Abstract Truth (1961); in late June Evans, La Faro and Motian record Sunday at the Village Vanguard and Waltz for Debby live at the Village Vanguard in Greenwich Village that are among the greatest recordings in jazz and have continued to be enormously influential; redefined the piano trio in jazz by moving away from the standard bebop style of walking bass and drums as timekeeper with LaFaro's highly interactive bass and use of a decorative two feel and Motian more colourist than timekeeper, the expectation being the listener keeps time in his head.

Together with Evans' rootless yet harmonically adventurous and often ambiguous voicings, thoughtful voice leadings, use of melodic development, space and rhythmic subtlety set new standards in jazz; La Faro would die in a road accident 6 July 1961 and Evans took time out of jazz to recover from the blow; at urging of record producer Orrin Keepnews, he returned to jazz in October 1961 with Mark Murphy (v); new trio with Chuck Israels (b), Motian (d) with guest Herbie Mann Nirvana (1961); duo with Jim Hall Undercurrent (1961); 1962 records Moonbeams (1962) and How My Heart Sings (1962) with trio; May 1963 Bill Evans Trio at Shelly's Manne-Hole with Chuck Israels (b) Larry Bunker (d) is an often overlooked but exceptionally strong exposition of Evans' talent, re-released as Time Remembered with previously unissued tracks.
1963 signs with Verve records, records Conversations with Myself (1963), a dialogue between Evans and overdubs of himself, wins Grammy award; it is fair to say that overall, Evans' 19 albums the for Verve label between 1962-1970 are uneven, but highlights include, Empathy (1962); Bill Evans Trio Live (1964); Trio '64 (1963); Monica Zetterlund and Bill Evans Waltz for Debby (1964); Trio '65 (1965); A Simple Matter of Conviction (1966); Bill Evans at Town Hall Volume One (1966); At the Montreux Jazz Festival (1968); 1971 The Bill Evans Album wins two Grammy awards; trio now Eddie Gomez (b), Marty Morrell (d) his longest lasting group; series of excellent albums for the Fantasy label including The Tokyo Concert (1973), Re: Person I Knew (1974), Since We Met (1974) and the Grammy winning I Will Say Goodbye (1977) with Eliot Zigmund (d); 1977 You Must Believe In Spring latterday Evans classic, also a Grammy winner, its perfect recorded fidelity captures the trio at their best.
1979 The Paris Concert Edition One and The Paris Concert Edition Two recorded at L'Espace Cardin in Paris on 26th November 1979 with Marc Johnson (b) Joe La Barbera (d) an excellent concert performance and another highlight from Evans' final period; plethora of official and unofficial recordings from the last years of his life, but three box sets from 1980, The Last Waltz: The Final Recordings, Consecration: The Final Recordings Part 2 and Turn Out the Stars: The Final Village Vanguard Recordings June 1980 recorded just months before his death on 15th September 1980 show no sign of his deteriorating health — rather they seem to indicate a new creative high; strong, sure and utterly vibrant they stand as eloquent testimony to one of the finest improvising talents jazz has known.
Watch