Duke Ellington
Between 1940-43 something special happened, Duke Ellington hit an all-time creative high which saw him record music – such as 'KoKo', 'Concerto For Cootie' and 'Bojangles' – which to this day remains unsurpassed in jazz composition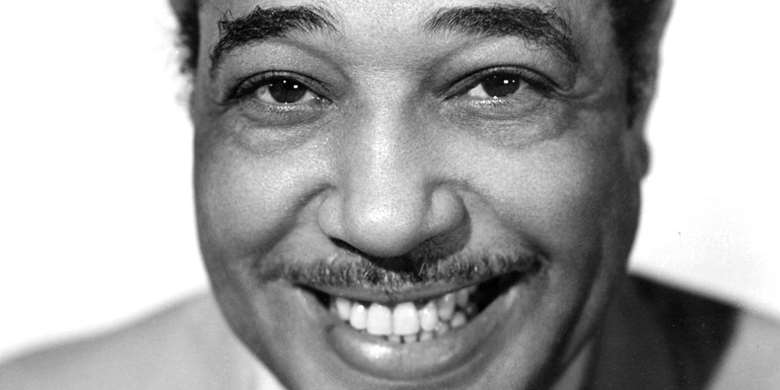 If Louis Armstrong was the first and greatest improvising genius of jazz, then Duke Ellington holds that position in the realm of composition and arrangement. Duke achieved this throughout his long creative life by building within his band the greatest collection of instrumental colours in the business, then having the savvy and determination to hold on to the key elements of that band for the next forty years.
Johnny Hodges joined in 1928 and stayed, with one short interlude, until his death in 1970: Harry Carney joined even earlier and outlasted Duke himself. Others such as Cootie Williams had similar runs.
Duke came from Washington to New York in 1923 with his own group and took a couple of years to prosper, but by 1926/7 his was amongst the busiest bands in the city, working in clubs every night and recording for any company who'd pay the fees by day.
By the end of 1927 his distinctive style of music had begun to emerge, as 'East St Louis Toodle-Oo' and 'Black & Tan Fantasy' shows. His growling brass figures and incredibly rich sax writing led to his being called the "jungle band" – a name which suited the extravagant productions mounted every night at the Cotton Club where Duke and his band presided.

His records took his name worldwide and excited the interest of a huge range of people, from dance and jazz fans through to classical composers: by 1933 he'd appeared to sell-out audiences at concert halls across Europe, years before such recognition came to him in America. This led to the further development of his musical ambitions, and while he kept coming up with the hits such as 'Solitude', 'Caravan' and 'In A Sentimental Mood', he was writing mini-concertos for his star soloists using full-blooded jazz idiom, not one jot diluted by the dead hand of old classical concepts.
He also led a long series of small-group sessions using his stars which have long been one of the greatest joys of jazz.
Between 1940-43, however, something special happened, for he not only had the additional help of writer/arranger Billy Strayhorn (who composed 'Take The A Train' and 'Satin Doll', among others), but he hit an all-time creative high which saw him record music – such as 'KoKo', 'Concerto For Cootie' and 'Bojangles' – which to this day remains unsurpassed in jazz composition.

He also began writing extended works in the form of suites, the first, 1943's Black Brown & Beige, being the most substantial.
Like others, Ellington suffered economically when big band swing died in the late 40s, but he alone kept going, and at 1956's Newport Jazz Festival came back to the front of the public's mind with an incredible performance.
From then until his death Ellington remained at the forefront of the music, respected by all: he even made amazingly powerful small-group records with John Coltrane, Charles Mingus and Max Roach. His creativity was inexhaustible, as was his energy, and he kept touring, writing and recording up until days before his death, from cancer, in 1974.