Emilia Mårtensson: "I find it extremely painful to make an album, artistically and emotionally, because you're dealing with your own self the whole time"
Peter Quinn
Monday, November 11, 2019
With a voice of remarkable expressive depth, Emilia Mårtensson makes music in which Swedish folk songs and jazz sensibilities are subtly drawn together into a profoundly satisfying whole. She talks to Peter Quinn about making connections, creating a narrative and finding beauty in tragedy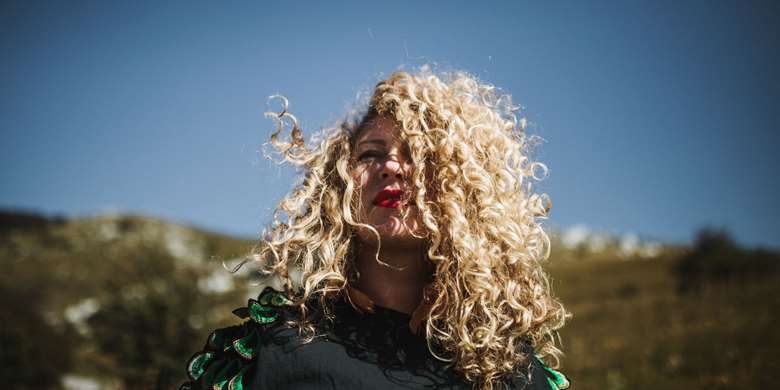 When I meet her in a Soho hotel, Emilia Mårtensson needs to take a pause for breath. She'd flown in that day on a ridiculously early morning flight from a gig at Arthur's Jazz and Blues Bar in Dublin, and was about to head off to New York later the same week – her first visit – with her Elda Trio project to perform as part of Made in the UK at Rochester Jazz Festival, along with a host of other UK artists including Nubya Garcia and the Leo Richardson Quartet.
Named after and dedicated to her mother, for her new album, Loredana, Mårtensson has taken a novel approach in terms of engaging her audience to become part of the creative process. Through a series of four questions which she posed via social media and her website, she asked her audience to provide personal thoughts, memories and observations about their relationship with their own mother – including how they would describe her in a single word. This not only provided Mårtensson with the title for one of the album's songs, the single 'There (Reversed Lullaby)' – with 'There' being the name one of her friends used to describe his own mother – but also threw up numerous other words including, perhaps worryingly, 'gangster' and 'iceberg'. She tells me that the slightly more comforting 'home' was one that cropped up a lot.
"It was about wanting to do something that everyone can relate to," Mårtensson says. "And I find that relationship really fascinating – that you come from someone's body and you have to have a relationship with that person. I have a very interesting relationship with my mum – everyone has an interesting relationship with their mother, I'm sure! But it was one that I wanted to explore. She's always been very supportive of what I do, but also finds it a little bit weird, the whole jazz stuff. So I thought it would be a nice thing to include her in it as well, and dedicate it to her. Within my own exploration of me and my mum, I wanted to hear about people's relationship to their mothers, so that's why I came up with that idea of asking these questions."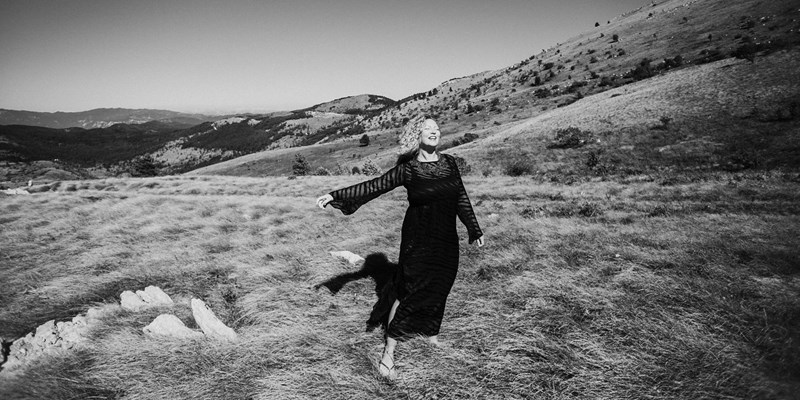 Emilia Mårtensson (photo: Dave McKean)
Clearly surprised and moved by the response, Mårtensson received messages from people she'd never met before, as well as people she used to go to school with in Sweden. A group of four sisters also made contact, all of whom had slightly different relationships with their mother. "Including my audience was a beautiful process. All of these observations were weaved in somehow, especially on 'There (Reversed Lullaby)'. That's the one that is most based on these answers. I prefer writing like that, actually. It makes it easier for me when I have a narrative. The responses acted as an inspiration board – it still comes from you, but you have something else to work with, something else to relate to that is outside of you, and it helped the process. We're going to make a book that will have all the music and some of these questions and answers, and maybe some quotes, observations and pictures.
"People have been very honest, they really want to talk about it. We did a gig recently at Pizza Express and that was the first time I felt a new level of connection – to myself and to the band, but also to the audience. People were really moved by it, which was beautiful, because they can relate to it."
Another word which you hear during the course of the album is 'whirlwind'. This, it turns out, has a rather special meaning: it's the word that Mårtensson used to describe her own mother, as she explains."That comes back a few times throughout the album," she notes. "My mum has a really huge personality and that hasn't always been easy to grow up next to. Sometimes it's difficult to be near that when you're a sensitive human being. It's created a lot of clashes and, as I've grown older, I've come to realise the reasons behind those clashes. I've also realised that a massive part of her personality is also inside of me, but it hasn't necessarily been able to come out, because she's my mother and she's overpowering that maybe a little bit. Because I'm a bit older and wiser, I'm able to communicate to her who I am, which has led to many fights – explosions – but they've been good."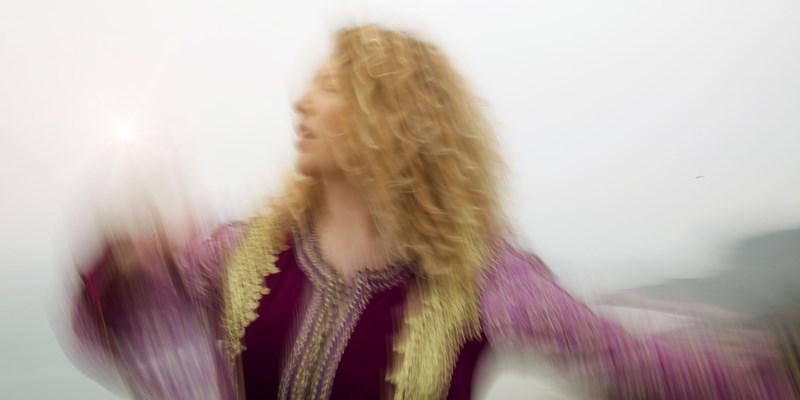 Emilia Mårtensson (photo: Dave McKean)
Mårtensson's burgeoning reputation on the London jazz scene was recognised in 2016 when she won Vocalist of the Year at the Parliamentary Jazz Awards ("a really lovely prize to receive," she says). With her own album coming out this year, she's clearly an artist who thrives on having multiple projects on the go. The aforementioned Elda Trio, whose debut album was released in 2016 on Two Rivers Records, features Slovenian accordion player, Janez Dovč, and Brazilian percussionist Adriano Adewale, with the band's raison d'être being to find folk stories from all three countries. "We want to explore how to bring our three different musical influences together into one melting pot." The singer has also recorded a new album with Kairos 4tet which features songs penned by Adam Waldmann sung by Mårtensson, Alice Zawadzki and Marc O'Reilly. This is also due out later this year.
Earlier this year, she curated a series of five concerts at The Vortex, 'Jazz Alloy', in collaboration with Musikcentrum Stockholm, the first of which featured the mouth-watering line-up of Emilia Amper on nyckelharpa, Steve Williamson on saxes, plus Marque Gilmore on percussion. There's talk about bringing the project to Egypt.
During the summer months she escapes to Izola, an old fishing town in southwestern Slovenia where her mother and maternal grandparents were born. This is where she runs her own jazz summer courses, now in their sixth year, with singers attending from all over Europe. She's also planning the first edition of a vocal festival to take place in Izola in September this year. "My idea for it is to have gigs every night," she tells me, "really good singers of any genre. Then to have workshops and masterclasses during the day, and maybe getting singers in to talk about specific vocal techniques, so it's different every year. This is how I want it to be, over a long weekend."

As revealed in my previous conversation with Mårtensson ('A Melancholy Muse', Jazzwise 184), she has a predilection for falling in love with sad songs – and the beautiful collection of nine songs featured on Loredana certainly supports this view. Compositions by her friends Barnaby Keen and Jamie Doe ("I love singing their songs") rub shoulders with heartrending traditional material that includes 'Aino' – inspired by a Finnish folk song – whose young protagonist, seeing her family attempting to marry her off to an old man, runs away and drowns herself in a lake. "It's a really sad story," Mårtensson says, "but there's also some power in it, because she takes her life in her own hands and turns into a fish, and slaps this old man around the face." The Swedish folk song, 'Jag Unnar Dig Ändå Allt Gott', is sung from the viewpoint of a broken-hearted lover. "It's saying that, although you've gone and broken my heart and left, I still wish you all the best. It's being grateful for having had a lovely time with someone, but then it's ended. I love the message and the melody. I'm really massively influenced by those dark, old folk songs. There's something so beautiful in those tragic stories."
Mårtensson explains that the standout title-track was inspired by the book Women Who Run with the Wolves by Clarissa Pinkola Estés. "She describes the female psyche through ancient stories. It's an amazing book, and it was also during the time of the whole #MeToo that I wrote it, so there were those two things. And I weaved my mum into that. It's basically about feeling in contact with the women before you and paying tribute to that. There's a lyric: 'We were kept like fallow gardens all this time, waiting for the wind to come.' So it's about women having been repressed and we're waiting for the wind to come so we can spread and be alive again. And, again, it comes together with my mum being a whirlwind, because she makes shit happen. It's connected in that way."
The touching closing song, 'Be Still-Grow', is in fact two songs in one, the first penned with Tom Cawley some time ago, the second talking about hope for the next generation. "I have moments where I feel like, what the fuck, why is that not happening – I'm talking about whether or not I'll ever have my own family. So it's sort of saying bye to the older generation and talking about whether there's something new that's going to grow, and is it too late. I had a little moment thinking about me and my relationship to motherhood, in terms of me being a mother, which is something I'm fighting with a lot.

"If I'm honest, this whole process has been really beautiful and really painful. I find it extremely painful to make an album, artistically and emotionally, because you're dealing with your own self the whole time. You're battling a lot of emotions and a lot of thoughts that get stuck in your head sometimes. We all suffer from those thoughts of not being good enough, don't we? It's been a really important lesson for me. I heard a really good quote: we're never going to be totally satisfied with the work that we do, but that's not our job. Our job is to keep the channels open. I've had to fight with myself a little bit – with all my albums really. The important thing is to continue making music and making art."
"I'm relatively new to writing," she continues. "It's not easy, it's definitely not something that comes naturally to me. You have to sit with yourself and keep doing it, and be consistent. Having a narrative, and also having a deadline, has really helped. I'm first and foremost a singer, that's what I've been doing my whole life. I've got a good grasp of how to make songs my own, and that's an art form in itself, and that will always be my favourite thing."
Bringing all of the music on Loredana to spectacular life is a band that Mårtensson has fused together from two separate gigging entities, guitarist Luca Boscagin and trumpeter Fulvio Sigurta on the one hand, plus bassist Sam Lasserson and percussionist Adriano Adewale on the other. Recorded and mixed by Alex Bonney, the album was produced by Snowpoet's Chris Hyson ("I love his own music and wanted to have a bit of his brain in it as well," Mårtensson notes). "It's the best feeling in the world," she says about working with this band. "They bring everything. Without them, it wouldn't be what it is, they're my musical family. It's my vision, but it's our band. We all get to do what we want, and I think it works because of that."
This article originally appeared in the August 2019 issue of Jazzwise. Never miss an issue – subscribe today!