"Past, present and future are in dynamic motion" | Shabaka Hutchings on Sons of Kemet's Black to the Future
Jane Cornwell
Thursday, June 24, 2021
Shabaka Hutchings speaks about the cultural and musical inspirations behind Sons of Kemet's album Black to the Future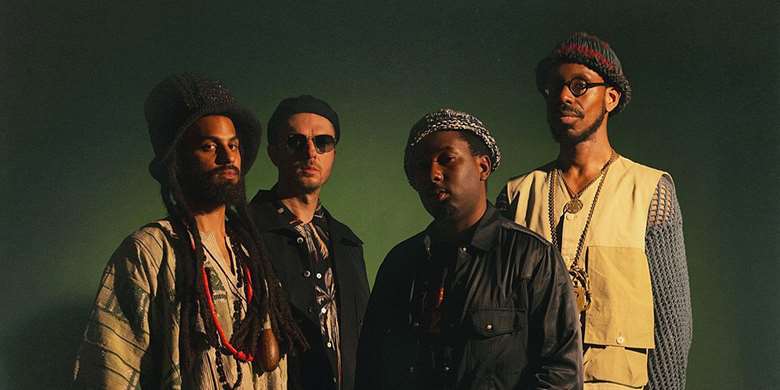 What was the starting point for Black to the Future?
I never really have time to stop between one album cycle to the next so I have to find ways to keep that creative spark going. For this album I collated the material I'd been jamming on my iPad on the road with the Comet [is Coming]. That became the foundation.
Black to the Future was galvanized by the murder of George Floyd and the Black Lives Matter protests. It comes with a mission statement and begins and ends with powerful lyrical and musical statements of rage and frustration featuring the poet and performer Joshua Idehen.
Joshua is a very astute political thinker. He sent me back one take that became 'Field Negus', which gave an exposition of his thoughts. But it needed a rounding off, a conclusion. That was the point of 'Black' (which ends with the line 'Leave us alone'). There's so much attachment to trying to unpack the elements of Blackness; we all need to deal with our respective traumas rather than the violence of reliving traumas in the arena of public spectacle.

You've spoken of wanting to position yourself in the present rather than the past or the future...
One of the big aspects is looking at African ontologies and cosmologies and their underlying principles. Past, present and future are in dynamic motion. The future is influenced by the past, the past has elements of the future, the present is the dynamic point between both. It's not just about listening from the beginning to the end. It almost starts from the middle and angles both ways – which is a tough thing to conceptualise.
You play sax on the opener and woodwinds across the album. I know you recently delved into flute music from Central Africa and the Caribbean, and admire the polyphonic orchestration of [Brazilian] Hermeto Pascal. How did that come about?
The woodwinds were a direct result of me being in lockdown. I had a lot of time to go over the album in massive detail. I've been collecting small instruments over the years and was able add layers, so that you can go beneath the surface level. I had Hermeto Pascal's sound in my head, and a desire to be more compositional. I tried to recontextualise what I'd already written.
You looked beyond jazz to help contextualize the album – particularly to UK grime.
Grime is just another manifestation of what I'm doing, taking the music of the Caribbean, and altering it for the context of being in London. With the people in the grime scene, they're doing it with technology and with their voices, whereas the people in the jazz scene, we're doing it with acoustic instruments and an acknowledgment of another form of music, which is American jazz. The two musics intersect in terms of their dual reflection on what it means to be of the Caribbean music diaspora within a London context.
---
Album Review

Sons of Kemet: Black to the Future ★★★★
Impulse!
Shabaka Hutchings (ts, woodwinds), Theon Cross (tba), Tom Skinner, Eddie Hick (d) Steve Williamson, Kebbie Williams (ts), Ife Ogunjobi (t), Nathaniel Cross (t), Cassie Kinoshi (as), Kojey Radical, Lianne La Havas, Joshua Idehen, D Double E, Moor Mother and Angel Bat Dawid (v). Rec. 1- 5 May 2019, 2020.
The fourth LP by the Shabaka Hutchings-led 'super-quartet' Sons of Kemet comes with a mission statement reinforcing the politics at its core. A glance at the track listing reveals titles sequenced to form verse, signposts for a sonic poem intended to invoke 'power, remembrance and healing' and embrace a movement that redefines what it means to strive for Black power.
With their borders-down aesthetic, fierce social conscience and sax, tuba and two-drum-kit combo, the Kemets have always packed a punch. But with opener 'Field Negus' and closer 'Black', both featuring lyrics written and spoken by poet Joshua Idehen, sparked by Black Lives Matter protests, and with guests ranging from Angel Bat Dawid and Steve Williamson to grime MC D Double E – Black to the Future has the tightly coiled righteous fury of opuses such as Attica Blues and Freedom Suite.
Bold and nuanced, invested with a dynamic circularity that nods to African cosmologies and with Hutchings' focus on woodwinds (and on composition), it's a work that grabs you by the scruff. Afro-Caribbean rhythms intersect with London grime. Jazz is spiritual, cultural, current. Highlights are many: 'Hustle' feat. MC Kojey Radical is propulsive, discomfiting, catchy. 'Envision Yourself Levitating' is nuanced, spacious, free. Taken as a whole – as intended – Black to the Future is a strong candidate for album of the year.
---
This article and review originally appeared in the June 2021 issue of Jazzwise. Never miss an issue – subscribe today