Romarna Campbell, Queen Colobus and Wild Card for Royal Albert Hall Late Night Jazz Series
Tuesday, January 17, 2023
Royal Albert Hall launches first season of Late Night Jazz for 2023 at its venue within the venue, the Elgar Room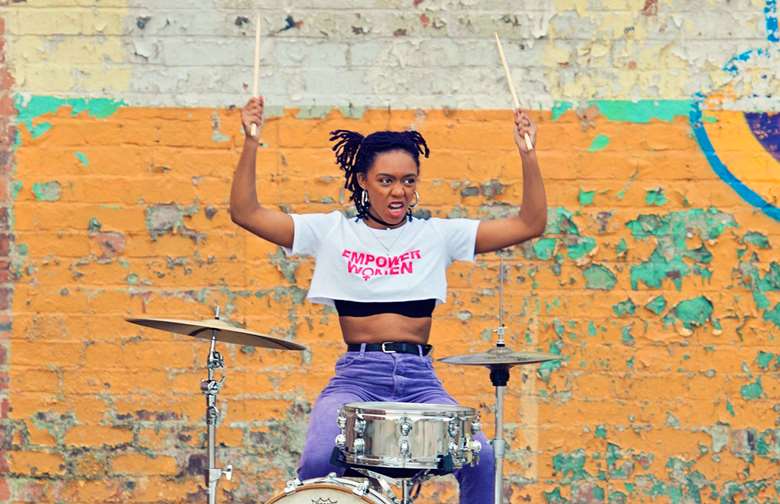 The Royal Albert Hall has announced its first Late Night Jazz series of 2023 featuring a variety of acts all set to perform at its venue within the venue, the Elgar Room. From hip-hop infused jazz drummers to an album release launch show, this new season highlights an array of surprising genre fusions, including afro-samba hard-bop and indie-rock neo-soul across six varied jazz performances.
Fresh off the release of their new album Cabin 19 Fever, released last month, Wild Card kick off the season on Thursday 26 January with their hard-bop and afro-samba inspired jazz. This performance marks the album launch of the highly collaborative trio in the Hall's 200-capacity Elgar Room venue, fronted by guitarist and band leader Clément Régert.
Drummers Romarna Campbell and Myele Manzanza lead the February shows, with Campbell showcasing a first glimpse of the hip-hop infused material from her forthcoming album on Thursday 2 February. Meanwhile the New Zealand-born Manzanza, renowned for his energetic performances, takes to the stage the following week on Thursday 9 February having recently released the third volume of his ambitious five-part album series Crisis & Opportunity, which saw him being awarded New Zealand Jazz Artist of the Year 2022.
Bryony Jarman-Pinto performs a Relaxed Late Night Jazz event on Thursday 16 February where the environment becomes less formal to benefit those with autism, learning disabilities or dementia, for example. The event marks her first performance of the year having been putting the finishing touches on her highly anticipated second album. She successfully merged folk and world music influences with jazz on her 2019 debut LP Cage & Aviary.
Inspired heavily by the gospel music he was exposed to at a young age through attending church, followed later by jazz, soul and RnB music, London-based piano player David Kofi uses these genres to create calming and reflective stories through his music. This culminated in a nomination for Best Blues/Jazz Act at the Unsigned Awards, and more recently the back-to-back two-track EPs Kokoro and Kokoro II released in 2021 and 2022 respectively. Kofi will showcase these tracks on Thursday 23 February in the Elgar Room.
Rising quartet Queen Colobus close the series out on Thursday 2 March with music from their critically acclaimed five-track 2022 EP Think Fast. Lead singer and saxophonist Beth Hopkins's vulnerable lyrics paired with the group's aggressive indie-rock and neo-soul leanings have gained support from the likes of industry tastemakers BBC6 Music and CLASH.
Tickets for all Late Night Jazz shows are now available to purchase from the Royal Albert Hall website: www.royalalberthall.com/tickets/
Late Night Jazz 2023 Listings:
Late Night Jazz: Wild Card
Blending hard-bop, Afro/Samba and reworked pop numbers, Clément Régert's esteemed trio Wild Card perform music from their new album Cabin 19 Fever, live in the Elgar Room alongside guests. The album features Grammy award-winners Maurice "Mobetta" Brown and Charlie Porter; Grammy-nominated saxophonist Marcus Strickland & MOBO-winning saxophonist Binker Golding.
Thu 26 Jan, 9:30pm
Tickets: £13.82 - £17.91
Late Night Jazz: Romarna Campbell
Drummer, producer and composer Romarna Campbell performs jazz and hip hop-infused music from her highly anticipated new album, set for release in 2023. This follows 2020's independently released debut 25 Songs for My 25th Birthday. Romarna will be performing alongside Mutale Chashi on bass and Cenk Esen on piano.
Thu 2 Feb, 9:30pm
Tickets: £13.82 - £17.91
Late Night Jazz: Myele Manzanza
Having established himself for his energetic performances within the London jazz scene, New Zealand-born producer and jazz drummer Myele Manzanza performs original compositions from his five-part album series Crisis & Opportunity live in the Elgar Room.
Thu 9 Feb, 9:30pm
Tickets: £13.82 - £17.91
Relaxed Late Night Jazz: Bryony Jarman-Pinto
Bryony Jarman-Pinto merges elements of folk music with the jazz and world influences of her youth. Currently finishing up her follow-up LP to 2019's Cage & Aviary, this marks her first performance of 2023, offering a taste of new and unreleased material. At the Royal Albert Hall, relaxed performances are for everyone. The less formal environment may particularly benefit autistic people, those with learning disabilities, or those with dementia.
Thu 16 Feb, 9:45pm
Tickets: £5.12
Late Night Jazz: David Kofi
London-based piano player David Kofi's music is a mixture of jazz, soul and R'n'B that features heavy gospel influences due to his time playing the keyboard at church from the age of 14. Having been previously nominated as The Best Jazz/Blues Act at the Unsigned Music Awards, Kofi released EPs Kokoro in 2021 and Kokoro II in 2022.
Thu 23 Feb, 9:30pm
Tickets: £13.82 - £17.91
Late Night Jazz: Queen Colobus
Led by frontwoman Beth Hopkins on saxophone and vocals, four-piece collective Queen Colobus are making waves on the London jazz scene performing music from their latest EP, Think Fast. Their songwriting reveals vulnerability and anger, while combining jazz with indie rock, neo-soul, and Beth's teenage obsession with Dave Grohl.
Thu 2 Mar, 9:30pm
Tickets: £13.82 - £17.91