Camilla George interview: "You have to find hope in adversity, because if you don't, you can't learn anything, and we don't grow"
Hugh Morris
Tuesday, January 17, 2023
Camilla George opens up about the harsh realities touring today and the dark histories behind her joyous-sounding new album
Camilla George has some problems with her back. She calls in following a trip to the osteopath, slightly amazed that she's made it back on time ("I think chiropractors are supposed to be quacks, I don't know if they go to medical school," she offers as a half-hearted justification for her choice of treatment). The cause of her discomfort? A compressed, stressful return to touring, featuring travel nightmares, lost luggage, and endless passport queues.
We speak on a day of relative calm for the altoist, in that recuperative sweet spot as the final few summer festivals come to an end, but before the autumn tours start up again. The week before, George had played We Out Here Festival, where a last-minute cancellation saw her take to the Abbots Ripton main stage for the first time.
I ask her how she found the experience. "Really cool," she says. "Great sound as well. The best sound I've ever had at a festival." And as we chat further about her life, similarly practical insights emerge. Above all, George is a realist with a great deal of 'big picture' thinking, parking the 'artist speak' and opting for a detailed, honest account of challenges facing musicians trying to make it work in 2022.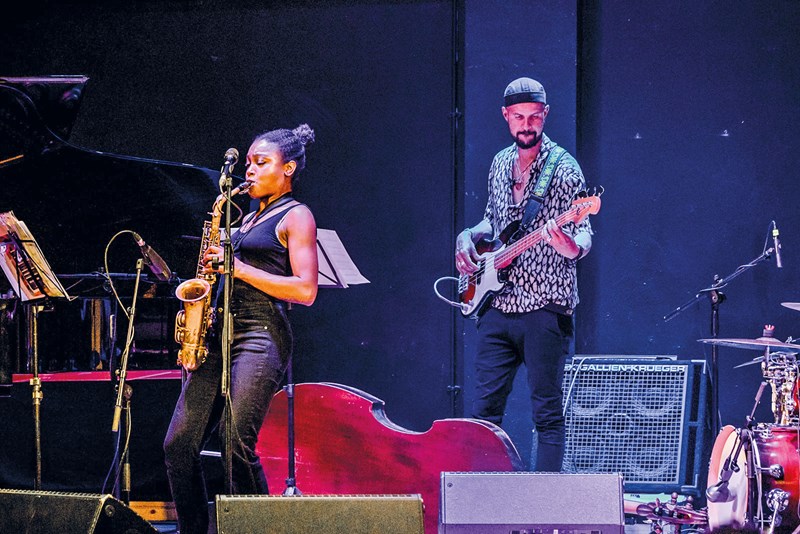 It's been five years since Jazzwise caught up with Camilla George, and, as you'd expect, she's been busy. Release-wise, her debut album Isang, from 2017, caught the eye with her blend of Kenny Garrett-influenced bebop lines and rhythms informed by her Afro-Caribbean heritage (read the review). She followed it up with 2018 album The People Could Fly, a release that leant further on her interest in narratives – taking inspiration from Virginia Hamilton's eponymous 1985 collection of black American folk tales, retold as stories for children (read the review).
Her 2022 return, Ibio-Ibio, continues her interest in strong narratives, in an album that celebrates her people, the Ibibio, who hail from the Awka Ibom state of coastal Nigeria (George was born in the town of Eket, before her father, between jobs as a tailor, was deported by the authorities, forcing the family to return to the UK). 
But the biggest change, as George sees it, is more practical: discovering the joy (and increasingly, the pain) of international touring. After spending years on the UK circuit, her next goal was to break into Europe. She went even further: her first gig outside the UK was at Blue Note Beijing. "It's like Pokémon, I wanted to get that one," she says about the Tokyo branch of the Blue Note franchise, a dream gig vanquished by the pandemic.
"

"There are certain artists I was touring Europe with who aren't able to call me now, because it's too much paperwork"
As a return to an adjusted normal continues, George is articulate about the issues facing her peer group of working musicians. For starters, she has plans to perform in France in the near future, but hasn't yet been able get her A1 forms returned from HMRC. With payment conditional on the forms being filled out, and a 20% tax slapped on those earnings, it makes the prospect of a handful of French gigs in the autumn – two dates at Paris' Le Duc des Lombards in September – more fraught than fun. "There are certain artists I was touring Europe with who aren't able to call me now, because it's too much paperwork, and it's too expensive to have me on the gig," she adds. "That's a real shame, because, if you lose a gig for playing reasons? Okay, fair enough, you accept that. But to lose it because of Brexit is quite annoying."
She sees the problems past her own loss of income, though. George, who describes the UK "notoriously hard" for touring musicians, confirms it's an even less appealing prospect post-Brexit. "Prominent musicians who were touring just won't do a London gig. Or if they do, it's just one, because there's no money in it. And that's such a shame, that we're not getting to see the level of musicianship that [mainland] Europe sees." Touring Europe brings George into contact with some of her favourite musicians – China Moses, Theo Croker, and even her idol Kenny Garrett – but there are repercussions back home for those not regularly travelling to the continent. "It's creating a division in terms of access, and being able to hear that standard of playing."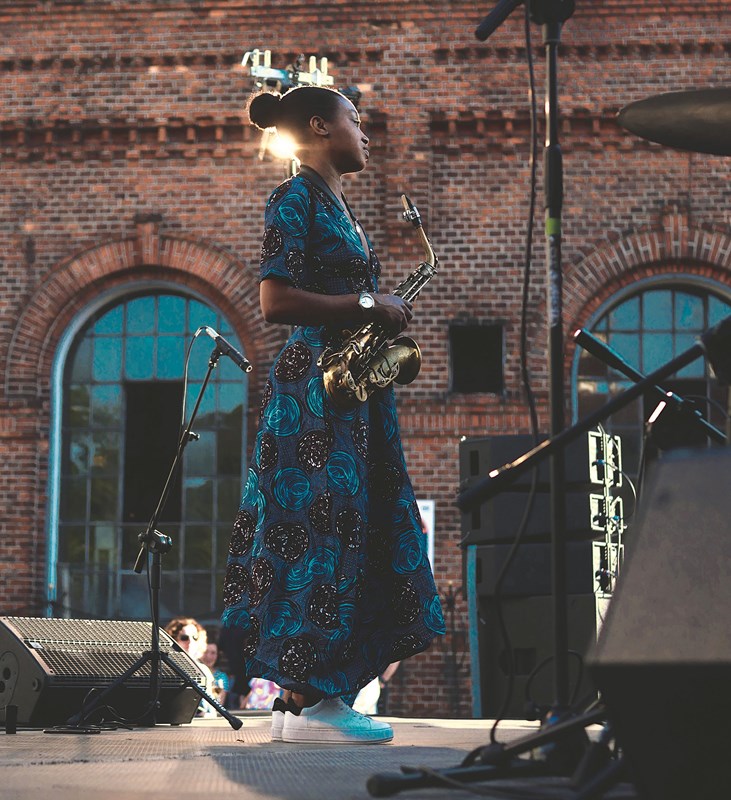 There's an irony to such divides in a jazz world which currently seems particularly closely knit, thanks to the increasing presence of social media in the music making process. It's a leveller for sure, bringing never-before imagined collaborations across continents, but its use is certainly skewed towards the younger generation. And, even as the youth-focused discourse around jazz in the UK slowly loses its energy – every description of the 'UK jazz scene' seems wrapped in obligatory scare quotes – George reveals the tensions that still exist between generations and groups.
What's creating those tensions? George words her response carefully.
"I think when you scratch the surface, actually, it's a racial thing. I think the people that are doing it don't realise it. But all the musicians they're ragging on are generally black. Usually, they're black and female. Often, the criticisms they're laying are because they don't rate the Afrobeat thing that people are doing. But it's very sad, because the music originated from Africa; it came from enslaved black Americans who were actually Africans. I don't think [Afrobeat is] as far away from jazz as they think it is."
"

"At conservatoire, life isn't very pleasant most of the time"
George is adamant that such criticisms are examples of unconscious bias and is happy to offer some partial solutions to the problem. She cites America's Theo Croker, a recent collaborator, as an example of how to bridge those divides. "If Theo was in the UK, he'd be in the 'UK Jazz scene', judging by the type of music he plays. [Recently], he was going off to the Detroit Jazz Festival to play with Gary Bartz. That kind of collab of somebody from a different generation, or from a slightly different genre of music can yield amazing results." That cross-generational model is one jazz has looked to for decades – from Art Blakey and Horace Silver through to the groups and organisations George came up through (like Gary Crosby's Jazz Jamaica, or Nu Civilisation Orchestra) and might offer a historically in-tune way to assuage conflicts.
Like so many of London's stars of today, Crosby and Janine Irons' Tomorrow's Warriors were essential for George, who began playing the saxophone aged 11 after winning a competition that offered free tuition and an instrument. She met Crosby and Irons soon after, eventually becoming part of Courtney Pine's Venus Warriors, a nine-piece all-female group featuring players who would go on to lead today's conversations around jazz: George, Ruth Goller, Rosie Turton, and Nubya Garcia. Another female-led group, Nérija, also came out of the weekend school, and George credits Crosby and Irons for the steps towards more equal gender representation on today's UK jazz scene: "They had a plan, they created the sessions, and they knew what to do."
Elsewhere, George had a more unconventional route into music. Encouraged by her parents, she ended up studying Ancient and Medieval History at the University of Birmingham. Later, she would discover the reason for her parents' push for academia over the lifestyle of a musician. Unbeknownst to her, George's paternal grandfather was a saxophone player in Grenada; "he succumbed to the stereotype of the slightly player-esque musician," George says. "Let's just say, he had many different lady friends."
She connected with friends who followed similar journeys in her former teacher Soweto Kinch (Oxford, history) and Sarah Tandy (Cambridge, English literature), who both came to dedicated jazz studies later in life.
"Doing a jazz degree was not particularly fun – it was hard," George admits of her education on the Masters' course at Trinity College of Music.
"At conservatoire, life isn't very pleasant most of the time."
Ibio-Ibio is a pleasant-sounding album that sees George bend more into a Roy Hargrove-esque soundworld than her previously bop-adjacent releases. Yet the subject matter behind the sounds is far from Hargrove's mellifluous earfood. George draws heavily from traumatic stories – the more uncomfortable parts of her community's history (many of which involve their complex relationship with the slave trade) punctuate the album, with the appearance of Birmingham rapper Sanity providing lyrical focus, just in case you forget track titles like 'Journey Across The Sea' or 'The Long Juju Slave Route of Arochokwu'. How does George find so much hope through traumatic subjects?
"It's an interesting one, because with my previous album, I remember one person saying 'oh, it's too happy'. But the point of the album is that you have to find hope in adversity, because if you don't, you can't learn anything, and we don't grow."
All of this gives George a broadened perspective on life. She lives in Acton, West London, next door to a family of five crammed into a one-bed flat. George has grown very close to her mother, particularly following the death of her father, and she provided George with many of the requisite reading materials about Ibibio culture and storytelling for her last two albums. Her mum has no desire to move, and George has made the most of the diverse group of people she encounters as she goes about everyday life.
"I've made so many friends in my little part of London, and now, I make it my business to know people. It's nice to walk down the street and see the postman I know. There's a big homeless shelter at the bottom of the road, and I know most of the people that go there. It's nice to have connections with people who are completely different to me."
Some musicians live in the area, but not loads, "not like South London," she says, almost accidentally. Was it a conscious choice to live slightly removed from that bustling musical hub? "It's great being able to see musicians and stuff, but it gets too much. Especially with the touring, you just want to go home. I love going into my local wine bar, and like seeing my friends that work there – having a good old laugh, having a dance, having a party after hours." This period – the after times – are hitting her much harder than the isolation of successive lockdowns. Why? "Because I'm a loner, and I absolutely relished being on my own," she replies.
George is very much on her own journey, something she's more than come to terms with. It's a beautiful thing to witness.
---
Read the review: Ibio-Ibio
This interview originally appeared in the November 2022 issue of Jazzwise magazine. Never miss an issue – subscribe today