How Miles Davis made Tutu
Friday, October 15, 2021
Miles Davis biographer George Cole recalls the significance Tutu, regarded by many as Miles Davis' last major statement, and talks to his main collaborator on the album, Marcus Miller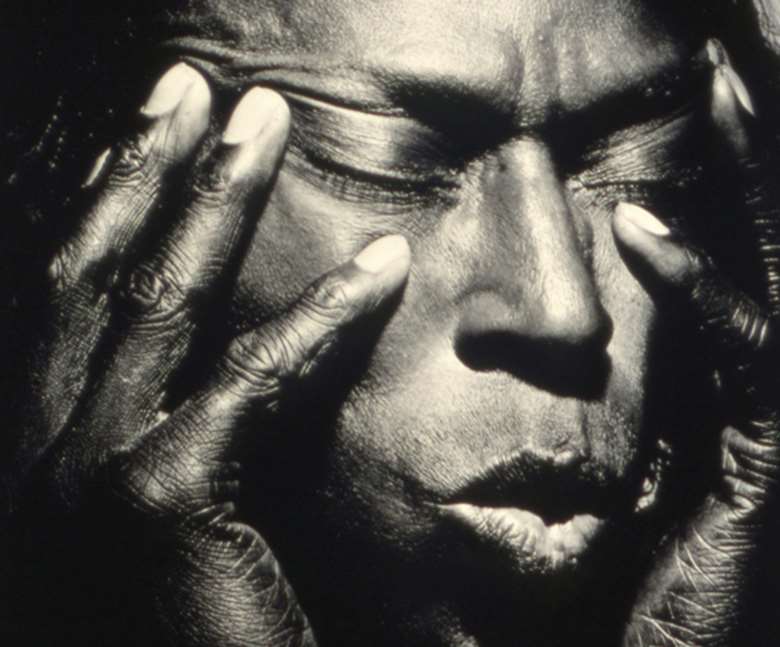 When the Tutu album appeared in 1986, it divided both fans and critics: some loved it; others hated it. For some, Tutu heralded an exciting new direction for Miles' music; but for others, it was a sell-out to commercialism and new technology. When you listen to Tutu it's easy to see why it provoked such strong reactions: instead of recording the album with live instruments and a band, Miles recorded his trumpet parts over a lush electronic soundscape, produced from a battery of samplers, synthesisers, sequencers and drum machines. Although synthesisers had long been used in jazz, no jazz artist had ever made an album like Tutu.
Tutu was a product of the 80s, a decade where music was often in danger of becoming subservient to technology. But while much of the music from this era is now long forgotten; Tutu continues to thrive; artists such as George Benson, Al Jarreau and Cassandra Wilson have recorded cover versions of the title track; Warner Jazz UK have released a deluxe version of the album, and Marcus Miller, who produced, arranged, played and composed most of the music on Tutu, has released a CD/ DVD package of his Tutu Revisited project, which saw Miller touring the world with a group of young musicians and performing the music from Tutu.

Marcus Miller once noted that, the problem with making contemporary music is that, you never know whether the music you make will only exist for the period in which it's made or whether it will become timeless. So how does Miller feel about the fact that people are still listening to Tutu? "That makes me feel wonderful. There are two goals for me, primarily. One is to create something that describes the time that you're living. The second one you don't have any control over, because how your music is viewed down the road is as much a function as what happens down the road, as what happens in your music. Who knows what will happen in 20 years time? I have no idea, but it's really beautiful to see that Tutu has developed."
Some of the criticism of Tutu was harsh – it wasn't jazz, and Miles was just a sideman on his own record. Did any of this get under Miller's skin? "Honestly, it didn't bother me at all. In terms of 'it's not Miles' albums, it's Marcus','' well you know man, I was there. I was the one that was inspired to come up with those things. I was the one noticing the difference between writing for him and writing for other people. Once Miles puts his presence on it, it's his. In terms of 'it's not jazz'; I bought a Downbeat magazine when I was 15 years old and they were arguing about that. The last time I looked at Downbeat, they were still arguing the same stuff."
Conversely, there are those who see Tutu as being the most significant Miles Davis album of the 1980s, but Miller qualifies this viewpoint: "I think there were two [Miles Davis] periods in the 80s. There was the first period which started with The Man with the Horn, and there's the second period with Tutu. Of the second period, I think Tutu is probably the most definitive album."
'Tutu had a lot of elements that represented the 80s; that for better or for worse, represented where we were at, not just musically, but as a society' – Marcus Miller
Miller believes that "Tutu had a lot of elements that represented the 80s; that for better or for worse, represented where we were at, not just musically, but as a society. The technology had just been introduced in the last ten years and we were just struggling to figure out how to co-exist with these machines – they were making our lives better, they were making our lives worse, depending on who you talked to! My whole feeling was that, the ultimate example of this new age of machines was that we wouldn't be able to tell that machines could be used so creatively; that they would simply be an extension of our humanity. And I think Tutu really represented that, and I really enjoy hearing Miles in that atmosphere. Just as you have Miles in the 1940s and the 50s; in the 80s, you hear him with the synth stuff and I think it was really representative of where he was as an artist."
Has Tutu influenced jazz or was it, as some claim, a one-off, with no discernible impact on the music that followed it? "That's just a function of the jazz world being stratified," says Miller, "and there are people who don't hear the influence, but that says more about you than it does about Tutu and its influence. I go all over the place: you hear a synthesiser and a muted trumpet and it's like – here we go again! There are people who only live in the world of acoustic jazz who aren't going to hear it."
Regarding the various cover versions of 'Tutu', Miller says, "to me, that's like a sign that the song is creeping into the jazz language. I love Cassandra's version; I love George Benson's and Al Jarreau's version too – any version that tries to stay true to the feeling of the song. Some people simply use it as a blowing tune and they're not careful with it. Whereas people like Cassandra, they really approach the music with more care and try to figure out what the feeling of the music is."

Tutu has also gained many new fans thanks to the Tutu Revisited project, which was originally conceived as one-off concert. The project began when the organisers of a major Miles exhibition in Paris in 2009 asked Miller if he would play the entire Tutu album in concert. "I was reticent because I know that Miles wasn't the type that wanted to do something like that – if they'd had asked him, he would have said no! He wasn't the kind who really liked to look back, although Quincy [Jones] convinced him towards the end of his life. [Miles played the classic Gil Evans arrangements at the 1991 Montreux Jazz Festival]. So, I was a little reluctant, but I wanted to pay a tribute to him, so I looked for an idea that might offset that negativity. My idea was: 'I'm going to find some young musicians.' Miles really loved finding new guys who could inject new energy into his music. I thought that if I could find some really great guys, although Miles might not have cared for me going backwards, he probably would have got a kick out of what we did."
The band Miller put together consisted of three twenty-somethings – New Orleans trumpeter Christian Scott, alto saxophonist Alex Han (who Miller discovered when teaching a music course at the Berklee College of Music), and drummer Ronald Bruner Jr. Keyboardist Federico Gonzalez Peña, who's in his forties, is a relative oldie. Miller was determined not to play a carbon copy of the original album. "When I told the guys we were going to do Tutu Revisited, people broke out the synthesisers and everybody was getting ready to reproduce the CD! But I didn't want to waste all the talent doing what some pop bands do – replay a great album from 30 years ago. I wanted to start at Tutu and see where we can take it." The title track, for example, has been played with a jazz-swing section in some concerts, and in others, with a reggae break. Such was the demand for the Tutu Revisited project, that it morphed from a one-off gig into two world tours, with Sean Jones (formerly of the Lincoln Center Orchestra) replacing Christian Scott on trumpet, and Louis Cato playing drums on the second tour.

Miller recalls playing the Tutu album live the first time. "The first notes were very emotional for me. Not in terms of being sad, but every note brought back a memory I hadn't remembered. When you start playing the notes, they trigger memories of when Miles said this to me or how he reacted when he first heard that note. So the first few gigs were a trip, but eventually it got more comfortable." Miller also learnt new things about Miles. "With the Tutu Revisited band, those guys would listen to the music and say, 'OK on this section, do you want me to do this or should I try that?' The sort of thing you normally get when you're working on music. But the thing that struck me was that Miles never asked me any of those questions. He'd come into the studio and I'd play the track for him. Then I'd write out the music for him, show where the melody went and then he just played. He just reacted – he didn't ask me what key it was in or what the approach should be."
So what is Tutu's legacy? Keyboardist Kei Akagi, who joined Miles' band in 1989 and later became professor of music at the University of California, says: "This music has influenced a generation of younger musicians, who now treat 'Tutu' as having the same significance as 'So What'." But Miller finds it hard to define, "I don't know; it's beyond me. Miles is so much bigger than any of the individual albums that he made. The thing that I'm most proud of is, regardless what you think about Tutu, you've got to admit that, for a guy who was 60 years old to be creating music that had so much relevance for the time, is pretty inspiring. Miles was committed to continue making relevant music, from day one to the day he died. Tutu was simply a chapter in that story."
---
10 facts about Tutu
1.
The album was originally going to be called Perfect Way (the Scritti Politti song), but producer Tommy LiPuma suggested the shorter, snappier title.
2.
Many music collaborators were considered for Miles' new album including, arranger/composer Paul Buckmaster, producer Bill Laswell, Toto keyboardist Steve Porcaro, Lyle Mays (Pat Metheny's keyboardist) and British keyboardist Thomas Dolby. Miles also contacted George Duke, and Prince sent Miles a track 'Can I Play With U?,' but the tune was pulled at the last minute. Miles worked with producers Randy Hall and Zane Giles on an album, Rubberband, which was shelved.
3.
Several tracks are named after people: 'Tutu' (Archbishop Desmond Tutu), 'Full Nelson' (Nelson Mandela and Prince – Nelson's his surname) and 'Tomaas' (Tommy LiPuma).
4.
Many artists have performed cover versions of the title track including, Stevie Wonder, Cassandra Wilson, George Benson and Al Jarreau, World Saxophone Quartet with Jack DeJohnette, Gordon James, Russell Gunn, Chuck Brown and The Soul Searchers, Humberto Ramirez, Manhattan Transfer, Marcus Miller, Endless Miles Project (including Bob Berg, Wallace Roney and Lenny White), and the bass super-group SMV – Stanley Clarke, Marcus Miller and Victor Wooten. There's even a vibes version.
5.
The album's photography was done by portrait photographer Irving Penn.
6.
Spike Lee directed a video medley of the first four songs – 'Tutu', 'Tomaas', 'Portia', and 'Splatch'.
7.
Tutu won two Grammy awards, for best jazz instrumental performance – soloist, and best album package.
8.
Sampled voices are used for one of the bass lines on the title track, and a sample of Count Basie's trademark cry, "One mo' time!" appears on 'Perfect Way.'
9.
The only track Miles never played live was 'Backyard Ritual'.
10.
'Tutu' means 'cool' in the Yoruba language of south-western Nigeria, and refers to the concept of grace under pressure – a very fitting description for Miles.
---
This article originally appeared in the May 2011 issue of Jazzwise. For more information about subscribing to Jazzwise, visit: Subscribe to Jazzwise