Sonny Rollins interview: "I love music of course, but I don't listen any more... It's too frustrating to listen to music when I can't participate"
Kevin Le Gendre
Thursday, October 14, 2021
Kevin Le Gendre speaks to the jazz legend Sonny Rollins about looking back on a lifetime of music-making and his quest to keep on growing as a human being and artist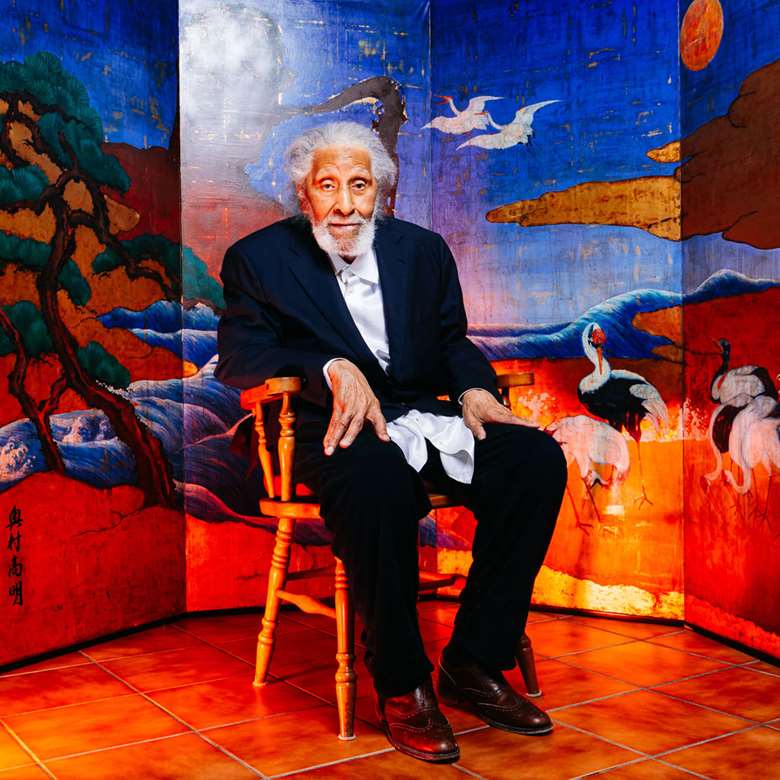 Retirement has never had a precise agepoint in the creative industries. Practitioners, certainly improvising musicians, often go on far longer than in other fields, for a number of reasons, from artistic integrity to financial necessity; or in Sonny Rollins' case, an unflagging dedication to their life's work. He was still playing as a sprightly octogenarian, his silver halo afro giving him the distinct air of Nigerian literary giant Wole Soyinka, who may well have dubbed the American 'The lion with the jewel' as a poetic portrait to the rather more prosaic picture of 'bebop's last man standing.'
Religion has failed to do what it should have done. There are still people killing each other and hating each other… it's the same old stupid world
Sonny Rollins


Rollins' withdrawal from public stages eight years ago could not go unnoticed, given his iconic status and the fact that new generations of listeners and musicians alike were intent on getting close to the essential history embodied by this peer of Miles, Monk and Trane, who decisively enriched 'horn culture.' Now 90 years old, Rollins no longer performs. The saxophone colossus is silent. Yet he still has much to say.

"Well, it's not a matter of my choice," he says candidly of his current state of affairs, on a clear line to New York. "It was a health issue and I had to stop. It was a very difficult period that I went through when I realised that I couldn't play my instrument anymore.

"I used to be quite disappointed with life… it took me some time to really handle it. It wasn't easy. But eventually I accepted it. As a matter of fact I'll celebrate the fact that I did have a career and I was able to do music all of my life."

That statement is not to be taken lightly given the fact that Rollins started playing the saxophone when he "was around seven or eight years old, something like that", which means that the instrument had been a steadfast companion, underpinning his growth from childhood to adolescence to the late stage of adulthood. Given his immersion in what another one of his visionary collaborators, Max Roach called the 'universe of vibrations' it is no surprise that Rollins is now reluctant to lend an ear to rhythm, harmony and melody, primarily because they no longer represent creative possibility.

"I've listened to music all my life and a lot of listening to music in my case has to do with being a performer, and I would be thinking about ways to transpose my listening to my work," he says, before giving forlorn food for thought.

"I love music of course, but I don't listen any more. I hear music, but I don't set out to listen. It's too frustrating to listen to music when I can't participate fully as I once did in my life. "

Rollins' voluminous output bears this out in no uncertain terms. Although he recorded less frequently in the 1990s and millennium, his discography in the preceding decades has timeless entries. 1987's G-Man is an engrossing document of a virtuoso able to draw improvisatory verve from swing, funk and calypso during an electrifying open-air performance. 1974's The Cutting Edge has compelling transformations of pop and gospel staples. 1962's The Bridge finds the saxophonist on inspired form, following a break from public appearances, leading a band with deeply responsive guitar hero Jim Hall. 1956's Plus Four shows Rollins to be a soloist who is as audacious as he is quick-wittedly agile in the company of stars such as trumpeter Clifford Brown.

Many other albums could be mentioned but the point is that Rollins was one of the musicians who helped to define the art of improvisation, as the concepts and materials used by its exponents shifted from the metronomic drive of swing, to which he was well inured as a Harlemite born in 1930, to the chordal advances of modern jazz and the structural fluidity of the avant-garde.

While helping to seal the reputations of the emblematic labels of the 1950s and 60s – Prestige, Riverside, Blue Note, Impulse! – Rollins reflected and personalised the rapid pace of change in creative music, all the while looking straight into the eye of substantial personal and political storms.

Due to professional pressures he took several sabbaticals, visited India and studied yoga, intent on incorporating that discipline into his 'everyday western life', and also took a man sized stand for racial equality on 1958's landmark album Freedom Suite.

In the liner notes he spoke of African-Americans being "persecuted, repressed and rewarded with inhumanity" at a time when the Civil Rights movement was in a crucial phase. What also decisively shaped his perspective was travel to the 'Old World.'

"It was quite gratifying because the United States never treats their great Black musicians or artists well because of this prejudice they have, so it was great going to Europe. Just being outside of America for a Black artist was a wonderful revelation.

"You realised that people liked art, never mind if it was made by a Black person or a Swedish person. it didn't matter," he reflects. "It was about art, so it was wonderful when I first came to Europe, they accepted me well. I was treated like an artist."

From the late 1950s onwards, Rollins toured France, Britain and Scandinavia, often playing with local musicians. Holland was also on his itinerary, and it was on a 1967 tour that he led a trio with double bassist Rudd Jacobs, mostly little known outside of his homeland, and drummer Han Bennink, who is noted for accompanying visiting Americans such as Eric Dolphy before going on to write a key chapter of Dutch jazz history with ICP. Tapes of the studio sessions and concerts of the short-lived band have now been collated and released as Rollins In Holland, a 2-CD, 3LP-set that is an invaluable overview of a quite obscure but nonetheless illuminating juncture on the long international road down which the American saxophonist has travelled.


Most significantly, this was another iteration of the piano-less saxophone trio Rollins used so effectively on the aforesaid Freedom Suite as well as Way Out West, East Broadway Rundown and A Night At The Village Vanguard. These albums had seen the saxophonist, whether with a drums-bass axis of Oscar Pettiford and Max Roach or Wilbur Ware and Elvin Jones, among others, liberally cross the line between 'in' and 'out' schools of thought and go some way to achieving the ideal of an 'open house' environment where the music could take any direction. The repertoire is standards-oriented for the In Holland album but Rollins vividly recalls that both his Dutch partners were more than happy to embark on a devil-may-care adventure in sound.

"They had a love of jazz, they had a love of the music," Rollins says warmly of his two accompanists, who had also backed other Americans stars such as Johnny Griffin, Ben Webster and Wes Montgomery. "And this was what made it all come out, that kind of love, that kind of enthusiasm, that kind of energy… you could hear that listening to us together. And that's what came together; we never played together before in the trio. We'd never played together but we all loved jazz and we all felt part of jazz. What we were doing was more of a universal…. being part of something universal, we all felt that. And the fact that it (Holland) was a small country (made a difference)… there was this great feeling, a very intense love of the music.

"We didn't have any barriers. In other words it wasn't 'oh, okay we're going to play swing… okay, now we're going to play some bebop… or now we're going to play some free music.' No, I think we were playing… there was a love of the big, big picture, jazz, the big picture, not jazz in little styles and different styles. Jazz as the big picture. That's what we achieved and that's what we loved. When I got there we all came together, realising that there was a big picture of jazz. There's a little picture, 'okay this guy plays cocktail music, this guy is avant-garde, okay that's fine separating. What we tried to do was not separate… but to bring together all the stuff you mentioned. They were in the air at that time and the so-called 'free' stuff, and we tried to unify them, and that is a very important thing in life, unification. That's what the world is all about, we're trying to unify things. That's what we're trying to do. Unity, unity, unity! That was a very important aspect of those records."

Legions of Rollins fans will find more than a moment of joy in this music from the past that sounds anything but passé. Aged 36 at the time of his sojourn in Holland, the saxophonist was on momentous form, as the lengthy deconstructions of much of the material makes a clear, and the big, bulging tone and bounce and sway in his phrasing are matched by daring harmonies and intriguing timbres when the band ups the ante.

Yet as much as the music can shapeshift there are certain elements that underline Rollins' history as a musician who was charmed by Fats Waller and Louis Jordan as a youth, and who also upheld the praxis of making any tune his anthem, whether or not it was the kind of chorus line fodder – think 'There's No Business Like Show Business' – that could be a disposable cornball in the hands of a lesser mortal.

Without hesitation Rollins names the likes of Don Byas, Lester Young and Coleman Hawkins as his saxophone models, and Jerome Kern, Cole Porter and George Gershwin as his go-to composers. The songs of his youth have stayed with him.
There wouldn't be any Black Lives Matter if people were more unified, and that's the ultimate thing in the universe and whatever world we know
Sonny Rollins

Rollins belongs to a generation of musicians who were liable to reflect what they heard on the radio, jukeboxes or in movie theatres by way of quotation. The range of references and the coherence with which he integrated them made the saxophonist a master of the art, and no better demonstration comes on In Holland than the opening bars of 'On Green Dolphin Street' when the tender romantic swoon of 'There Will Never Be Another You' seamlessly rings out. It is an utterly enchanting moment.

"Ha, ha ha! " he chuckles heartily. "Well, I wish I could really explain it but you know I think I love playing quotes. In a way it's a way of unifying 'Green Dolphin Street' with 'There Will Never Be Another You'… I mean it's all one. For people that believe in all matters, they believe that it's all one. I don't know if you want to call it God, or call it Allah, I don't care what it is. But there's a unification there… to all that.

"I heard a lot of music when I was growing up on the radio, these things are all in my mind. It's all one, it's all together, the unification…unification is the word for today, the lesson for today. Unification!" he exclaims. "This is another way... why these quotes come to me and why they're important to my playing. This is the larger picture of listening to quotes. I'm glad that you like them and they ring a bell. I guess the bigger reason for quotes is bringing everything together, unifying everything."

Earlier in the conversation Rollins refused to be drawn on the significance of recent US protest movements, where the focus on police brutality against African-Americans is sharp, steering instead to the ongoing destructive hypocrisy of leaders and citizens alike, and the bankruptcy of belief systems devised over time. That said, he does argue that the 'oneness' he seeks musically has a socio-political resonance.

"There wouldn't be any Black Lives Matter if people were more unified, and that's the ultimate thing in the universe and whatever world we know," he says with a distinctly weary tone. "Religion has failed to do what it should have done. There are still people killing each other and hating each other… it's the same old stupid world.

"I try to follow the golden rule, which is do unto others as you would have them do unto you, which, by the way, is in every religion and every discipline that we know of… Judaism, Islam, Confucianism, Rahmanism, Tao… every religion has that in it, the golden rule, do unto others as you would have them do unto you, they all say that. But you know what? They don't all live that, they don't all do that," he hollers in what is very audible exasperation. "But that's part of every religion we know of, they all speak about that, the golden rule. But they don't do that. Therefore religion fails."

Disheartening and truthful as the state of affairs may be Rollins is not about to succumb to despair. It is not pushing a metaphor too far to say there is a vitality in his speech that parallels some of his marathons on saxophone, and it's incredible to think that a nonagenarian can sustain such verbal stamina with little pause for breath.

Then again age really has minor significance for him. In fact, any kind of countdown to what may be his close of play means little, as he is already on to new openings.

"I have a different view of life," he says with a notably calm, poised self-assurance. "I believe, I accept, I should say, reincarnation, so this one life that I'm living now I don't feel is the end of everything, and that this is one life and it's so important.

"We live again and again," he declares, heartily upbeat. "Our soul doesn't die; therefore it all happens for a reason and we have to try to adjust to it. I have no problem with life, the only problem I have with life is trying to get more understanding, so I become a more evolved human being. As we go through life and go through whatever there's a unity that makes all of the music happening today the same eventually. The more we go the more we'll realise, 'it's all one thing.' I'm just looking at life, trying to see further into the ocean, down to the bottom of the ocean as it were."

And with that Sonny Rollins wishes me the best for this life, and the lives to come.

Sonny Rollins' Rollins In Holland: The 1967 Studio and Live Recordings is out now on Resonance Records

Read the review of the album in the Jazzwise Reviews Database

This interview originally appeared in the December 2020 / January 2021 issue of Jazzwise. Never miss an issue – subscribe today