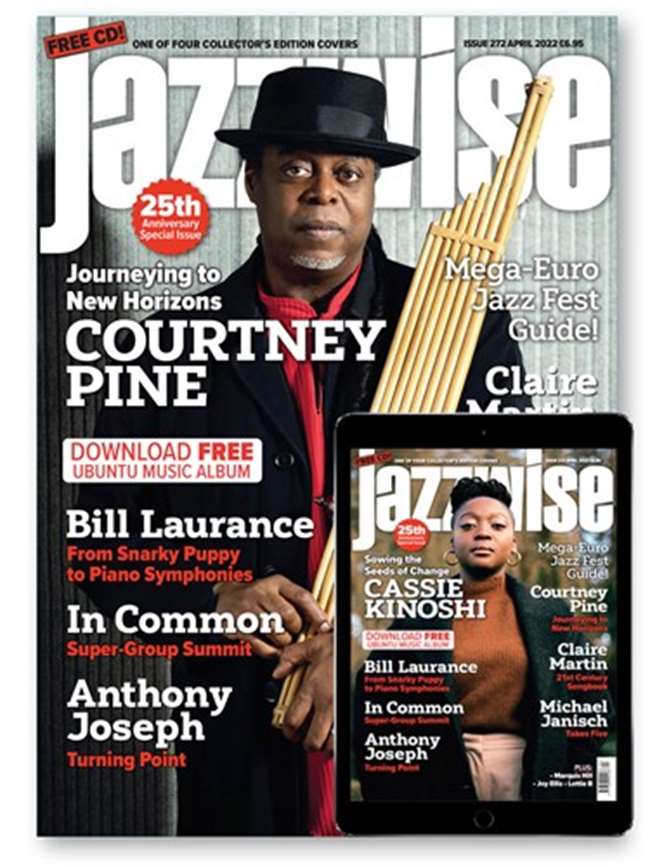 Jazzwise - April 2022
Jazzwise magazine's bumper-size 25th Anniversary April issue is out now with a fantastic free Ubuntu Music 15-track album featuring Chet Baker, Darius Brubeck, Omar & QCBA many more. This collectable issue features four different cover artists: Courtney Pine, Claire Martin, Cassie Kinoshi and Bill Laurance, plus a mega Euro Jazz Festival Guide and plus a special feature looking back over Jazzwise's 25 year history.
Also inside is a revealing Turning Point interview with jazz-poet Anthony Joseph, an Album Interview with Matthew Stevens and Walter Smith III about their new all-star 'In Common' album; Taking Off features on rising stars Joy Ellis and Maquis Hill, while Guardian rock-critic Alexis Petridis talks about how he discovered a passion for jazz during Lockdown.
And lest you forget, Jazzwise brings you all the latest jazz news and gossip as well as all the essential new, archive and vinyl album reviews – plus books, live reviews, UK gig guide and jazz instrument news. More jazz than you'll ever hear…