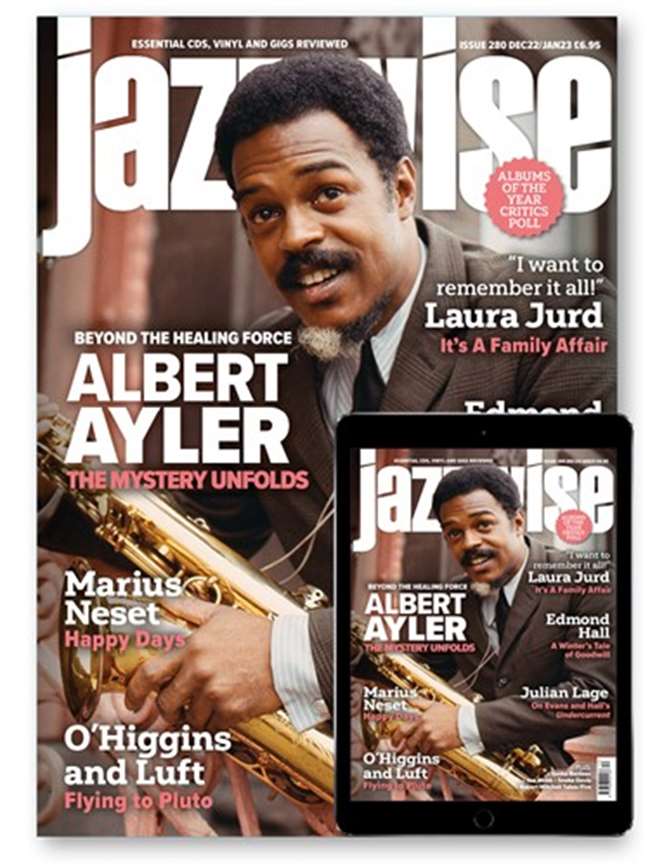 Jazzwise - December 2022/January 2023
Jazzwise magazine's December/January double issue is out now featuring an exclusive cover and feature exploring the mysterious life and music of spiritual jazz sax pioneer Albert Ayler. Inside the winners of Jazzwise's not-to-be-missed Albums of The Year Critics Poll are revealed with the full Top 20 New Releases and Reissues of the year announced. 
There are interviews with Mercury-nominated-trumpeter Laura Jurd, Nordic sax star Marius Neset, guitar guru Julian Lage talks about the album that changed his life in Turning Point, and a special feature by Val Wilmer on legendary clarinettist Edmond Hall.
Also in the issue Dave O'Higgins & Rob Luft discuss their new album Pluto, there are Taking Off interviews with rising pianist Joe Webb and vibes virtuoso Sasha Berliner, funky saxophonist Snake Davis talks about his life in music in The Player and top UK pianist Robert Mitchell selects the albums he can't life without in Takes Five. 
And lest you forget, Jazzwise brings you all the latest jazz news as well as all the essential new, archive and reissue album reviews on CD, vinyl and download – plus books, live reviews, UK gig guide and jazz instrument news. More jazz than you'll ever hear…