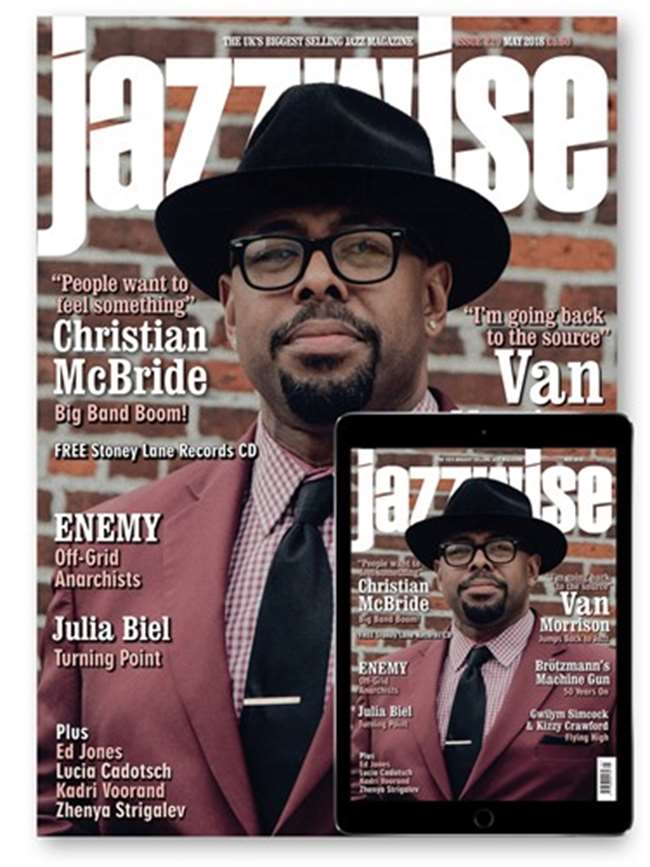 May 2018
The May 2018 issue of Jazzwise, the UK's biggest selling jazz monthly, hits the streets on 12 April with a cover featuring multi-Grammy winning bass virtuoso Christian McBride. Ahead of his headline appearance at Cheltenham Jazz Festival with his Big Band this month, McBride talks about his journey to becoming a skilled big band leader/arranger and the value of learning directly from the jazz masters.
This issue also includes a fantastic Free covermounted CD from the forward-thinking Birmingham-based Stoney Lane Records with 11 tracks of new music from their artists.
Also inside are interviews with revered Irish singer songwriter Van Morrison, Mercury-nominated pianists Kit Downes and Gwilym Simcock, acclaimed singer Julia Biel and a look at Peter Brötzmann's fiery album Machine Gun, as the epochal protest album reaches its 50th anniversary in May.
And lest you forget Jazzwise brings you all the latest news and gossip from the jazz scene; as well as over 100 new, archive and vinyl album reviews - plus books, live reviews and our essential nationwide gig guide. More jazz than you'll ever hear…