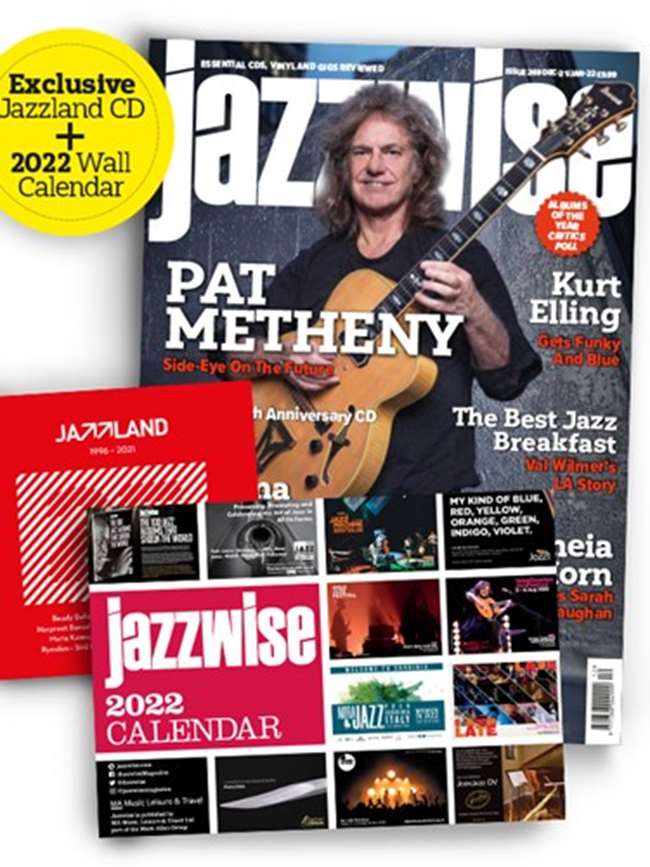 Jazzwise - December 2021/January 2022
Jazzwise magazine's December/January double issue is out now with an exclusive Norwegian jazz CD from Jazzland Records to celebrate the label's 25th Anniversary with tracks by Beady Belle, Rymden, Hakon Kornstad and Eivind Aarset and more. The issue also comes with an exclusive 2022 Jazzwise Wall Calendar.
Guitar legend Pat Metheny is on the cover talking about his stunning new album, while inside there are interviews with top vocalists Kurt Elling and Jazzmeia Horn, rising star trumpeter Mark Kavuma, a fascinating archival feature by jazz writer Val Wilmer, plus full results from Jazzwise's prestigious 2021 Albums of the Year Critics Poll.
And lest you forget, Jazzwise brings you all the latest jazz news, as well as all essential new, archive and vinyl album reviews – plus live reviews and jazz instrument news. More jazz than you'll ever hear...