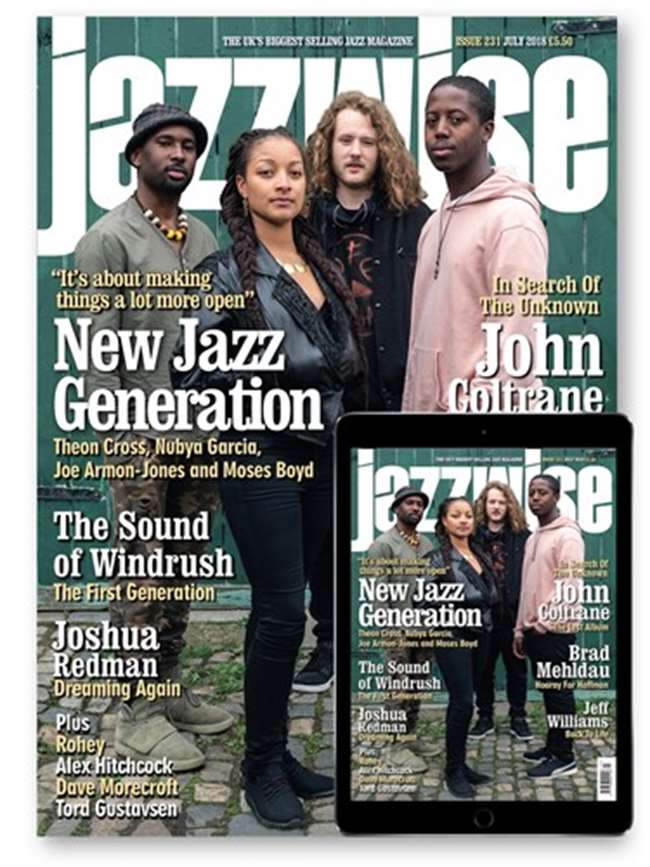 July 2018
The July issue of Jazzwise, the UK's biggest selling jazz monthly, hits the streets on 14 June with an exclusive cover featuring four stars of London's hot new jazz scene. Inside we talk to saxophonist Nubya Garcia, drummer Moses Boyd, tuba master Theon Cross and keyboardist Joe Armon-Jones in an exclusive feature that delves deep into the roots of this new wave of jazz that's taking the UK and international scenes by storm.
Also in this issue are in-depth features on the newly released Lost Album by the classic John Coltrane Quartet and Val Wilmer tells the story of the original Windrush generation's jazz roots. Also inside are interviews with drummer Jeff Williams, pianist Brad Mehldau and saxophonist Joshua Redman.
And lest you forget Jazzwise brings you all the latest news and gossip from the jazz scene; as well as over 100 new, archive and vinyl album reviews - plus books, live reviews and our essential nationwide gig guide. More jazz than you'll ever hear....