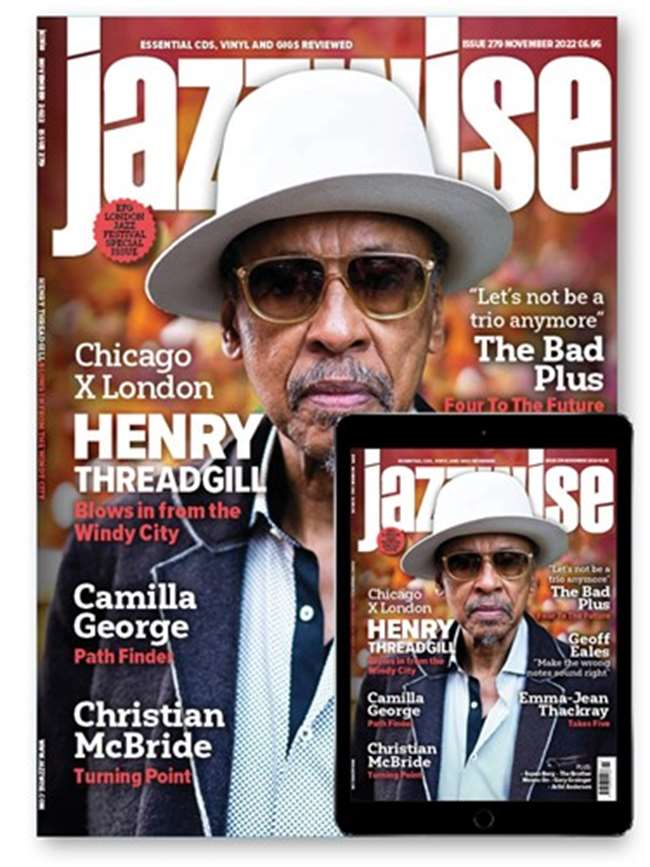 Jazzwise - November 2022
Jazzwise magazine's November issue is an EFG London Jazz Festival special with legendary Chicago sax pioneer Henry Threadgill on the cover talking about his barrier-breaking festival appearance. Inside there are interviews with other festival headliners including revitalised US band The Bad Plus, fast-rising saxophonist Camilla George, bass boss Christian McBride and trumpeter Emma-Jean Thackray selects the albums she can't live without in Takes Five plus there's a preview of festival highlights.
There are also interviews with Brit-jazz piano virtuoso Geoff Eales, Nordic bass legend Arild Andersen and this month's Taking Offs are Norwegian pianist Espen Berg and South African group The Brother Moves On, while it's US jazz/session bass great Gary Grainger who's talks about his life in music in The Player. 
And lest you forget, Jazzwise brings you all the latest jazz news as well as all the essential new, archive and reissue album reviews on CD, vinyl and download – plus books, live reviews, UK gig guide and jazz instrument news. More jazz than you'll ever hear…