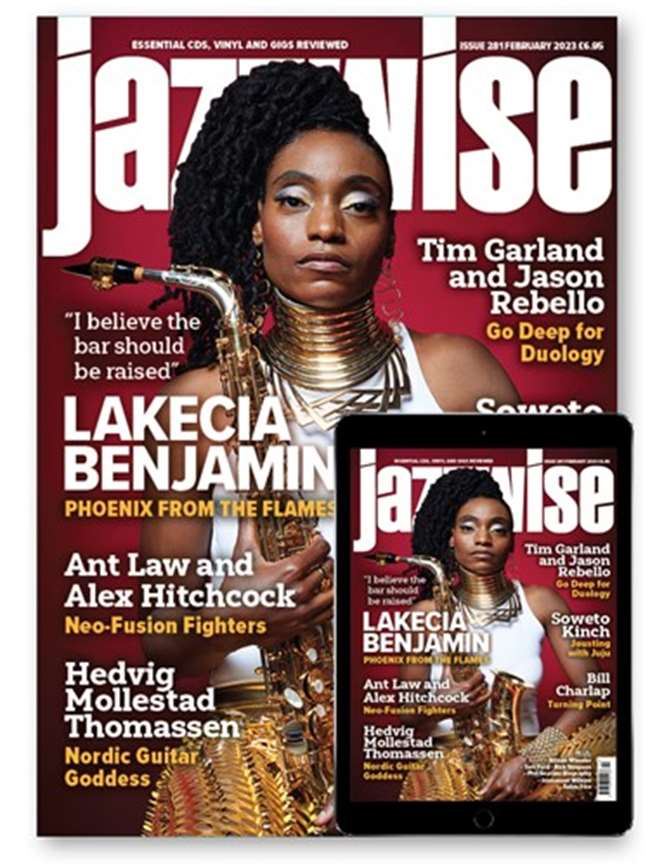 Jazzwise - February 2023
Jazzwise magazine's February issue is out now with fast rising New York alto saxophonist Lakecia Benjamin on the cover and talking about her bold new album Phoenix in a compelling feature interview inside.
Also in the issue are interviews with dynamic guitar/sax duo Ant Law and Alex Hitchcock, plus Brit jazz sax/piano greats Tim Garland and Jason Rebello – all talking about their dazzling new albums, while Norwegian jazz-rock guitar star Hedvig Mollestad Thomassen reveals all about her recent string-fuelled opus, Maternity Beat.
There are also interviews with top UK saxophonist/rapper Soweto Kinch; Blue Note-signed pianist Bill Charlap talks about the Bill Evans album that changed his life in Turning Point; rising stars Allison Wheeler and Tom Ford are the ones to watch in Taking Off and top US saxophonist Immanuel Wilkins selects the albums he can't live without in Takes Five.
And lest you forget Jazzwise brings you all the essential new, reissue and archival albums reviewed on vinyl, CD and download plus jazz news, gig guide, books and live reviews – more jazz than you'll ever hear!