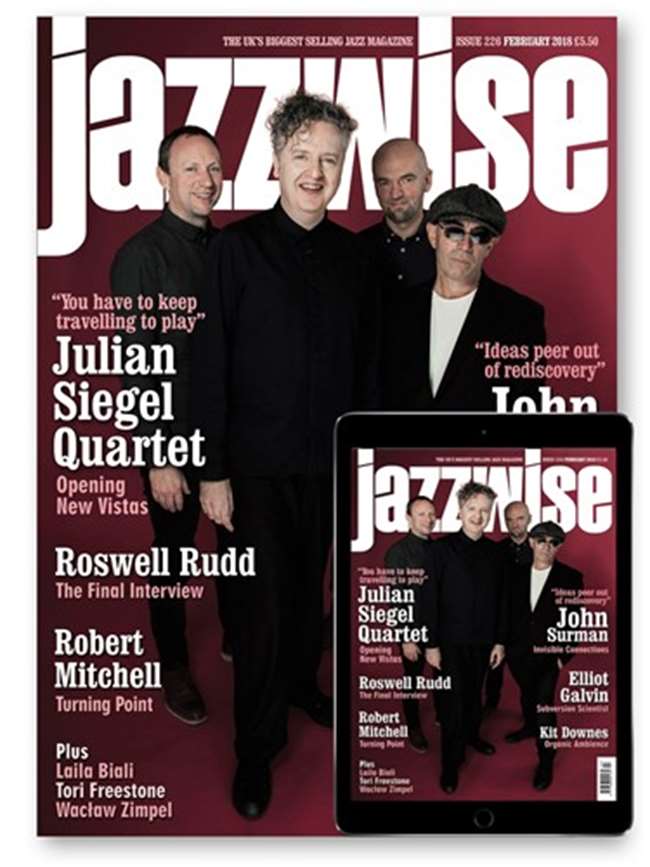 February 2018
The February issue of Jazzwise, the UK's biggest selling jazz monthly, hits the streets on 18 January with a vibrant cover featuring acclaimed Brit-jazz saxophonist Julian Siegel. The saxophonist discusses his propulsive new Quartet album, Vista, as well as his adventurous big band, his punky jazz-rock group Partisans and his Quartet's up-coming UK tour.
Also in this issue are in-depth features on pianist Elliot Galvin, trombonist Roswell Rudd and leading British multi-reedist John Surman plus new names Laila Biali and Waclaw Zimpel in the Taking Off section.
Mercury nominated pianist Kit Downes talks about his debut album for ECM and top UK pianist Robert Mitchell reveals the album that changed his life in Turning Point.
And lest you forget Jazzwise brings you all the latest news and gossip from the jazz scene; as well as over 100 new, archive and vinyl album reviews, plus books, lives reviews and our essential nationwide gig guide – more jazz than you'll ever hear!